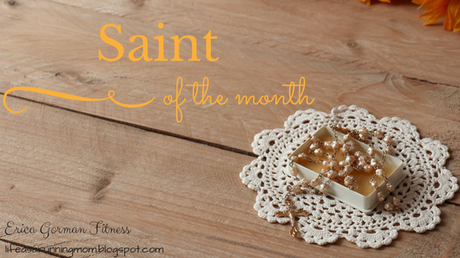 Welcome to my first edition of the saint of the month blog posts to be hosted on Erica Gorman Fitness. If you have been following me for awhile, you know there is more to me than running and cross training. I am a mom, wife, and devote Catholic who is very grateful for God's love and mercy in my life. Just look at darling daughter --- she is the best gift ever that God gave me and the beginning of my return to faith and finding a better image of who God wants me to be. Out of gratitude for that, and to truly be who I am, I want to highlight a saint each month.
Honestly, I LOVE the saint stories as so many have struggled through life challenges that can be so similar to our own. They could have started out rough and crazy but ended up being named a saint! How cool is that?! To me it is a reminder that none of us are perfect and that is okay. Our imperfections can lead to amazing greatness.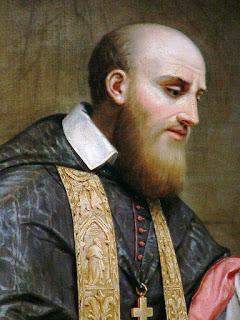 Picture source
This month, let's highlight
St. Francis de Sales
.
His feast day is January 24th. St. Francis de Sales was born on August 21, 1587 and died on December 28, 1622. He was beatified by Pope Alexander VII on January 8, 1661, and canonized (also by Pope Alexander VII) on April 19, 1665.
But who was he?
A son of a noble family from Switzerland whose Dad wanted him to pursue a career in law or politics. However, St. Francis de Sales had a different idea. An idea tugged at his heart from a young age that he kept secret from his family. St. Francis de Sales wanted to be a priest.
But St. Francis was a "good son" and attended law school and received his degree in 1580 but y'all, when God has a plan, he can make it happen. After falling from a horse not once, not twice, but three times, and each time his sword leaving a shape of a cross on the ground, St. Francis de Sales followed his dream, and God's calling, to become a priest and was ordained in 1593.
His mission wasn't an easy one as he was trying to spread the love for the Catholic Church in the time of Protestant reformation in an area near Calvinist territory. People wouldn't talk to him so he talked and played with the children and lo and behold, parents starting talking and listening.
St. Francis de Sales provided lots of spiritual direction through letters and it is believed he led 40,000 people to the Catholic Church. Perhaps this is why he is considered the patron saint of Catholic writers, the Catholic press, journalists, those in adult education, and the deaf.
You can learn more about St. Francis de Sales
HERE
.
Daily Gratitude: I am thankful for the work of many saints before us who have led the way showing us persistence and following your calling pays off.
Saintly Quote: 

Have patience with all things, But, first of all with yourself. ~ St. Francis de Sales
Daily Bible Verse: 
Be still before the 
Lord
 and wait patiently for him; fret not yourself over the one who prospers in his way, over the man who carries out evil devices! Refrain from anger, and forsake wrath! Fret not yourself; it tends only to evil. For the evildoers shall be cut off, but those who wait for the 
Lord
 shall inherit the land. ~ Psalm 37:7-9