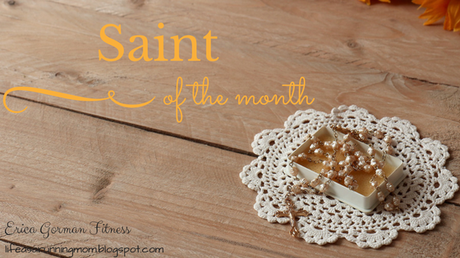 This month let's focus on Saint Alphonsus Liguori. I must confess I was drawn to learn more aboutthis saint due to the similarity of his name to my father's. It seemed like a sign that this was the saint to focus on. Do you ever follow little signs like that when making decisions in life?
The basics:
Born: September 27, 1696
Died: August 1, 1787
Feast Day: August 1
Patron Saint of confessors, moral theologians, and the lay apostolate. He is also the patron for those suffering from arthritis, sciatica, and muscular pains.

Now a brief story:
Alphonsus was born into nobility and was a child prodigy who quickly learned and received a law degree when he was only 16 years old. By the age of 21 he was a practicing lawyer but never went to court without attending Mass first.
He loved the arts, especially the opera, but eventually started to like the world less as his calling to religious life increased. He turned down an arranged marriage and studied theology and was ordained a priest when he was 29.
Alphonsus was very clear and direct in his preaching and very gentle in the confessional. He wrote many papers on spirituality and theology, 111 to be exact, and his greatest masterpiece was
The Moral Theology
written in 1748.
At age 66 he was named bishop and his health began to decline. He had a severe arthritis and sciatic attack accompanied by a high fever and unbearable pain. He is right leg became paralyzed and although he recovered from this intense affliction, he remained in pain. The pain was so severe it prevented him from sleeping but somehow he continued to do his work and was able to walk again with a crutch. This is just one example of the incredible and painful health afflictions Alphonsus endured and interfered with his ability to say mass.
Later in life Alphonsus also struggled with his faith and scruples and would repeatedly ask for his confessor to come adding mental agony to his physical agony.
Alphonsus was beautified in 1816 by Pope Pius VII, declared a Doctor of the Church in 1871 by Pope Pius IX, and canonized in 1839 by Pope Gregory XVI.