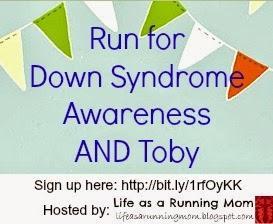 October is Down Syndrome Awareness month. If you follow me on facebook, twitter, or instagram this is no shocking news as I have been posting a daily fact every day so far in October and yes, it will be continuing. Don't worry if you have been missing them, I will be doing a final wrap-up post here as well. It is the least I can do for my buddy, Toby!
With that said, I had a crazy idea less than 24 hours ago. A virtual run for Down Syndrome Awareness and for Toby! Who wants to join me? It really is easy and since I am pulling this together all pretty last minute, it is quite informal. But when are virtual runs really that formal anyhow?
Here is the scoop:
Run any distance you want on October 31st. Why October 31st? Because it is the last day of October and Down Syndrome Awareness month. Let's wrap things up with a BANG! And it is my favorite holiday, just saying. Hey, I just got an idea! Read the next point....
If you are feeling the Halloween spirit run in a costume!
You can run ANYWHERE you want. Inside. Outside. Just run.
Speed doesn't matter. This isn't a race. It is about building awareness, love, and support.
Post your pictures on my facebook page. I would love to pull them all together in a collage to show Toby how many of us ran for him and Down Syndrome Awareness; therefore, by sharing your pictures you are giving me the ok to use it.
Are you ready to run?
Sign up!
Thank you so much and please help spread the word! You are more than welcome to grab the button.
Daily Gratitude: I am thankful for the power of technology.
Daily Affirmation: Raising awareness makes me happy and is a good thing to do.