by Jenell of Kinky, Curly, Coily, Me!
Looking for a gorgeous protective style that will make you look like you just walked out of a magazine? I've got the style for you!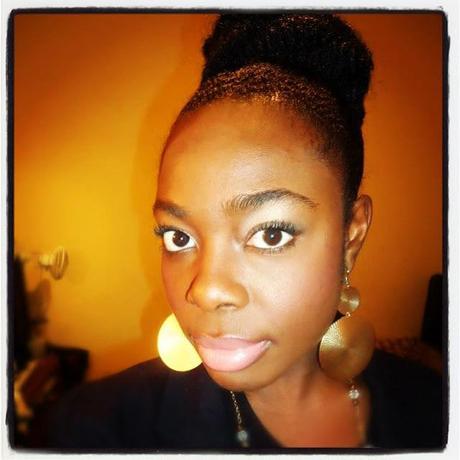 A bun can take your look from drab to fab! Try this bun using Marley hair for a dramatic look!
This style is easy to create. Your hair has to be long enough to secure into a ponytail. You can place your ponytail on the top of your head or the back.  For me, I secured my ponytail on the top of my head.  When my hair was in its natural state, it wasn't long enough to get into a ponytail on the top of my head, so I had to blow dry my hair to stretch it out. You decided what method works best for you.

Tools:
Brush for smoothing
Elastic Bands 1-4
Styling Gel
Marley Braiding hair
Hair Pins and Bobby Pins
Blow Dryer (optional)
Heat Protectant (optional/if using blow dryer)
Satin Scarf
Steps:
If you decide to blow dry your hair, follow the directions on how to apply your heat protectant and then blow dry hair.
Secure your hair in a ponytail with an elastic band. You can place your ponytail anywhere you'd like. Use your brush to help smooth your hair into the ponytail. Use another elastic bun to put your hair into a bun. For shorter hair that cannot get into a bun, don't worry, the Marley hair will cover your ponytail. For longer hair, put your loose ends in a bun, don't worry about how slick it is, the Marley hair will cover your bun.
When your ponytail is secured in your desired location, take gel and smooth it onto your hair, starting at your hairline and smoothing on towards your ponytail. For very textured hair like mine, use A LOT of gel. And then use A LOT more. And then use A LOT more than that. If you feel like you're using way too much gel, then use some more. LOL I'm very serious.
After you've applied the entire jar of gel onto your head (LOL just joking), take your Marley hair out of the bag. Leave the rubber band on the hair. Take the rubber band and wrap it around your head and then begin to wrap the Marley hair around your bun. Use your bobby pins to secure the Marley hair to the lower part of your ponytail. As you wrap add hair pins to keep the Marley hair in tact.
Don't stress out. As you wrap the Marley hair around your bun, it may give you trouble. In the end, it will all work out.
Watch this 

video

 tutorial to see how Jenelle achieved her Marley Bun.
 What do you think of Jenell's super dope bun? Has anyone tried a similar look? If so, do share! 
I know one thing, I'm making a trip to Sally's tonight to grab some Marley hair!