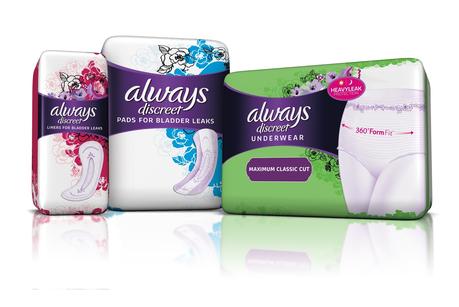 It happens when you least expect it and admittedly, it can be extremely embarrassing. I'm talking about urinary incontinence. Most women don't like to talk about it, and even less will admit they've experienced a bladder leak or two.
It can happen in the midst of a deep, soulful fit of laughter, from an unexpected sneeze, the onset of a coughing frenzy, or even during a vigorous workout in the gym. Most of us have experienced the occasional bladder leak that happens when you least expect it and it's something that most of us have been afraid to talk about.
Until now
.
Bladder leaks aren't something that women should be afraid to talk about. We talk about periods, sex, share childbirth stories, and more. Yet, we are still uncomfortable talking about other natural body functions that many women experience on a regular basis. Women have gone to extreme measures to hide or pretend certain issues, such as bladder leaks, do not exist because it still seems taboo or humiliating for women under the age of 60 to even think about possible sensitive bladder moments.
There are more women who experience embarrassing accidents more often than you would imagine. Women as young as their early twenties even experience weakened and sensitive bladder issues. The reasons range from childbirth, surgery, stress, medical and health related issues, and prescription medications that may lead to a weakened or sensitive bladder.
According to BlackDoctor.org, many African-American women dealing with bladder incontinence have undergone vaginal deliveries, hysterectomy surgery, injury, trauma, and other reasons for the condition and every single woman reported that they were bothered by their weakened bladders. Did you know that 1-in-3 women experience bladder leaks in their lifetime and astonishingly, 1-in-2 African American women over the age of 18 experience bladder leaks?
Ironically, only 1-in-9 black women actually use or purchase incontinence products because most women are afraid or embarrassed to go through the checkout line with products for bladder leaks. And shockingly, 3 in 4 women with bladder issues refuse to even talk to their doctor about their concerns. Bladder incontinence is something that most women feel embarrassed to talk about, and over 40 percent of women with bladder incontinence have reported feeling less attractive or feminine. Over 44% of women with sensitive bladders have even reported shying away from sexual activity based on a study published by the National Institutes of Health.
I know most women don't want to go through the checkout line with what many refer to as "adult diapers" but that's what is great about Always Discreet incontinence liners. They are just as thin as a regular liner you would use for light spotting during your period. Always Discreet offers liners, pads, and even full-sized underwear for all types of bladder leaks, from the occasional tinkle to those who may need full bladder support. Having a sensitive bladder may be a sensitive issue for some women, but it's time to erase the taboo regarding body issues that many women either have or will deal with at some time in their lives.
The statistics are astounding and when I realized that there were
so many
women facing sensitive bladder issues I was shocked that there weren't more products or information available for women to not feel as embarrassed talking about it. When I asked four of my good friends about the occasional tinkle, each one of them admitted that they have experienced bladder leaks from out of nowhere either while sneezing, laughing hysterically, and even while participating in Zumba class.
Bladder leaks are a serious and very real issue for many women. Always Discreet has a line of modest urinary incontinence products that are specially designed for women with sensitive bladder issues. Regular pads and panty liners aren't really enough to protect women against the occasional bladder leak accident. The Always Discreet incontinence pads are designed to absorb bladder leaks. They are also made to neutralize and trap odors specific to urine with the OdorLockTM technology. The pads can absorb 4x more than period pads of a similar size.
Always Discreet liners are packaged very similarly to regular liners that you would use for your period. No one would be able to tell that they aren't regular liners unless they were really nosey all up in your purchase and reading the packaging.
Each liner is packaged individually for discretion and looks just like a menstrual pad or liner so there is no embarrassment or awkward stares if one just so happens to fall out of your purse. The thin and flexible design allows you to wear them comfortably and discreetly under your clothes so that you can worry about more important issues than having to worry about leaks or if others can tell that you're wearing them. Menstrual pads simply don't cut it for women with sensitive bladders or bladder leaks. Always Discreet pads and liners are highly absorbent, trapping and neutralizing odors that regular menstrual pads simply can't.
Having a sensitive bladder or bladder leaks can be a life altering experience for many women. We need to erase the taboo ideas when it comes to talking about our bladders, as there are thousands of women who are faced with the issue but most women refuse to talk about it as being normal. If more women would share their stories you would be shocked at just how often and how many women are dealing with the exact same problems. Trust me when I say that YOU ARE NOT ALONE.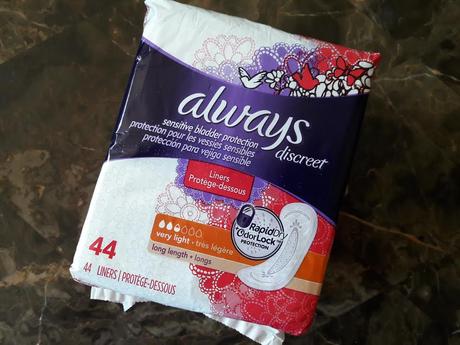 To find the Always Discreet product that best fits your needs, visit here.
References
BlackDoctor.org NIH.gov
This is a sponsored conversation written by me on behalf of Always Discreet. The opinions and text are all mine.