One thing I love about living in this multi-cultural city is the multitude of public holidays we get, even though we might not be from that culture. A prime example is Hari Raya Haji, which is gonna take place tomorrow – yes, yes I'm scheduled to work tomorrow, but that's not gonna stop me (and everyone else) from rocking it out and making the most of a free day. To cheer myself up during the wee hours of the day when I'm banging my keyboard methodically, I've decided to stand all these lippies on my desk and pick one to suit my mood tomorrow. Heh.
CLIO Virgin Kiss Tension Lip lipstick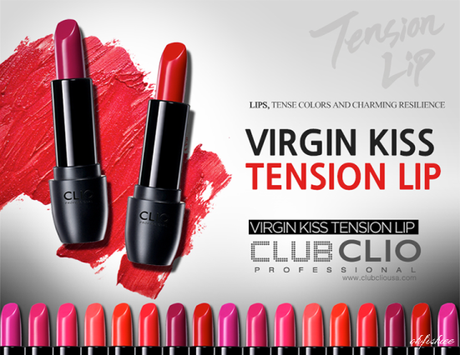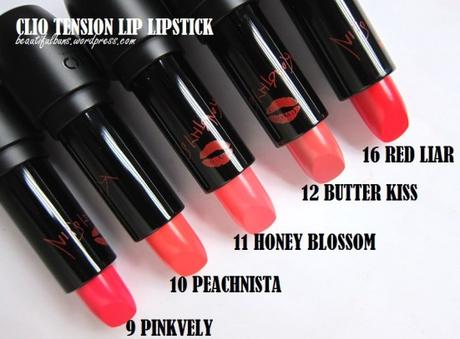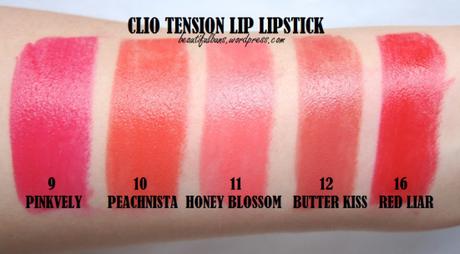 9 Pinkvely:
A hot fushcia pink with slight blue undertones

10 Peachnista:
Muted coral-peach with slightly warm tones

11 Honey Blossom:
Sweet muted pink with slight blue undertones

12 Butter Kiss:
A peachy-nude that doesn't make you look too washed out

16 Red Liar:
Hot chill red
I say…
The Packaging: It comes in your usual lipstick bullet-tube packaging, with a cap that's fitted on snugly (i.e. no magnetic and no snap-shut closure). The base is slightly smaller than the top, which makes it ever so slightly more prone to tipping over.
The Scent: Not much of a scent here – it's very slightly fragrant, but only if you sniff it really intently.
The Texture: It goes on smoothly with amazingly, superbly rich pigmentation – one coat is all you need to get a super bright lip. I'm super impressed! It is creamy so it doesn't drag on your lips, and has a slightly glossy finish that fades into a mostly matte finish after several hours.
The Verdict: This is one of the strongest performing lipsticks I've tried in a while – the color is rich, the texture is creamy, and it stays on the lips as a very strong tint hours after you've eaten/drank. A full coat covers the fine lines and flakey lips pretty well, and has a medium level of hydration. For those with slightly drier lips, I'd recommended applying a layer of lip balm/Vaseline before the lipstick in order to make the completed look even more gorgeous. For the stronger colours such as 16 Red Liar and 9 Pinkvely, I didn't even have to apply a full coat – I simply dabbed it onto the center of my lips, puckered up and used my fingers/lip brush to spread the remaining color outwards to get a rosy bright cheery tinted lip.  Overall, this is defo a lipstick that you should get – affordable, high performance and strong colours. What's there not to like?