I'm
a brown
eye-liner girl. Always, always, always. Whenever I ask for a brown eye-liner at the make-up counters the make-up ladies (who more often than not have horrendous make-up themselves) always look at me like I've asked them to kill a puppy. I can't help it. I just can't do black. It looks too harsh for me.
I've
been on the lookout for a long wear brown
eye-liner
for years. Literally years. I'd read a few blog reviews on the Soap & Glory Smoulder Kohl and the Rimmel ScandalEyes Kohl so I decided to pick them both up and give them a try.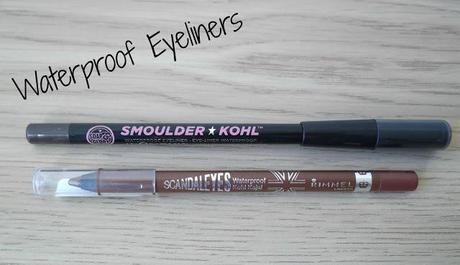 I was most excited to try the Soap & Glory Smoulder Kohl as I'd heard a few great things about it. Unfortunately
I'm
not a huge fan. The brown, which looks relatively warm in these photos, almost looks black when its on the eyelid. Also, my eyelids are quite oily and this just
didn't
stay put anywhere near as much as long as I'd thought it would. On the plus side though, the tip is nice and soft and
blend-able
, which is perfect for me as a love a smudgy line. There's also a sharpener in the lid which is a nice touch.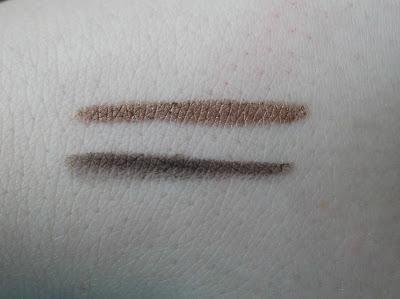 I
didn't
fair much better with the Rimmel ScandalEyes either. I liked that this was a warm, sparkly brown but on the eyelid its barely noticeable. I look like a have nude
eye-liner
on which is a bit weird, and not really the look I was going for. It does last very well but I see myself using this more as a highlighter pencil on the inner corner of my eyes than as a proper eye-liner.
And so my search for the perfect, long wear brown eye-liner continues.
*Rimmel do test their products and/or ingredients on animals.
**Soap & Glory do not test their products and/or ingredients on animals.