I'm totally loving this Spring/Summer season's pastel colours, especially these from VDL. With a name like Candy You, you can be pretty sure what's coming up will satisfy anyone with a sweet tooth. Fi Fie Fo Fum, gimme some candy yum yum!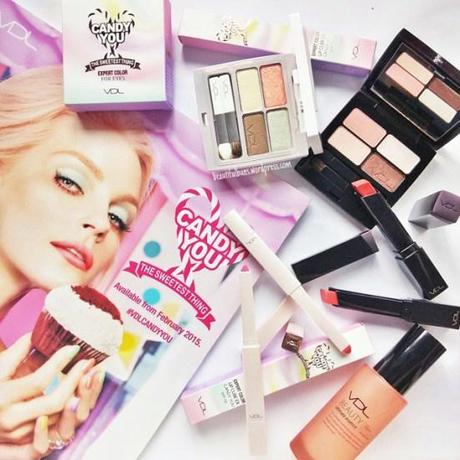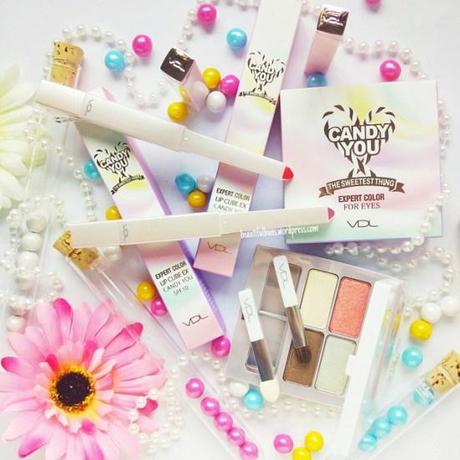 The range of VDL Candy You products that I'd posted earlier on on my Instagram
:D
VDL Expert Color Lip Cube EX Candy You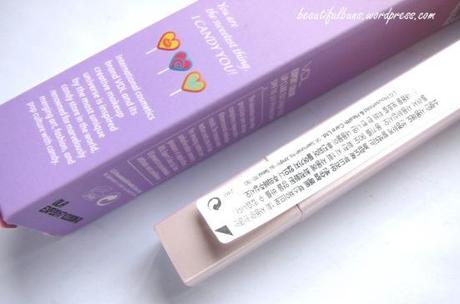 A reminder in Korean for you to remove the sticker before usage.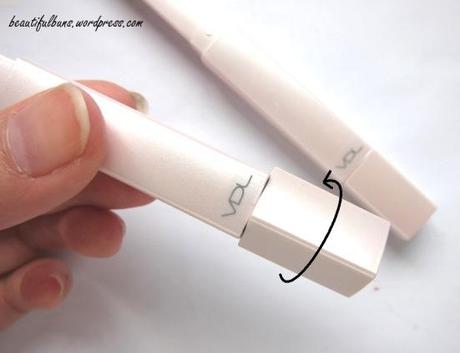 A uni-directional twist – no take-backsies here, so don't extend too much of the lippie or you won't be able to cap it (similar to
Aritaum's Water Sliding Tint
)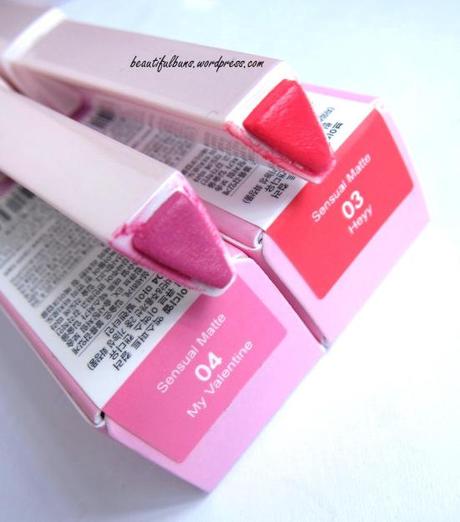 Oops, sorry for the messy lippie – I was just too excited to try it. Heh.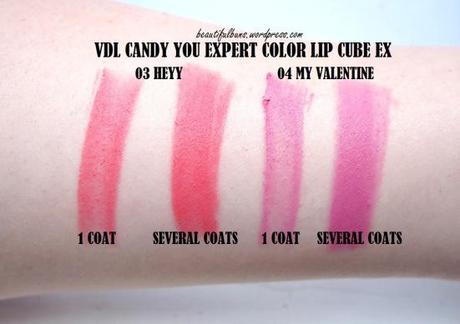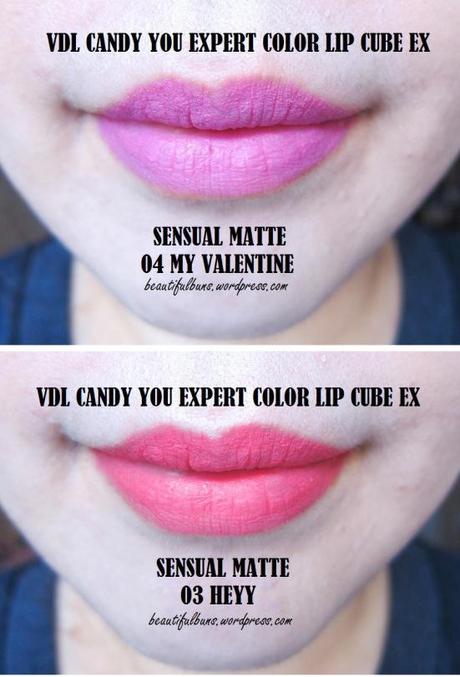 Beautifully matte and coloured in even without applying a lip balm. Yay! Shade 04 My Valentine is a matte version of
YSL Pur Couture's Shade 49 Tropical Pink
, while Shade 03 Heyy is a matter version of the
Jeon Ji Hyun Shade 52
:D
I say…
The Packaging: I love their angular square tube which prevents it from rolling away. It's also much longer than normal lippies – including the cap, it measures 13.5cm. The lipstick itself is significantly slimmer than usual lipstick bullets (but I guess they made up for it with a longer length). The packaging itself is plastic, with a click-on cap and a twist-bottom for you to extend the lipstick. It's a uni-directional turn, so don't over extend cos you won't be able to retract it. Each turn raises the lippie by a very mere 1-2mm anyway (again, similar to the Aritaum Water Sliding Tint).
The Scent: There's a slight floral scent that isn't really discernible until you bring it very close to your lips. During application, the scent wafts to your nose but after you're done, there's not much scent.
The Application: I absolutely adore the fact that it's got an almost-triangular shape – it may look odd at first, but seriously, it makes application a complete ease and breeze, especially when outlining the lips and drawing the Cupid's Bow. In fact, it's slightly better than the diamond shape of the VDL Expert Lip Cube (I guess that's why this is the EX aka new and improved version). Although the strength of this product is in its color payout, it goes well onto slightly dehydrated lips and somehow manages to fill in the lines without drawing too much attention to the chapped lips. For very dry lips (aka after spending several hours in an airconditioned room), you'll still need to apply a light layer of lip balm in order to make it look more presentable. The color lasts pretty long but will not leave much of a tint – it will begin to emphasize the bits of lip flakes after about 4-5 hours (so stay hydrated!).
The Verdict: I've always been a fan of VDL lippies, and these further cement my undying love – look at how gorgeous the colours are?! Personally, since I have really dry lips, I sort of avoid matte colours cos they usually emphasize the ugly bits, but notice how my lips look almost decent in the photos above? The color payoff is very strong as well – 1-2 layers is enough to do the trick. If you're lucky and have luscious lips or spend half the day out of aircon, this can be used to touch up. However,  if you're like me (and chained to my desk at work), it's best to still bring a lip balm around in case of a touch-up need. Overall, one of the better-performing matte lippies I've encountered. This is a limited edition piece, so make sure you get it soon.