Four scores and seven years ago (ok fine, maybe it was more like 10 years ago), a young girl by the name of beautifulbuns was actually adverse to the color gold. -cue ditzy voice- "Ohmergerd, who likes gold? It's so bright and garish. Eewwww."
Needless to say, I've eaten my words since then (literally, with all the edible gold flakes) – gold is such a beautiful, bright and bodacious color. That's right, I use bodacious cos seeing gold brings me to life! It's so sparkly and shiny :D
Those who are as insanely in love with gold color like me will love The History of Whoo's skincare and lippie products, which are draped lavishly in gorgeous gold casings (and some silver). What's more, their products perform well too – I recently reviewed their Essential Foundation and I love it! Let's see if their BB cushion performs up to the already-high standards I have in my mind for the brand.
The History of Whoo Luxury Golden Cushion – KRW70,000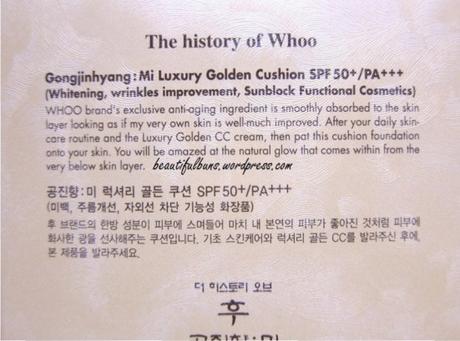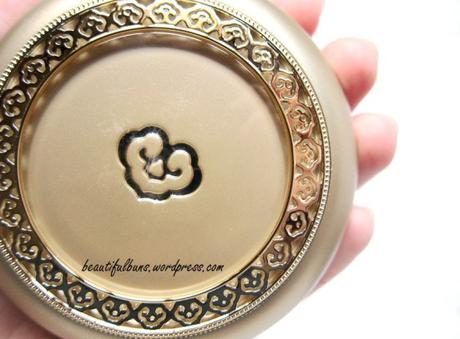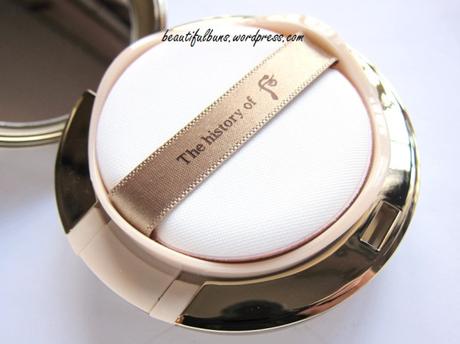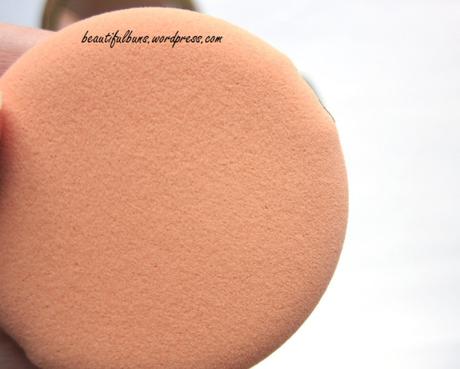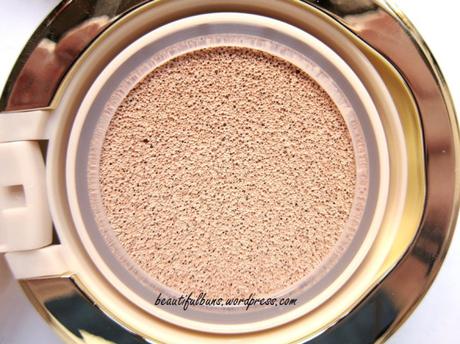 Using shade 21 – this comes in two shades only (21 & 23)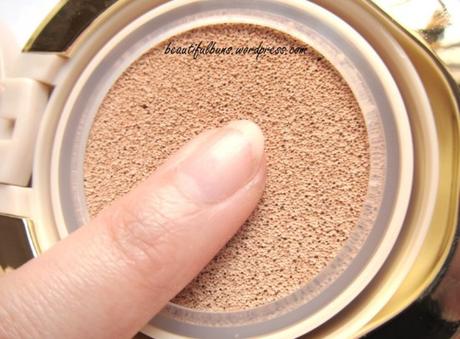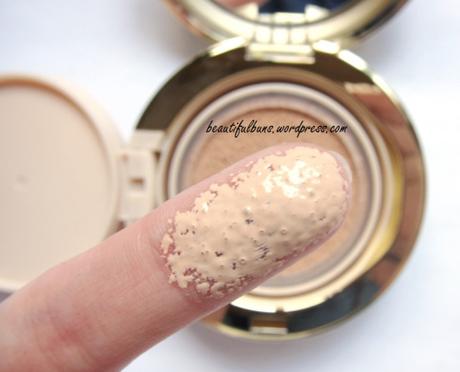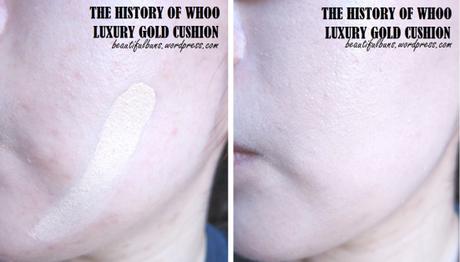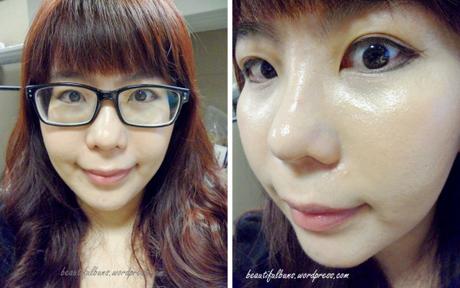 I say…
The Packaging: Needless to say, it's gorgeous! The gold casing has beautiful embossings, engravings and gilded gold edges and comes in a matte finishing that's similar to a champagne color. My only issue is that the clear plastic portion covering the logo is very easily scratched. It comes in the usual BB cushion casing + inbuilt mirror + flip-out tray that functions as both a sponge puff holder and a lid that keeps the product from drying out.
The Scent: Hellooo herbal scent – I have a soft spot in my heart for herbal ginseng scents because I secretly think it has that whole "healthier" image. It's not the overpowering sort of scent though – it disappears after you apply the BB cushion.
The Application/Texture: It has a slightttt cooling sensation when applied (not as cooling as Sulwhasoo's Evenfair Perfecting Cushion Brightening), and is lightweight. It doesn't drag on the skin when applied / while being blended in, which I'd attribute to its high moisture content / dewy factor.
The Coverage/Finish: Now this is one glowy/dewy product. In my photos above, the dewiness can be seen from the nose bridge, cheekbones, and corners of the nose. It's about 50:50 in terms of the matte:dewy ratio. That said, the coverage is medium, covering most of the blemishes and some of the dark undereye circles. It's buildable and doesn't get patchy or cakey even after several layers. It does, however, have a tendency to get even more "shiny" if you apply more. 5 hours into this product, I was pleasantly surprised to note that it did not get shinier, BUT when I blotted my skin, the blotting sheet did pick up some oil. I also noted that post-blotting, the skin "shine" was toned down very slightly.
The Verdict: To be really honest, I bought this only because of the packaging (I mean, who can really say no to thatttt?). Now that I've tried it, I'm slightly over the fence about it. It's got rather good coverage and staying power. However, the shine just an eensy weensy 10% over my normal threshold. It also doesn't brighten up my skintone as much as Sulwhasoo's Evenfair Perfecting Cushion Brightening, while I'm a fan of of a less dewy finish, which is why my default go-to is Laneige's Pore Control BB Cushion. I do however see a usage for this in dry climate countries, when I'm on the plane, or having a dry skin day. If I had to pick, I'd rather go for the Essential Foundation (but it's slightly heavier than this cushion).