Hi everyone!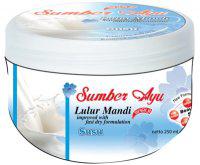 Sorry about the long hiatus! It's been so hectic with work! In any case, I'm sure most of you have never heard of this product and are wondering what the heck it is!  This product is called Sumber Ayu and it is a nice body scrub from Indonesia.  They have lots of different scents but this one is specifically for whitening! Apparently this is really popular in Indonesia although I'm not sure if the whitening one is the most popular.
I've been obsessed with whitening products mostly because of the horrific sunburn I got a few weeks ago.  I'm now at least 2 shades darker in comparison to before T_T So sad! 
Before we get started on the review, I wanted to know what the product was! It was kind of an impulse buy from the store I work at called Star Couture and I figured, why not? It was about $6.00 and I've heard from some of our other salespeople that this works pretty well. 
Sumber Ayu is a very popular and well known brand in Indonesia and they seem to have a great following in Southeast Asia.  As for the second part of the name "Lulur Mandi" I was really interested in finding out what that meant! Thankfully because of the wonders of the internet, I found a blog that actually provided an explanation.  
Below is an excerpt from that blog:
"So, what exactly is Lulur Mandi?
Patron of Indonesian spas should find this term familiar. Although the Lulur Mandi that I had in a spa is somewhat different from
how this product is used.
Mandi Lulur means
"
Lulur Bath
"
and it originated from 
the island of Java. In Javanese,
"
Lulur
"
means
"
to coat the skin
"
.
It is a traditional pre-nuptial ritual for brides-to-be; to achieve
fair, smooth, soft and radiant skin.
The
"
Lulur
"
helps to stimulates skin
cells regeneration, 
promote better blood circulation, reduce water retention and
of cause, like all exfoliating products, help smooth the skin.
In conventional Indonesian spas,
whereby we pay more
;
a paste mixture of
sandalwood, turmeric, ground nuts, rice and other scented woods is
spread on the whole body
and left to dry.
This is part of the exfoliation process and the dried mixture is then gently rubbed off.
A yoghurt paste is then smoothed over the body to restore balance
,
and finished off with a fl
ower scented bath.
However, the tub
version
is very
much
different from the
spa counterpart. This product is rice-base
an
d is used in the same way as a regular body scrub
." - KlutzBeauty
Nice "aha!" moment for me.  We all know where the term came from and where the inspiration for this particular product came from.  In any case, I'll get on with this review and let you know how this product works!
Packaging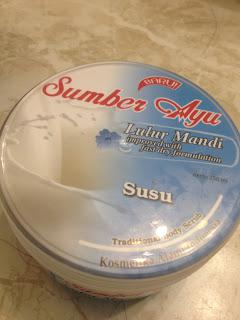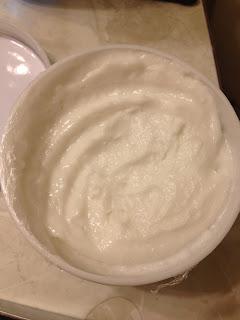 The overall packaging for this product is very sturdy.  I like that it has a screw on top and will prevent any leakage as well as any water from entering the product and watering down it down.  I think that it would definitely travel nicely as well :)
Ingredients Water, Stearic Acid, Polyethylene, Manihot Utilissima (Cassava) Starch, Glycerine, Cetearyl Alcohol, Zea Mats (Corn) Starch, Glycol Distearate, Laureth Sulfate, Coconut Base DEA, Potassium Hydroxide, Lactic Acid, Acrylates/C10-30 Alkyl Acrylate Crosspolymer, Perfume, Hydrolized Milk Protein, Methyl Paraben, Titanium Dioxide, Etidronic Acid, Methylisothiazolinone, Tocopheryl Acetate, Sodium  Ascorbyl Phosphate
Directions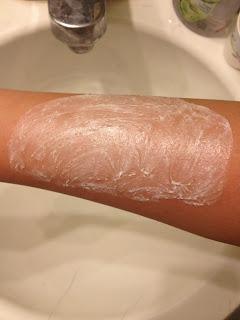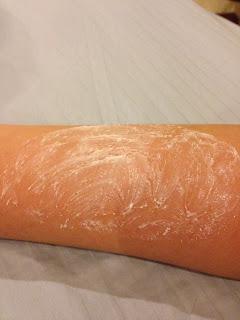 According to the packaging, the scrub must be rubbed gently over the entire body and left on for about 15 minutes.  After the 15 minutes, the body scrub should be rinsed off.  They also mention that there isn't any need to use body soap afterwards as this is a substitute. Thoughts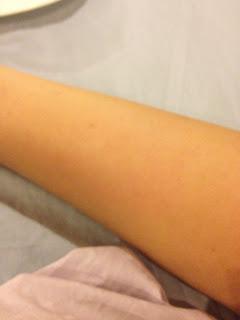 This product was pretty interesting.  There was a definite grainy feel to it and the smell leaves something to be desired.  I think the smell reminds me those old cheap perfumed body washes from way back when.  It does have great scrubbing qualities and left my skin feeling smooth and supple.  Rubbing the product on was a nice overall feeling and it started to tingle about 5 minutes after application.  It tingled for the 15 minutes it was supposed to stay on and the paste-like area dried leaving just the grains behind.  
I really like the fact that this product didn't dry my skin out at all.  It left it feeling refreshed and moisturized.  The whitening factor was negligible and I think that like any scrub, it can help lighten the skin tone over time.
My ONE complaint is the fact that I have to wait 15 minutes for this scrub to work.  It's definitely annoying to use when you're hoping for a quick shower.  This would definitely work better during times where you aren't in a rush and don't mind spending over 30 minutes in the shower.
I was hoping for something a little stronger in the whitening department but this does make a nice and cheap body scrub for those who prefer rice-based scrubs. I will probably continue using it over the next couple of weeks and I will keep you updated!
Rating: 3.0/5 stars Have you tried it before? What are your thoughts?
Disclosure: This mask was purchased by SUPERbijinUP for review purposes.