After clocking so many years on this earth (yes, I am that old), I've come to notice certain patterns about my skin. It may be capable of producing enough sebum to melt off all my makeup in this humid climate, but when I'm overseas, it shrivels up like a raisin. This does not make for a good skin canvas for my makeup (which starts looking all dry and patchy), and this is when bases come in handy.
Su:m 37 Air Rising Dazzling Base – SGD$65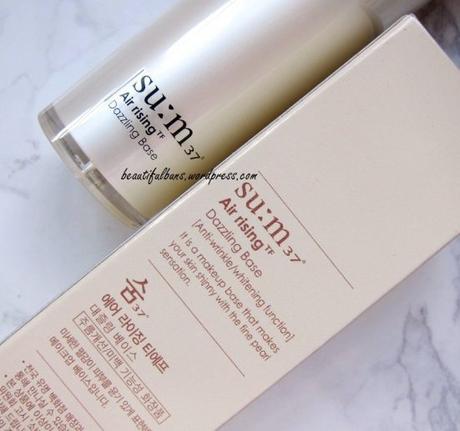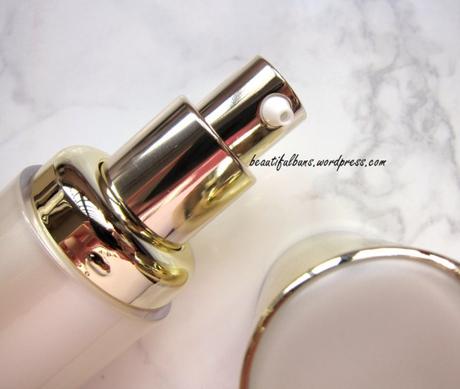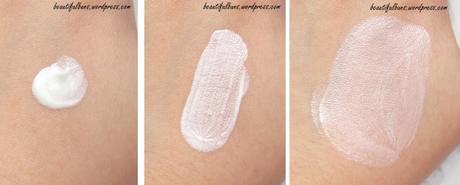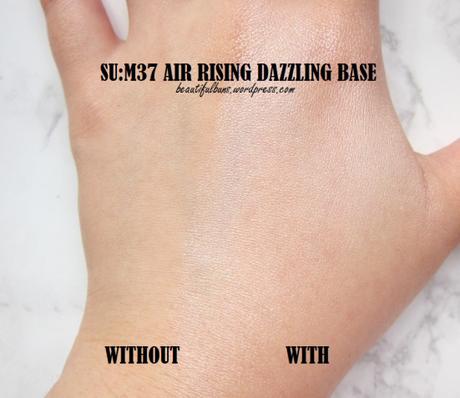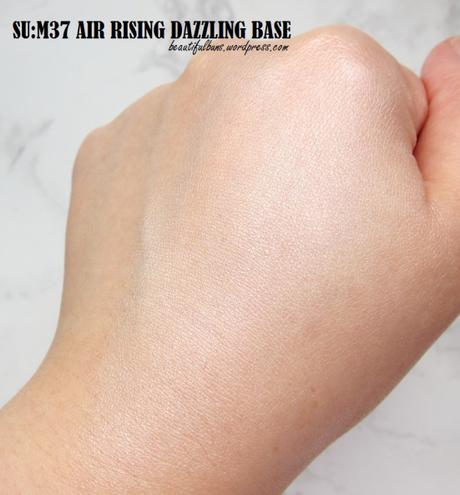 And now.. to put it to the test with an actual foundation/bb product over!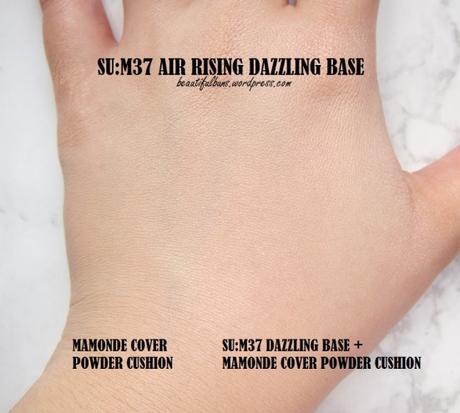 Applying
Mamonde Cover Powder Cushion (with a matte finish)
over.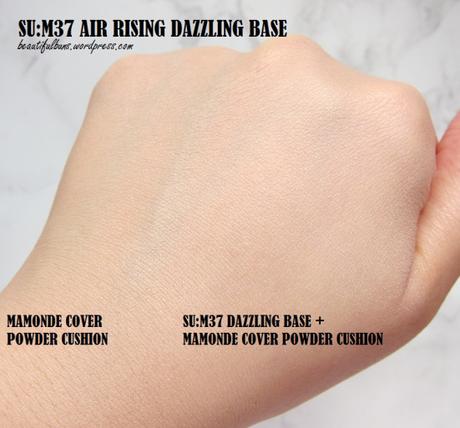 I say…
The Packaging: A tall plastic bottle with a click-on cap, as well as a pump dispenser. I like using several pumps to cover my entire face.
The Scent: Nil.
The Texture: It's a lightweight cream, and spreads easily over the skin without any drag. At first glance, it can look like "holy mother of pearl" as the sheen can be pretty bright and in-your-face. However, calm your tits, and continue blending – you'll see (as in the photos above) that it settles very nicely into the skin for a lovely opal-pearl sheen. There is a distinct brightening and whitening effect on the skin.
The Verdict: When you first try it, the immediate reaction will be "woah" – it's so pearly and glowy! I'm pretty happy that it blends and sheers out into a subtle, believable and healthy radiant glow (and no, it doesn't look oily nor too shiny). When worn under a foundation/bb cushion product, it doesn't actually have that obvious of a shine/glow – instead, it creates more "depth" and dimension with subtle hints of light reflection off areas such as the cheekbones, nose bridge etc. There's also a very slight healthy radiance to your skin (see my photos above and look at them from a bit further back). I'm also glad to report that it doesn't cause makeup to slide off – it has a pretty matte finish, and helps makeup adhere well. There's also no extra patchiness/cakiness/oxidisation as compared with usual. What's more, it can also multi task as a highlighter if you dab it over your foundation. Overall, a pretty decent base that works well.
Advertisements