And it's time for yet another base product! After an influx of foundation reviews (The History of Whoo Essential Foundation, MAC Pro Longwear Nourishing Waterproof Foundation, VDL Perfecting Last Foundation), it's time to revert back to the craze of the moment – BB cushions! Now Sulwhasoo last launched their Evenfair Perfecting Cushion at end-2013, and this is now a new version – the Brightening version. Being typically me, I couldn't resist the word "New" when I saw it at Sulwhasoo counters in Seoul, so here I am, with yet another BB cushion to my collection (which some may call a hoard by now heh).
Sulwhasoo Evenfair Perfecting Cushion Brightening – KRW65,000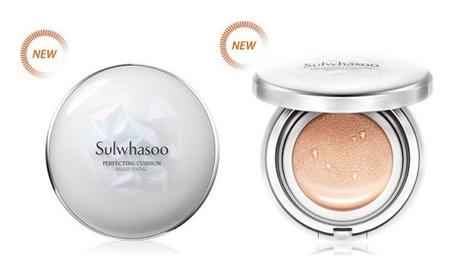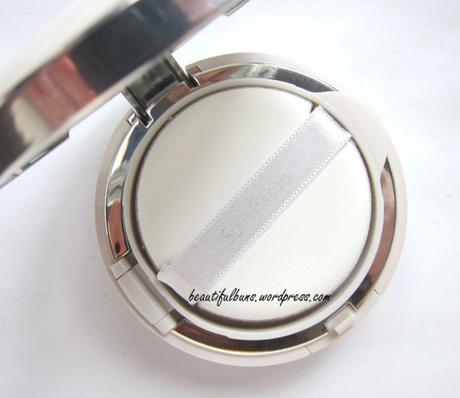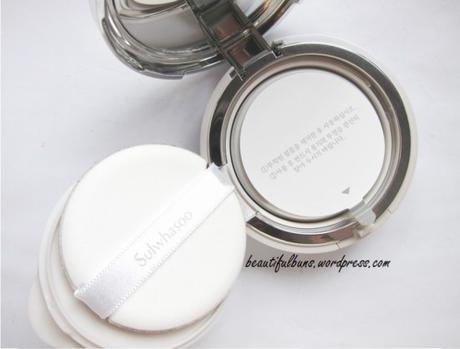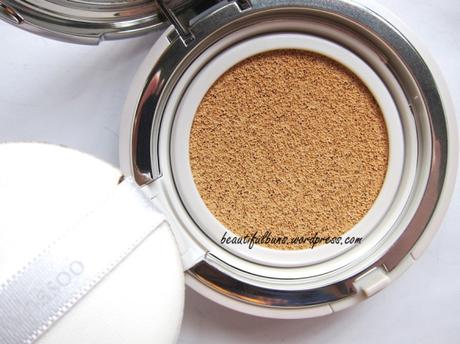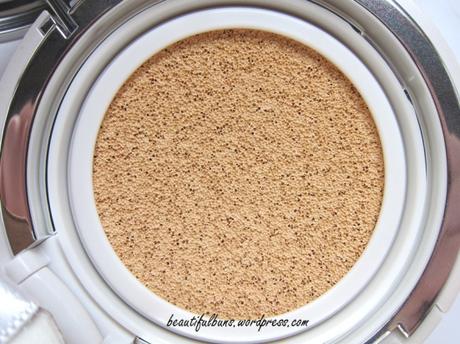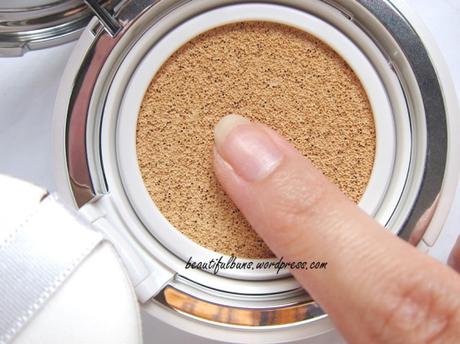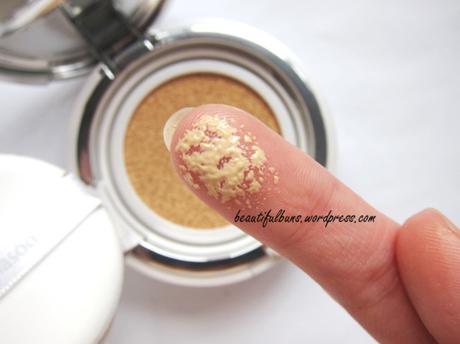 The sponge isn't as "juicy" as
Lancome's Cushion
Using a shade 17 Light Beige that's in between 13 and 21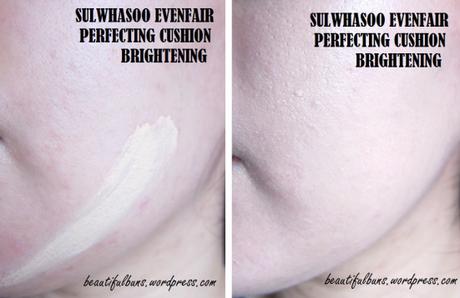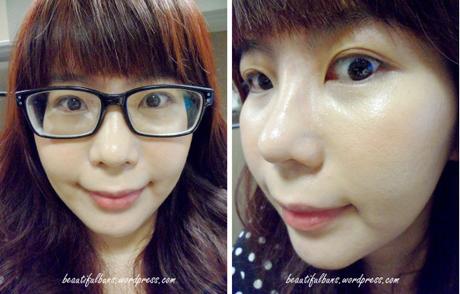 Sorry for the lack of eyeliner and lippie today – was feeling kinda lazy heh. On the other hand, my cheeks are done with MAC's
Wash & Dry
Freshen Up Highlight Powder (review to come soon!)
I say…
The Packaging: Similar to its predeccessor, it also comes in a smooth curved-edge casing. An added plus point is the gorgeous bevelled / marbelled pearlesque design on the case – purdeeeee. It's refillable and the price paid is also for an additional refill. That said, its refill can fit into Laneige's Pore Control BB Cushion casing BUT not vice versa, cos this Sulwhasoo one is just slightly smaller than Laneige's. It also comes with the usual sponge applicator as well as a flip-out tray that functions as both a sponge puff holder as well as a lid to prevent the BB cushion from drying out.
The Scent: I was expecting some sort of herbal scent, but surprise! This BB cushion actually smells like a cocktail of citrus fruits – orangey, limey and grapefruity. The scent isn't overpowering or too strong though – you can smell it during application but it fades off after.
The Application/Effect: Now true to Korean style, this is a glowy, moistfull and dewy product. After the initial first application (which was cooling and lightweight), I had to let it set for a while before putting the glasses on (or else they'd slide down the nose). That said, it still started sliding down about 3 hours after that. This gives a rather glowy moist finish (about 65% dewy to 35% matte), and gives a "shine" to areas such as the nose bridge and cheek bones. Surprisingly, the corners of the nose were exempt from this shine.
The Coverage: It's got a pretty decent medium-level coverage, especially if you consider the fact that it's more "moistfull" and does the slip 'n slide on my face. In fact, I was pretty surprised that the coverage lasted almost my entire day of about 7 hours. The corners of the nose did lose some coverage, but there was no patchiness (probably due to the high moisture content) , and there was also no oxidisation. It's not strong enough to cover the dark eye circles completely (you can still see some vague dark purplish/bluish undereye dark circles in my photo above), but it's not that bad till people have to ask if I've been up all night.
The Oil Control: It's an average oil control factor if you compare it with my usual foundations (Etude House's Stay Up Foundation holds up for an impressive 6-8 hours), but for a dewy BB cushion, its oil control power is pretty decent! I did my first blot after 5 hours, and get this – even though the face was looking "shiny", the blot sheet did not pick up much oil, proving that it is indeed moisture/dewiness on the skin.
The Verdict: Now when I first applied it on the face, I was like "Oh man, not another dewy-finish BB cushion". But as the day wore on, I was actually pleasantly surprised by this – yes there is that dewy shine that may not appeal to all, but because I spend a lot of hours in very drying airconditioned environments, this actually helped prevent my skin from drying out and getting flaky. It also amazingly did not slide off as much as I'd expected (although when I blew my nose, it did transfer onto the tissue. You can also see that the part of the nose bridge that's in contact with the spectacle rest has faded more).  Also, it does indeed give a brightening finish especially when compared with its predecessor (but nothing too dramatic) . Overall, this BB cushion gives a natural brightened finish that's perfect for days when my skin is feeling drier, or when I know I'm gonna be in places where the skin could dry out faster (oh yes inflight cabin, I'm talking about you). If you're looking to start easing into the glowy look, this will be a good product to start with.