Hi everyone!
We're excited to bring you another review!  This review will be about the uber-popular Skinfood Rice Mask!  This is one of my all-time favorite masks and I thought it would be awesome to share with you all! :)
I've always loved using Skinfood masks.  I believe my first purchase from them was actually the Ginseng Mask but I haven't purchased that in a while because it's so much more expensive than any other mask from their wash off line.
I picked this Rice Mask up when I happened to be in Cerritos visiting a friend! We passed by a cute looking store and I looked up and saw Skinfood! I squealed (yes, I legitimately squealed) in delight because I didn't know that we had Skinfood stores in the US! I had originally purchased my last mask pack in Taiwan!
We went straight in much to the chagrin of my friend but luckily he didn't complain too loudly :P  The salesperson showed me this product and because I'm obsessed with whitening and overall brightening of my complexion, I bought this one!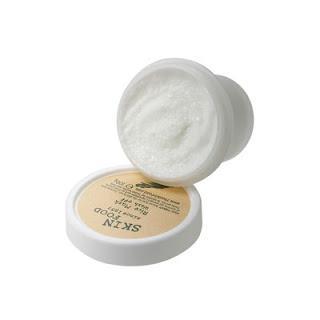 This Skinfood Rice Mask comes in a plastic container and contains about 100 grams of product.  It's a very lightweight mask and smooths on like a dream!  Skinfood is well known for mixing interesting food ingredients into their skincare lines! Their idea is that our skin needs nutrition so their masks are formulated to be that special food for the skin to "eat." Their masks are supposed to contain lots of nutritive and energetic ingredients such as fresh plants, fruits, and etc to maintain a healthy body.
More after the jump!
Packaging
The overall packaging is very sturdy! It has a screw on top that closes tight over a plastic container.  I've traveled with this mask more than once so you'll definitely have no problems with spillage or leakage!  I always hate opening my baggage to find a mask that's exploded everywhere >:[
Claims/Directions
According to their website Skinfood, this is what the mask is supposed to do:
A wash-off mask containing rice extract that moisturizes skin and brightens tone. With its texture of ground rice, it leaves skin bright, soft and lustrous. 
After washing, apply desired amount onto face, focusing on nose area while avoiding eye and mouth areas.
Wait 10 to 15 minutes, and then wash off with warm water.
Ingredients
I couldn't really find the ingredients listed online so I decided to copy it off the actual product!
Water, Cetyl Ethylhexanoate, Caprylic/Capric Triglyceride, Cyclomethicone, Cetyl Alcohol, Glycerin, Proryline Glycol, Stearic Acid, Polysorbate 80, Hydrogenated Jojoba Oil, Butylene Glycol, Oryza Sativa (Rice) Bran Water, Glyceryl Stearate, Peg-100 Stearate, Dimethicone, Sorbiton Stearate, Triethanolamine, Carbomer, Sucrose Cocoate, Sodium Acrylates Copolymer, Tocopheryl Acetate, Disodium Edta, Methylparaben, Imidazolidinyl Urea, Butylparaben, Parfum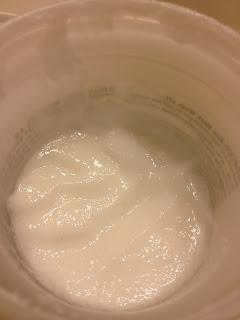 NOOOOO, I'm about to run out! Must go buy more!
Thoughts
This by far is one of my favorite go-to masks when my skin isn't cooperating with me or is kind of red.  It goes on with this wonderful cool/light and tingly feeling.  This mask does have small granules in it and can act as a light exfoliator.  I tend not to massage my face too much so the exfoliating effect doesn't seem to appear although my skin does feel slightly smoother.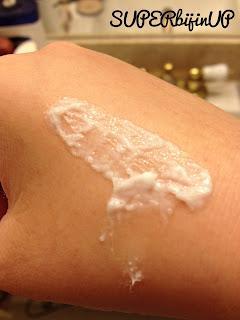 I usually take a small scoop of this using a small spatula and spread it all over my face.  About a quarter sized amount will do just fine for the entire face.  If you like, you can massage lightly to take full advantage of the exfoliating properties.  I usually just lightly spread it over my face and relax.  The mask will go on white and once it's ready to be washed off after about 15-20 minutes, it'll become clear.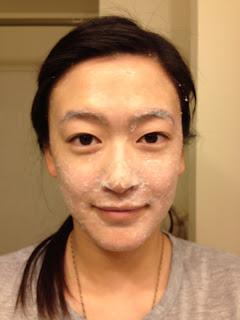 The mask is very easy to wash off.  Just rinse with some lukewarm water and lightly pat dry with a towel.  After I wash off the mask, the difference is pretty noticeable.  I'm much less red in my complexion and this mask has some pretty good moisturizing capabilities.  I like masks that don't leave that dry and tight feeling on my skin.   I either continue with the rest of my skin routine or sometimes I even just pat on some toner and go to bed!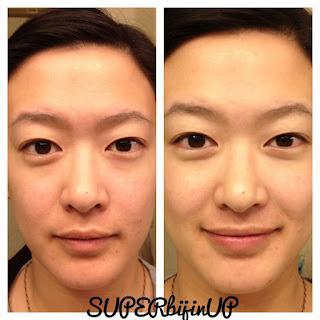 This is an awesome mask to start off with if you've never tried these before and I just adore this mask! There are quite a few places that you can purchase this from although the price range differs in each place:
Amazon Seoulglamour
: This seller on Amazon is one of my favorite sellers that ships authentic products straight from Korea! Her price is by far the lowest out of all the vendors at about $6.99 + $4.99 S&H
Sasa: This website also sells this product but at a very inflated price.  It is currently $16.30 but the original price is $23.00 + S&H.  It's still a reliable vendor and they ship worldwide.
YesStyle: This website also carries this product at $18.00 + S&H.  Not too bad of a price and they're also reliable.
Last but not least, the physical stores that Skinfood has opened in Southern California also carry their product.  If I'm not wrong, they retail at about $16 + Tax.  It's been a while so I don't quite remember but it's a relatively cheap mask out of their line.
My ONLY gripe about this mask is that it's hard to keep bacteria from getting into the pot since you either have to dip your fingers into it or get a small spatula from somewhere in order to prevent bacterial growth.  It's not a big deal but bacterial growth severely limits shelf life on any product and I never like having to throw a product out before I finish it!
Rating: 4.5/5.0 stars
Have you tried any Skinfood products? Which ones did you like?
Disclosure: This mask was purchased by SUPERbijinUP for review purposes.