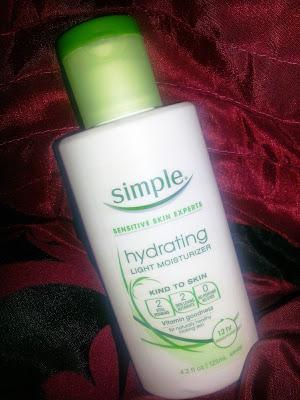 Simple Hydrating Light Moisturizer
If you're like me, then you're always jumping from one moisturizer to another; it's not that you can't find a good one, it's just that there's
so many
 good ones out there that you're always looking for a
better
 one. For me, moisturizers fall into two basic categories - you have your multipurpose moisturizers and your basic moisturizers.  Multipurpose moisturizers are those that claim to,aside from moisturizing the skin,  provide additional benefits such as anti-aging, firming, brightening, and etc. Basic moisturizers are true to their name in that their main and sole purpose is to moisturize.
So why bother with basic moisturizers? Wouldn't it be better to use a multipurpose one since you get those added benefits? Well...to be hones, it just depends on your personal preference. Typically, I find that people with really sensitive skin, tend to gravitate towards basic moisturizers because it's usually gentler and less likely to break them out. Personally, I enjoy them both. If my current skincare includes serums, then I prefer to use basic moisturizers; however, if I'm in the mood for a no-hassle routine, then I'll reach for the multipurpose one. 
Having said all of that, I have been in
love
 with the Simple Hydrating Light Moisturizer. This moisturizer definitely falls under the "basic moisturizer" category and  feels like it would work best with people who have  normal/oily combination skin. It claims to contain" two vital vitamins" (pro-vitamin b5 and vitamin E) and "two skin loving nutrients" (glycerin and borage seed oil). This doesn't have any perfumes, dyes, or any harsh irritants, so it's really good for people with sensitive skin.
The texture of the moisturizer is a hybrid between a lotion and a gel, meaning you get the moisturizing benefits of a lotion but, like a gel, it still feels light and is easily absorbed into the skin. I also really enjoy the packaging - because it's in squeeze bottle it's more hygienic and you're less likely to contaminate it (versus a jar where you have to dip your fingers in to scoop out the moisturizer).
The major downfall of this product is the lack of SPF, so be sure to layer sunscreen over this moisturizer during the day. There is a version of this moisturizer that contains SPF, called Vital Vitamin Day Cream SPF 15, but I've never tried it and I think the SPF protection is a little low. There is also another version of this moisturizer for people with drier skin, called the Replenishing Rich Moisturizer, which I also haven't tried but will probably pick it up now that it's getting cooler. 
Overall, I am extremely pleased with this moisturizer and highly recommend it!