I love this whole era of collaborations – from the Gudetama x Holika Holika range to this awesomely illustrated Shu Uemura x Kye range – there's just something about a special edition casing/packaging for a product that boosts its must-have factor. (either that, or I'm a super sucker. heh).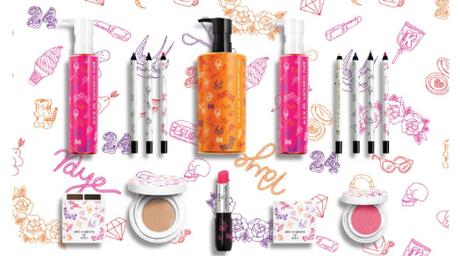 The entire range of products under the Kye collaboration – it includes a special edition casing for their cushion foundation (which I LOVE), as well as their cushion blusher (review to come soon) and their cleansing oil (among others).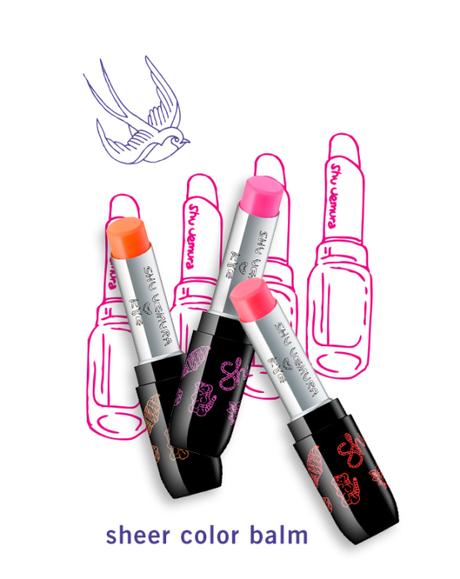 Available in 3 shades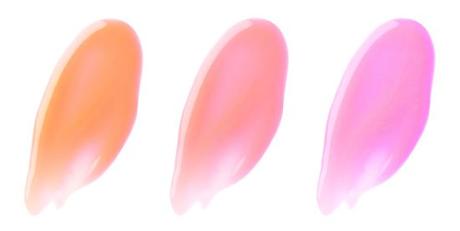 L-R: Melt in Orange, Hugged in Peach and Glow in Pink
Shu Uemura x Kye Sheer Color Balm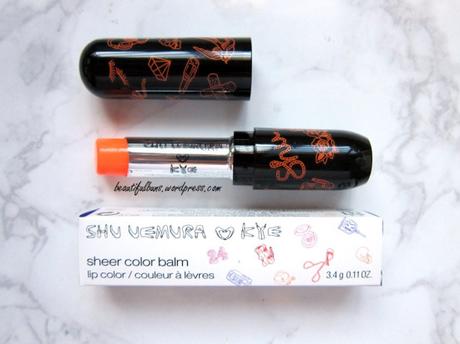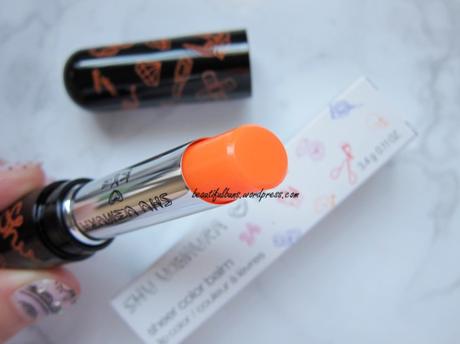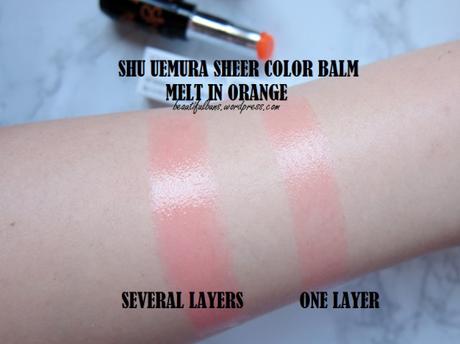 I say…
The Packaging: Veering away from Shu's usual clear / silvery packaging, this Kye version comes in sexy black that allows the orange (or pink/peach) illustrations to stand out. It has slightly curved edges that make it look like a sexy black bullet.It's your usual lipstick size at 8.5cm tall, and has a click-on cap and a twist-out lippie bullet.
The Scent: An extremely faint citrusy scent that you can only smell if you've got it up close to your nose and sniffing very intently.
The Texture/Application: It glides very smoothly onto your lips without dragging on them, and leaves a hydrating/moisturising layer over the lips. It helped to soothe my chapped lips and morph them into juicy-looking puckers. Now, even thought its shade is Melt In Orange and looks to be a shocking shade of a neon sunkist orange alien, the shade is surprisingly a very wearable and mild pink tinge. As you can tell from my shots above, there's hardly any hint of orange at all. When I wipe my lips with a sheet of tissue, it comes off as a neon pink tinge. Now I'm not particularly sure if it changes shade according to your lips, but I'm totally cool with the color I'm getting.
The Verdict: Lightweight, non-greasy, hydrating and moisturising – this sheer color balm gives me healthy-looking juicy lips (omg, you guys have no idea how terribly chapped and dry my lips can get). It's a good item to have and to hold, cos it gives you a wearable tint (I'm pretty sure this will go undetected by the men) and keeps them puckeres looking luscious. Even if it weren't for the limited edition packaging, you can consider getting this if you're looking for a lip balm that gives you a natural pink/tinge as well as keeping your lips hydrated.