I know many people have been (im)patiently waiting for my review on Ryeo shampoos. I have no excuses for that – I've just been procrastinating, so bring on the rotten eggs to pelt me with. Heh.  It's not that these aren't good – in fact, I have been faithfully using this since 2012. They are daebak max!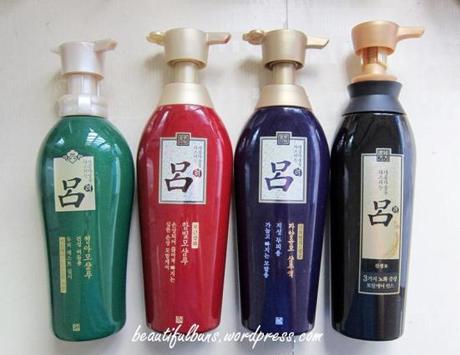 Ta-dah! Here are some of the bottles of Ryeo shampoos/conditioners I've carted back from Korea.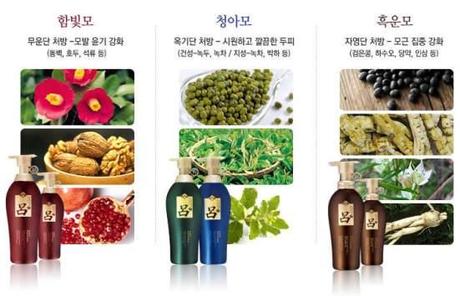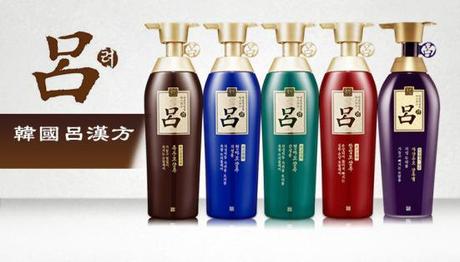 The shampoos are called shampoos, while the conditioners are called rinse. They also have essences, treatments (leave-in), hair dyes and more.
Now based on the compilation of my internet research and Korean translating skills, here are the various types of Ryeo Shampoos and what type of hair they suit.
Green (청아모 건성 ChungAhMo Geon Sung) : For dry hair. The revamped version calls it the 청아 두피딥클렌징 ChungAh Deep Cleansing Line.


Blue (청아모 지성 ChungAhMo Ji Sung): For oily hair , Dandruff care
Purple (자양윤모 JaYangYunMo): Anti Hair-loss and premium . 

This product line is stated as one of their bestsellers.
Black (진생보 GinsengBo): Intensive nourishment and premium. It's been repackaged as this luxe-looking line.
Brown (흑운모 Heeuk Woon Mo) : Anti Hair-loss , Hair root care
Red (함빛모 Ham Bit Mo): Damaged hair The entire product line
There's also  other lines but not as commonly found/used – or they could be a repackaged version of the above ones that I couldn't find on the official website.
Brown (약령원 YangNyeongWon):  Nutritional, made up of traditional herbal formula to nourish your scalps for healthy hair. Also stated on their site as one of their bestsellers.
Baby pink (자생화초 생기영양 JaSaengHwaCho SaengGinYoungYang – for vitality): Natural herbs and flowers – has a very floral fragrance without the usual hint of herbs. 

The entire product line

.
Lilac (자생화초 윤기보습 JaSaengHwaCho YoonGiBoSeub – for shine ): Natural herbs and flowers – has a very floral fragrance without the usual hint of herbs.

The entire product line.
Tangerine (흑운 뿌리볼륨 HeekWoon BBooRi Volume ): For flat hair in need of root lifting.

The entire product lin

e.
If you know how to read Korean, you can find out what type of Ryeo you're suitable for here.  Simply answer a few questions about your haircare/ hair worries and voila!

There's no one comprehensive photo that showcases all their products, so I've tried to gather as many as I can.
First up, the most popular – Lady in Red HamBitMo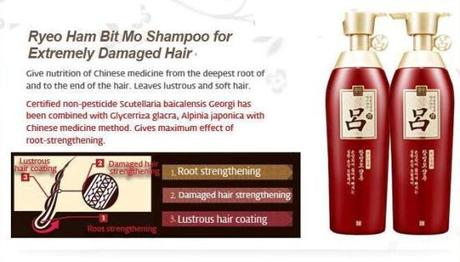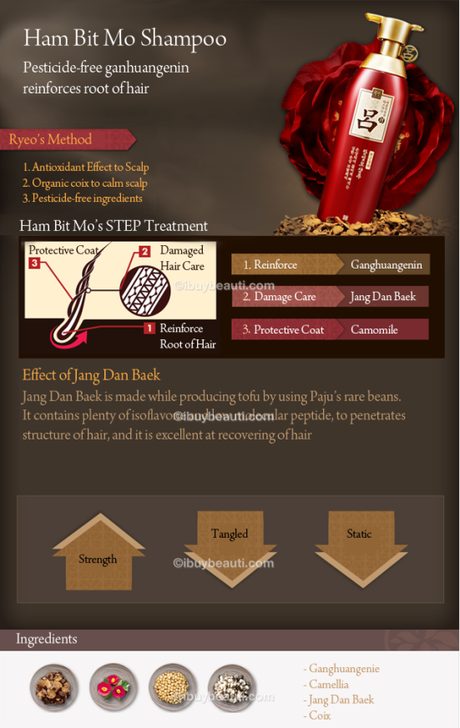 Next up, one of their bestsellers and my dad's favorite because it minimises hairfall for my old man- the JaYangYoonMo in purple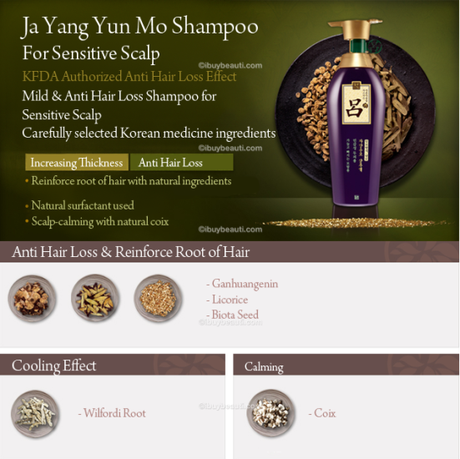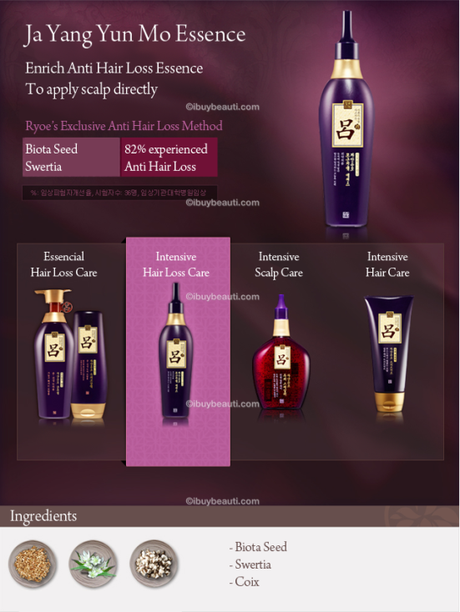 The HeukWoonMo seems to have been repackaged, but I can't really be sure :/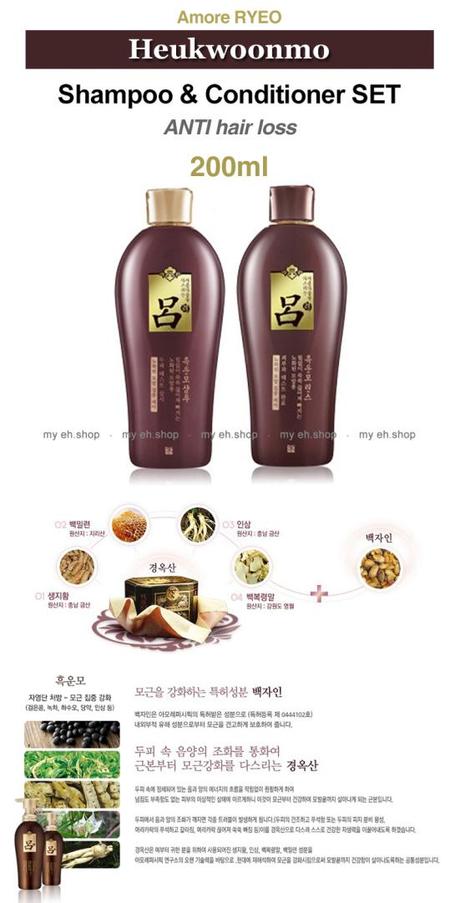 And another one that seems to have been discontinued/repackaged – ChungAhMo for Oily hair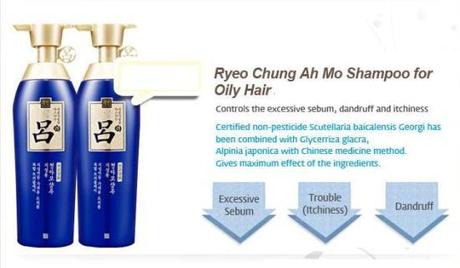 This black packaging is the GinsengBo range, and I've finished the shampoo for this, so I only have the conditioner left.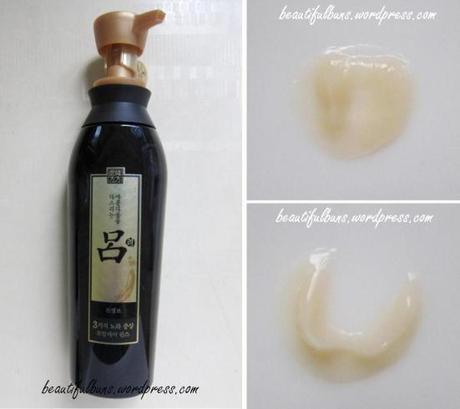 It has a really, really strong smell of ginseng – the kind that'll fill the entire interior of a lift or cab the moment you get in, so not recommended for those who don't like ginseng scents. It does make your hair really healthy though.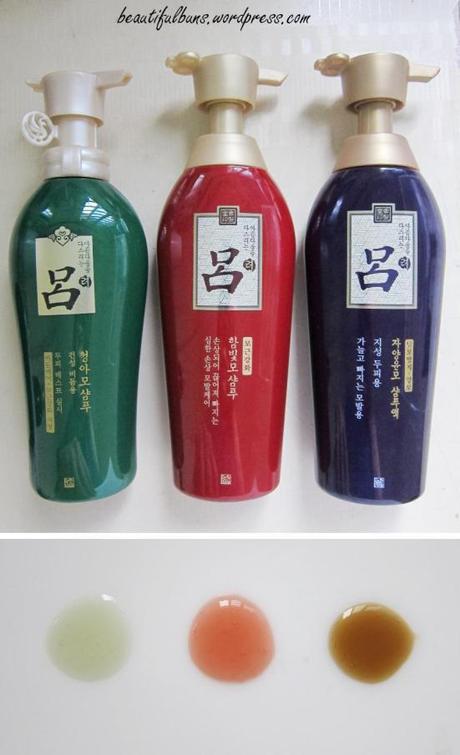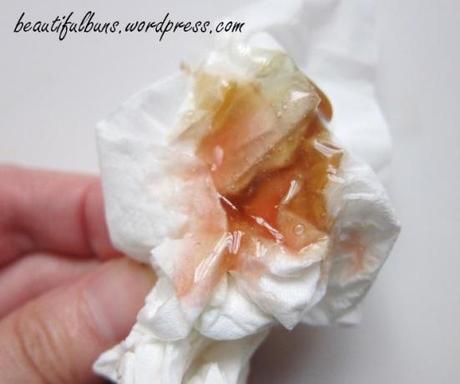 Just to show you the texture of the shampoos (and also that green + red + brown gives you something that strangely resembles orange. whuttt?)
Anyway, I've been using HamBitMo (in red) for years – the shampoo, conditioner, Water Essence) . The scent is herbal, but not overwhelmingly so. The first time I tried it, my hairfall was immediately reduced by half. I kid you not. The evidence comes in the following (laundry-airing) forms:
Drainage pipe cover after the shower: My mom abhors it whenever there's hair stuck there, so she forces me to pick it up everyday after my shower. I used to have to pick up quite a bunch, so I was really happy and surprised when the amount of hair caught in the cover.
My bedroom floor: My dad also abhors it whenever there's dirt on the floor – I swear we could eat off our floors cos my dad's so anal-retentive about it. I used to have to pick up countless strands of hair off the floor just so he would stop nagging me to cut my hair short so that he "doesn't have to mop and sweep so often". But wooo mama, ever since I changed to this shampoo, he's stopped all nagging. Yay!
My hair is pretty healthy and has got good shine as well, although I'm sure some of it can be credited to the Treatments I do at Cecica salon. I do have an oily scalp though – so I have to wash my hair everyday with this. I might venture to using some other Ryeo shampoo this time round when I go to Korea though.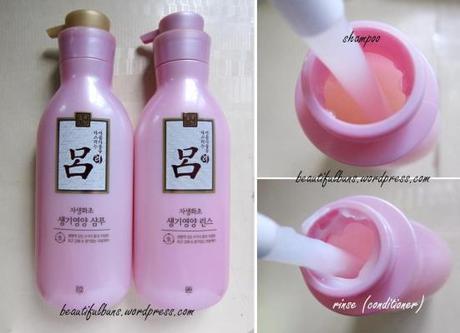 I bought this one the last time I went to Korea, but I haven't gotten down to trying it yet. If you prefer normal scented shampoos without the herbal smell, get this or the lilac one instead.
All of them leave my hair healthy and doesn't weigh it down or look flat. I wish I could recommend specifically what suits your scalp, but I think you'll really have to give it a trial and error. Me? I just go with what scent appeals to me the most.   The usual suspects (red, black, blue, green, brown) have herbal scents, but differ slightly, while the lilac and pink ones have very fragrant floral scents. I haven't smelled the tangerine one though – my goal for my next trippppp.
0.000000
0.000000