When Reviva Labs contacted me to review several of their products, I was a bit hesitant since I am very picky about what goes on my face in terms of skincare. However, when I discovered their products were all natural, AND they earned the seal of approval from my grandma (who looks 15 years younger than she really is), I decided to try them out!
The Glycolic Acid Cream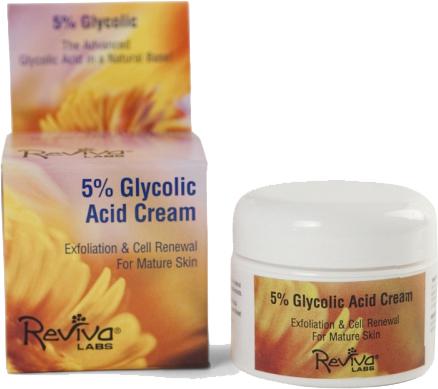 It's impossible for me to actually pick a favorite product out of the three I tested, but the Glycolic Acid Cream is definitely a strong contender for the title! I've been interested in Glycolic Acid creams for awhile and since Revia Labs is a leader in the glycolic acid field, I was excited to try out the best of the best!
What is it?
Glycolic Acid is derived from sugar cane and is used as a natural exfoliant. It loosens any dead skin cells and whisks them away, increasing the rate at which younger cells reach the surface. It is clinically acclaimed to help diminish visible wrinkles, discoloration and age spots. As an added bonus, using Glycolic Acid allows your other skincare products to penetrate deeper. Sign me up.
Review:
Even though I wanted to jump in with the heavy duty 10% Glycolic Acid Cream, I decided to start with 5% since I read that you should allow time for your skin to get used to the product (or you risk irritation). They warn you that there may be stinging when you apply the cream, but I felt none. Since I don't have sensitive skin at all, I made my boyfriend try it (haha) and he reported no stinging either.
I applied the cream at night, before bed, and I woke up with the smoothest skin ever; it literally felt like a brand new layer had emerged! Getting these amazing results so quickly encouraged me to keep going with the product. After about a month, my skin looked incredibly clear and bright (I even received compliments!) and I have noticed I am breaking out much less. Since I am 23, I can't vouch on it's ability to fade lines and wrinkles, but I have noticed that it has started to fade some mild acne scars on my chin! I am in love with this product and will definitely be purchasing a jar of the 10% very soon.
Ingredients:
My absolute favorite thing about this product is that it's all natural! The ingredients consist of:
purified water, glycolic acid polymer (extracts of sugar and rhubarb), extracts of pumpkin, peach, sage, chamomile, witch hazel, Vitamins A, D, E safflower oil, and sunflower oil. No parabans, chemicals, dyes – nothing!! Amazing.
The Essential Fatty Acid Cream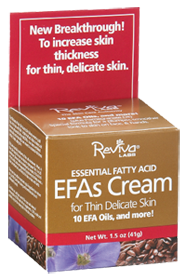 What Is It?
Reviva Lab's Essential Fatty Acid Cream is one of their newer products but it has already won an award for the 2010 Skin Care Innovator of the Year!
As we age, our skin begins to lose Essential Fatty Acids which results in the thinning and increased fragility of our skin. Reviva Labs EFAs cream was designed with 10 different Essential Fatty Acid oils (including sunflower, avocado, hemp, flaxseed, borage, black currant and pomegranate) to create a fuller, smoother look and feel.
Review:
Like I said before, I am only 23 therefore thin skin is not a problem for me at the present time. However, I am all about prevention and was super excited to see what this cream was all about.
I have had the hardest time finding a daytime moisturizer to go underneath my foundation without turning me into a greasy mess within hours. Before I tried this cream, I immediately dismissed it as a night cream when I saw how many oils are in the ingredients. I was so wrong!! This cream feels incredibly light and soaks into the skin so quickly, leaving a smooth surface that is not greasy at all! My foundation stays put all day and I have not notice any increased oilyness whatsoever.  The first time I used it, my boyfriend commented that my skin "looked good!" Granted, he is dating a makeup artist and is much more in tune with these things than a normal guy, but still. The only thing I'm not crazy about is the smell. It smells kind of like tea, which is a good smell… just not for my face. It does go away very quickly though.
I love the immediate results I get from this product and I trust that I am preventing my skin from thinning  just by using it

Ingredients:
Purified water, aloe vera gel, veg. glycerin, cetearyl alcohol, sunflower oil, flaxseed oil, borage oil, rosehip oil, hemp oil, avocado oil, wheat germ oil, black currant seed oil, olive oil, sesame seed oil, polysorbate 60, stearic acid, glyceryl laurate, panthenol, pomegranate oil, mixed tocopherols, olive squalane, soy liposome, green tea extract, sweet almond oil, allantoin, cocoa butter, phenoxyethanol and ethyl hexyl glycerin and benzyl alcohol (preservatives).
Makeup Primer


What is it?
We all know what a primer is right? If not, primer is worn underneath your makeup to increase longevity, "fill in" lines and refine the texture of your skin for a smoother application of makeup.
Review:
To be honest, when I got this primer in the mail, I was pretty apathetic. "Reviva Labs is a skincare line .. what do they know about makeup? hmm whatever, I guess I'll try it." were my exact thoughts…I couldn't have been more wrong, I LOVE THIS PRIMER!!!
I carry about 5 different primers in my makeup kit. I don't really know why; probably because I haven't found "the one" just yet. After testing Reviva Lab's Makeup Primer, I have taken out 3 of my other primers and replaced them with this!! It's that good. It makes your skin feel so incredibly soft and silky. Other primers in my kit had a more watery feel and oily appearance (*cough Smashbox cough* ). Reviva Lab's primer has a thicker consistency without feeling or looking oily. Note: It's important to let the product soak all the way into your skin! Upon application it will probably feel greasy and heavy (which threw me off at first) but once it soaks in, you are left with a smooth, perfect canvas to apply your makeup on.
I recently used this primer on an actress for a red carpet appearance because I knew her makeup had to last all night. Later, when I saw pictures, the makeup looked exactly the same as when I left her house. It also works amazingly on mature skin!! It fills in lines and wrinkles, hydrates the skin and makes makeup go on perfectly. I love this product so much that I steal it from my kit to use on myself (which I never do)! My only gripe is that it takes kind of a long time to soak into the skin, and when I'm on set, time is money.
Ingredients:
Cyclopentasiloxane, dimethicone, vitamin A palmitate, vitamin D3 (cholecalciferol), olive oil, coenzyme Q10, squalane.
CONS
So, since I've raved on and on about these three products, I feel like I should think of some type of con, so you don't think I'm being paid (which I am NOT!! Read my disclaimer at the bottom).. haha
The only thing I can think of (besides the smell of the EFAs Cream and the amount of time it takes for the primer to soak in) is the packaging. When I first checked out Reviva Labs, right away I judged the brand solely on their packaging. It looked outdated and I immediately wrote it off as a line for "mature" customers.
The Bottom Line:

Obviously, we know not to "judge a book by it's cover" but with so many products on the market today, it's honestly hard not to. I am SO glad I tried these products because they have all become regular staples in my beauty routine and I am most definitely looking forward to trying out many of their other products (hello Hyaluronic Acid Serum!). Not only are Reviva Labs' prices incredibly affordable, they contain all natural ingredients and the quality of the product is truley amazing. A+!!
Disclaimer: From time to time, companies will send me products to review. I pride myself in providing my readers with honest feedback of the products I am testing. I will not recommend something I would not use personally or professionally. Sending me product does not guarantee a review and I accept no monetary compensation for in exchange for reviews.