Whenever I'm in a colder / drier climate, the downside is that my skin completely goes from grape to prune, or even worse, raisin. The upside is that the enlarged pores turn almost non-existent. Alas, that effect is completely reversed once I'm back in hot and humid hometown, ala Singapore. I picked this up during my recent trip to Korea, and put it to the test.
Primera Pore Treatment Wild Peach – KRW35,000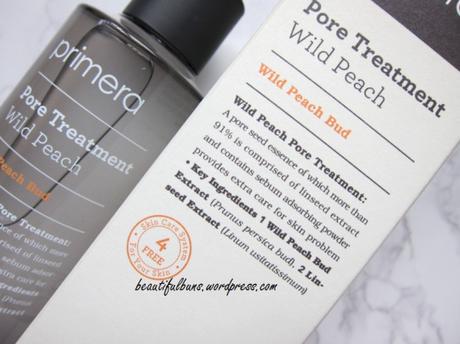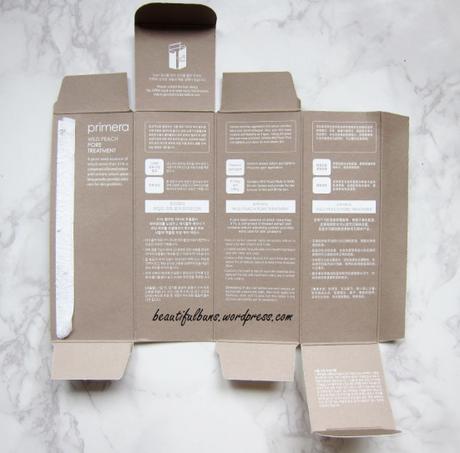 Break open the box along the perforated lines, and you'll find the instructions printed on the interior.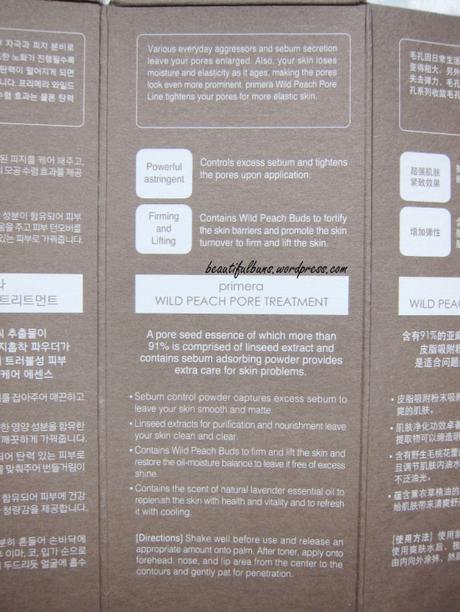 Ingredients: Linum Usitatissimum (Linseed/flaxseed) Seed Extract (91%), propanediol, Oryza Sativa (Rice) Germ Extract,  Sesamum Indicum (Sesame) Sprout Extract, Glycine Soja (Soybean) sprout Extract, Vaccinium Myrtillus (bilberry) buds extract, Viburnum Lantana Bud Extract, prunus persica (peach) bud extract, Nelumbo Nucifera (lotus) Flower Extract, Prunus Mume (plum) Fruit Extract, purified water,1,2-hexanediol, Silica, Glycerin, Sodium Magnesium Silicate, Ethylhexylglycerin, Calcium Chloride, PEG-60 Hydrogenated Castor Oil,Glyceryl Caprylate, Disodium EDTA, fragrance (from  cosDNA.com analysis).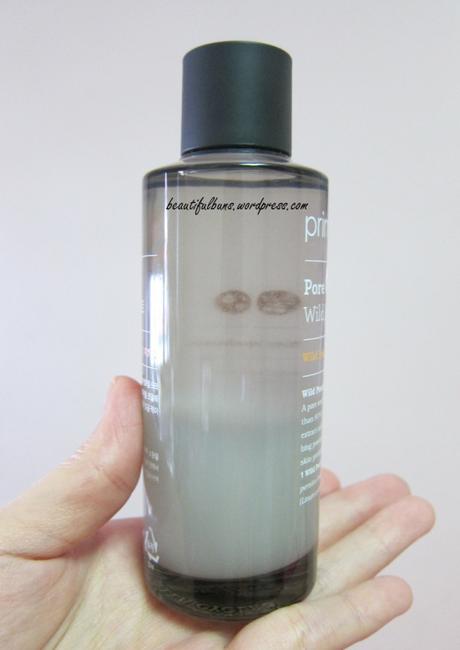 The product is a suspension (presumably it's the silica/ sebum-absorbing powder that's suspended in the lotion) – remember to shake the bottle before usage.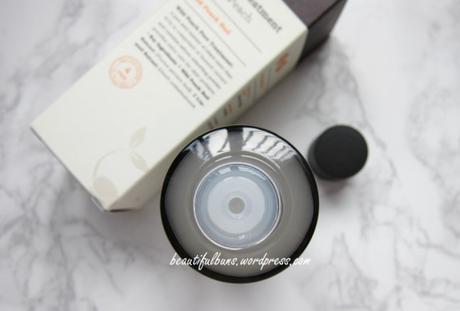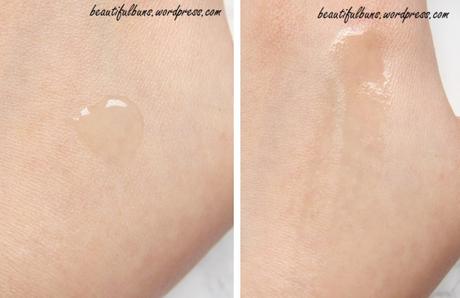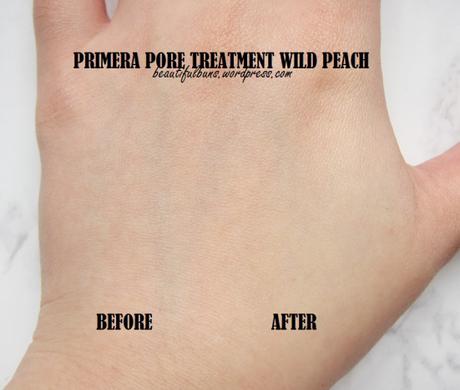 I say…
The Packaging: A glass bottle with a small opening to dispense the lotion out of. Be sure to shake the bottle thoroughly before each usage, as the suspension (silica) will settle to the bottom. During the first few usages, it can be difficult to get the liquid out through the opening (I'm not sure if it's physics at work, something about air getting into the bottle to push the liquid out blah blah), so you'll have to shake it rather vigourously (like how you would with a bottle of ketchup) to get the lotion out. Once the level goes down slightly, there won't be any trouble dispensing the product.
The Scent: No, it doesn't smell like peaches. Instead, there's a  herbal scent (with hints of lavender and some others) that smells very refreshing.
The Texture: A lightweight lotion that's absorbed easily and quickly into the skin, and doesn't leave the skin stripped or taut. There's no greasy/sticky after-feel, and does indeed, make my skin feeling tightened (in a good way).
The Verdict: Having tried this on one side of my face for several weeks, I must grudgingly admit that there has been some shrinkage of the enlarged pores. It's not a miraculous thing, but there is some very slight difference – thus, I haz to say I like it. Plus, there's the added plus point of the mattifying effect, which makes this suitable for my morning pre-makeup prep. Some may prefer using this on just the oilier portions of the face (the T-zone and the chin), but because it also helps in soothing and moisturising the skin, I apply it all over (except for the eye area). Did I also mention that a little goes a long way? I've been using this without cotton pads, and the level has only dropped about 1cm (2cm at most). Overall, a pretty decent product that has multiple purposes – spankssss Primera, you have yet to disappoint me 😀
Advertisements