You know, I think these beauty brands could be on to something really lucrative – just continue doing collaborations with characters and you'll be rolling in the moneh~! I mean, just look at the Holika Holika x Gudetama, Beyond x Alice in Wonderland, Missha x Line Friends, Apieu x Rilakkuma, Lapcos x Disney, and Missha x Minions – they're absolutely irresistible, and I might as well just direct my entire paycheck to them already. But thankfully, I've got some money sense still, so instead of buying the entire range, I've been moderately purchasing pieces that I know I'll use.
Missha X Line Friends Dual Blending Cushion Shadow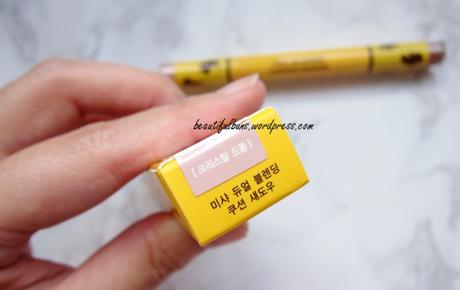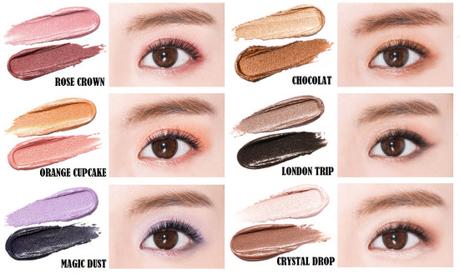 Available in 6 shades, but I decided to pick the most wearable (that, and also because most of the other shades I wanted were sold out. meh!)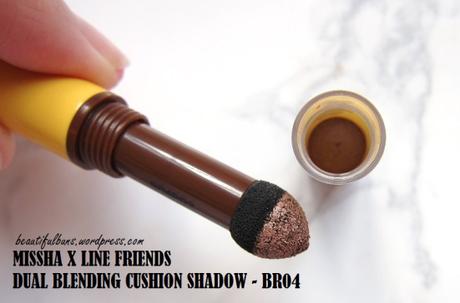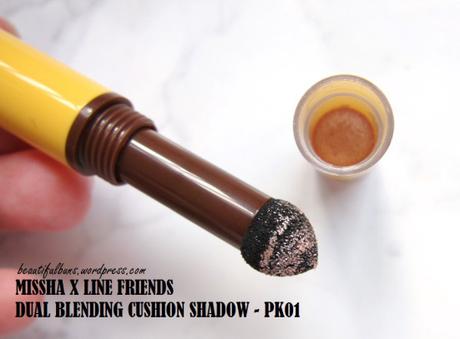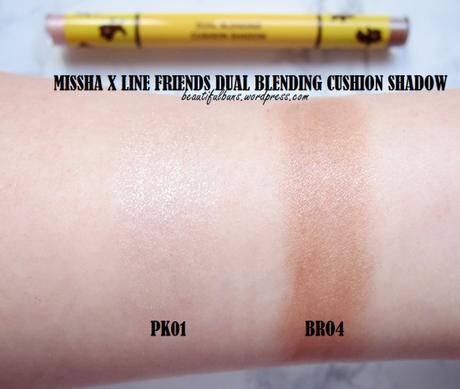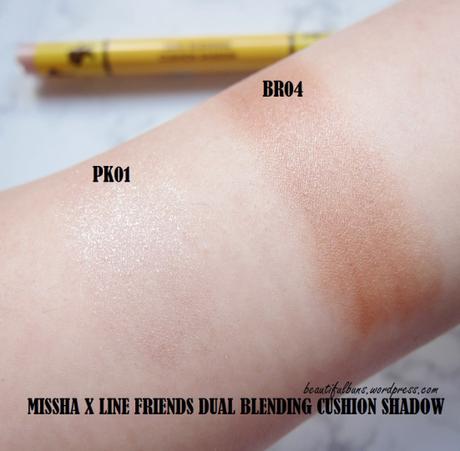 I say…
The Packaging: It's a slim long pencil with two ends that can be opened to reveal two sponge-tipped applicators. The eyeshadow colours are in the caps, and the sponge-tips are spring loaded, presumably to create enough "pressure" so that each end "jams" into the eyeshadow colours to pick them up. The sponge tips themselves are not abrasive, and soft enough without being too jelly-like.
The Scent: None.
The Texture: The powder grains are pretty fine, but there is some fallout during application, which I guess is due to the eyeshadow being so densely packed into a tiny little socket of the cap top.  BR04 is a hazelnut brown while PK01 is a glittery baby pink.
The Verdict: A pretty handy product to have for touch-ups or if you want to travel light. This slim pencil gives a wearable daytime brown shadow, and if you pile on several coats, can give a darker richer brown. It doesn't have much hold against oily eyelids though (which isn't surprising, cos it's essentially just eyeshadow powder), and after about 5 hours, it was creasing in the folds of the eyelids, and I could wipe it all off with just a sheet of tissue. Overall, it's a fun sort of product that you could buy on a whim (cos Missha isn't too pricey), but if you've got oily eyelids and are looking for something that stays on and on and on, try Nudestix's Magnetic Eye color.