Everyday when I do my makeup, I think about days when I was young – no, no, not those days when I was 18 and still had fresh bouncy skin (which, ahem, I still (think I) have). I'm talking about toddler age – I was merrily running amok in the house and my parents totally did the "You be careful or else you'll trip and fall and hurt yourself". Being the typical frivolous young kid, I of course disregarded everything they said, and fell facefirst with an almighty bang into the corner of the table. Alas. I now have a scar on the upper left eyelid as a constant reminder of being a parent-ignoring fool.
The reason I brought this up is because I now have uneven double eyelids, which make one eye bigger than the other. My everyday makeup a bit of a task for me since I need to balance out the eyes. What usually does the trick is eyeshadow – and not just any old eyeshadow – I need them heavyduty, waterproof, smudgeproof, oilproof, everythingdamnthing-proof :D (oh and here's a plea calling out for votes for the Best Beauty Blog 2015 – pretty please?)
Make Up For Ever Aqua Matic Waterproof Glide-on Eyeshadows – SGD$35 each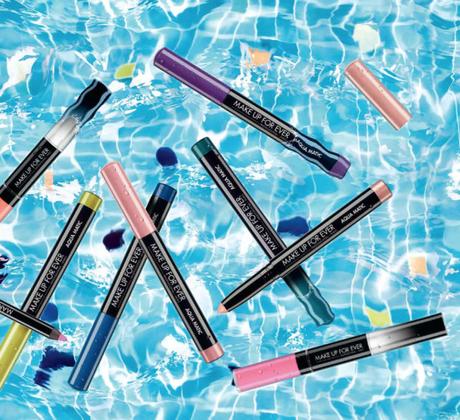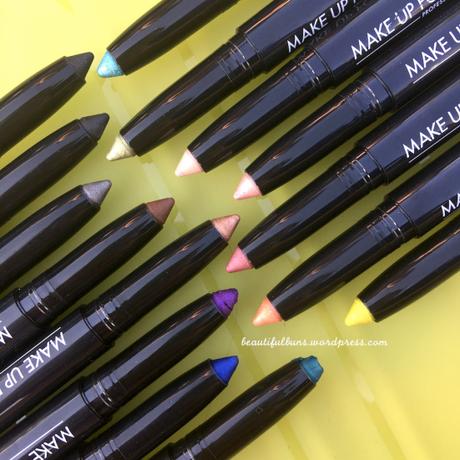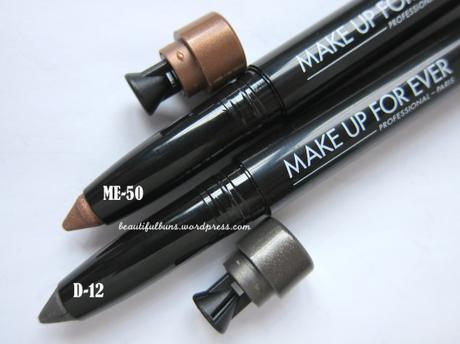 Fail-proof, all occasion-wearable colours – ME-50 (brown with shimmers) and D-12 (gunmetal silver-grey)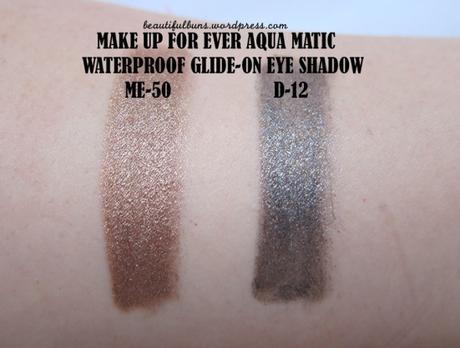 I say…
The Packaging: Granted, the exterior is pretty much nothing fancy – black plastic casing with colour-coded caps. However, this is a vast improvement from its predecessor – the traditional crayon format of the old version required sharpening but now comes in an automatic twist-up eysehadow stick. It also comes with an attached sharpener at the bottom that makes for convenient sharpening – I used to carry around the old version wherever I went, and also overseas, and it was an absolutely bummer when it ran out and I had no sharpener. With this new version, I'll never face that problem yay! It measures about 12.5cm in length and has a diameter of 1.2cm – slightly fatter than your usual pens but not overly fat and gives perfect grip.
The Application: Well there's not much science required here – simply apply it to your eyes and blend/smudge out with your fingers (upon application to your skin). Once it dries / sets in, you'll find that it won't budge .  It's lightweight and pigmented, so you don't need many layers to get the color intensity. It's also buildable and doesn't cake, so don't worry about piling it on for that night out. One layer of the brown ME-50 gives a nice subtle brown that helps create depth and dimension (that also make your eyes look larger!), while more layers will give a beautiful gorgeous smokey-eyed finish :D
The Wear Time:  It's amazingly budge- and oil-proof – even after 6 hours, the creasing at the double eyelid crease line was very minimal, and there was NO smudging on the lower lids. I YAM HAPPY. (I unfortunately broke my previous go-to CLIO Eyeshadow stick and I've since been searching for a replacement).
The Verdict: I haz salvation from smudged raccoon eyes! This is everything it promises to be – waterproof, smudgeproof – and I've found it to be my oillid-proof too! Don't be fooled by its somewhat blah packaging – it packs a punch!  I have no other words except GEDDIT NAO.  Available in 16 shades from Pro Loft and Sephora.