And it's the end of the week, finally! And yayyyy my face has lit up (cos it's gonna be a looong weekend) woohoo! Time to whip out the pretty products to make mahself purdee :D
MAC Wash & Dry High-light Powder Freshen Up – S$58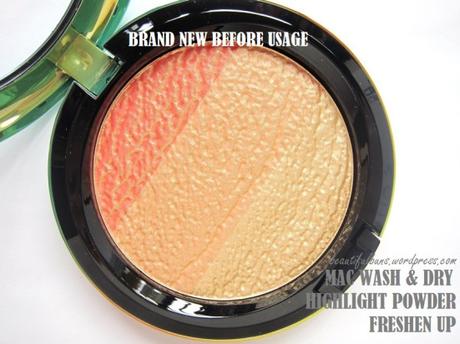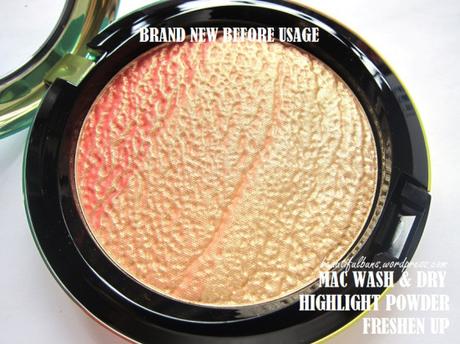 An absolutely gorgeous layer of gold dust lines the top of the product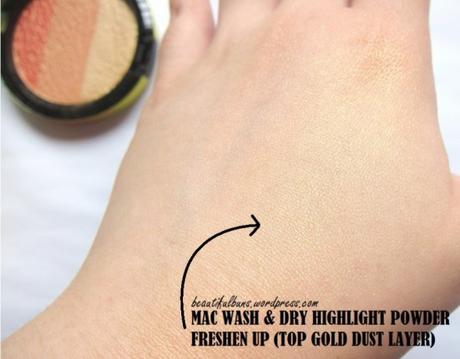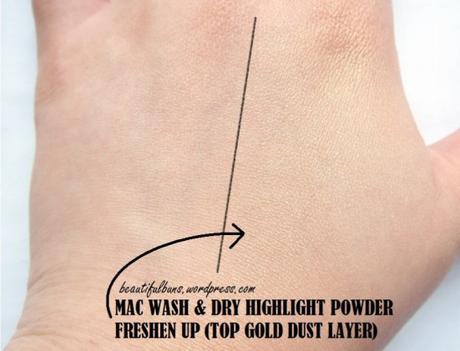 This is how the gold dust layer looks like when applied on the skin – barely there with a very slight sheen.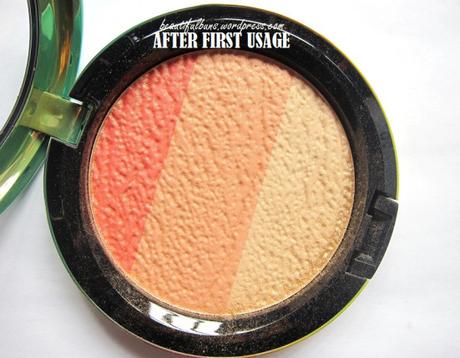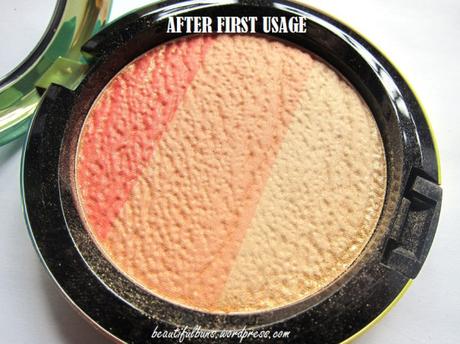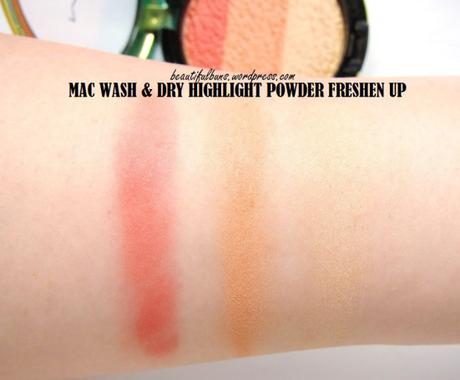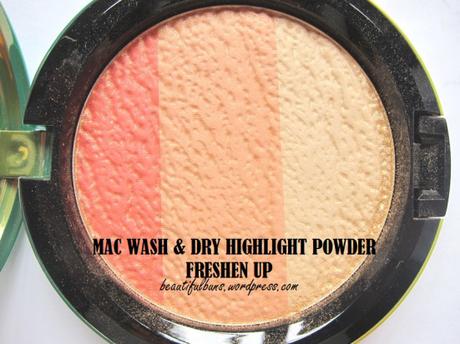 A mix of 3 colours in this little pot – warm-toned coral-red, orange-peach, and beige-peach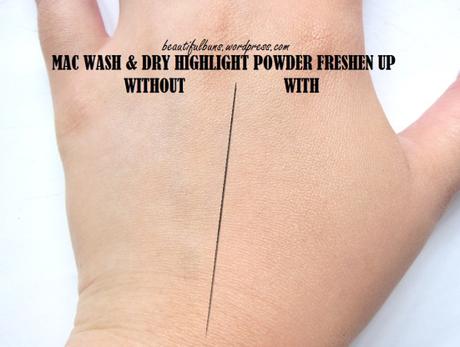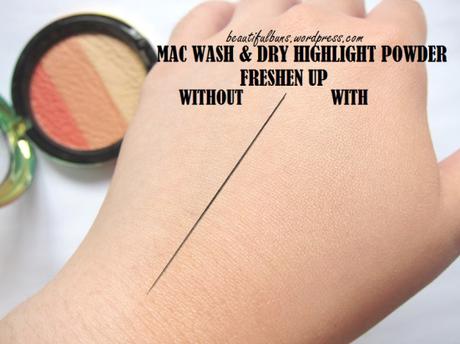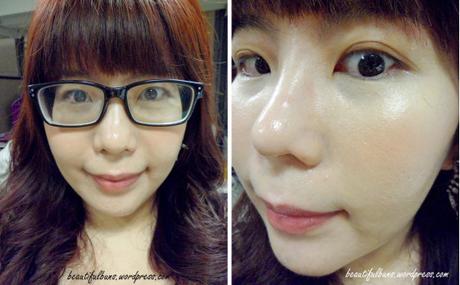 Sorry again for the lack of eye and lip paint – yes yes, I know it's Friday but I don't paint for the office. Instead, I will slather on the face paint later woohoo! Anyhoos, face done with
Etude House's Stay Up Foundation,
and cheeks with this MAC Highlight Powder in Freshen Up.
I say…
The Packaging: It comes in the limited edition coloured gradient casing for this Wash & Dry Collection. Other than the colour, it's mostly the same as other MAC powder/compact products – plastic lightweight container with a click-shut closure without any brush nor accompanying mirror.
The Scent: None.
The Application/Texture: Let's break this down into 2 portions – the top layer, and the actual product.
The Top Layer: I notice that it's  a pretty common thing for brands to scatter/spray a layer of shimmer atop the product, but this glitter/shimmer isn't consistent throughout the product i.e. it's just a top layer. I'd been earlier briefed by the lovely brand person that this would be just a top layer, so I was fine with it. In fact, for this product in particular, I'm quite glad that the gold is only for the top layer – I don't have beautiful olive/tanned tones, so it wouldn't have sat well on my skin. The gold may actually turn some ladies off (especially those who aren't into OTT make up / are more into the natural look). The top layer only lasted for one usage – i.e. after I swatched it on my hand for these photos, that was all. No more gold. Ah well.
The Actual Product: This powder is divided into 3 colours which are mostly warm tones (coral-red, orange-peach, and beige-peach). When you gently swirl a large powder brush over it and pat the mixture onto your skin, the result is a muted coral-pink blush (see photos above). You only need very little product to get the colour payoff, so refrain from being too heavy handed. If you don't like to swirl (kinda like the OCD me because I can't stand the thought of the various colours "staining" each other, make sure that
The Verdict: First of all, I'd call this more of a blusher than a highlight powder – unless of course you like to highlight / contour your face with shades of coral. That aside, the colour payoff is good, a little goes a long way, and the blusher colour lasts for pretty long too (I count 7.5 hours and it's still staying strong!). I guess you could also use the lightest shade as a highlighter as well, so it can be a multi-usage product, which can sort of rationalise you spending $58 on this (and plus, I'm guessing it'll last a long time). A pretty decent blusher for those who're looking for a coral/warm-toned product to try/invest in, especially if you're into limited edition items. Check out the rest of the range here. #TGIF everybardy!