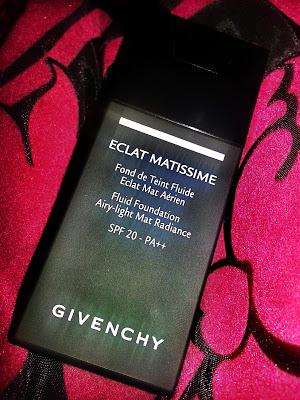 i-Blush Rating:4.5/5
My name is Erika and I have a problem...I am a foundation hoarder! *sigh* Yes, it's true...it's totally in the norm for me to have 5+ foundations on top of my vanity. It's a pretty serious problem. I have tried a
lot
 of foundations - from drugstore brands to higher-end ones, so I'm pretty much a foundation expert and every time I purchase and try a  new foundation, my expectations are
always
 high. Having said that, I am extremely pleased to say that the
Givenchy Eclat Matissime Fluid Foundation Airy-light Mat Radiance
have far exceeded my expectations.
This liquid foundation retails for $51 at 
Sephora
 - definitely not the most expensive, but it's a pretty steep price to pay for 30 ml. But take my word for it, it's worth every penny! The packaging of this foundation was beautifully and creatively designed, very sophisticated! It feels like a hard plastic that's been slightly rubberized (matte like it's name) and on top is the Givenchy emblem which opens up to reveal the pump (also with the emblem).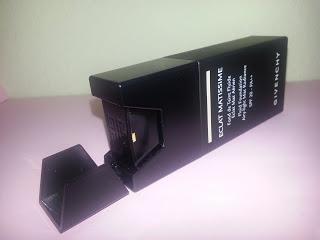 Givenchy Eclat Matissime Fluid Foundation
Airy-light Mat Radiance with SPF 20 PA++
This foundation truly is like your better skin in a bottle! Unfortunately, it's not for people who require a lot of coverage. While build-able, at most it can give you a light-medium coverage. 1 pump is enough to even out your skin tone and make it look like you naturally have good skin. 2 pumps will give you a little more coverage but still look very natural and skin-like.The texture is extremely smooth, blend-able, and finishes to a nice semi-matte finish (very true to its name).
What I also
love
 about this foundation is how well it sits on your skin. It lasts up to 8 hours in my combination skin without any touch ups or having to set it with a powder or a finishing spray. Now that it's cooler where I am, I've been noticing some dry patches on my skin and usually I'd be afraid of wearing matte foundations because it tends to pronounce the patches, but that isn't the case with this one.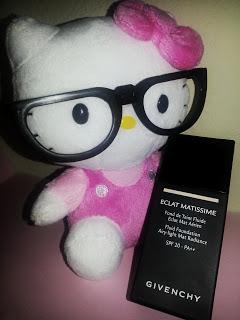 Hello Kitty approved =)
This foundation is also really good for oil control! According to the company, this  is "formulated with silica beads structured to optimize the absorption of oil and moisture while allowing the skin to breathe". I'm not sure all about the science, but it's working! It's also nice that this contains SPF 20 PA++, but I still suggest applying sunscreen as you won't be applying enough to actually get the sun protection you need.
There's only two cons I can say about this product. First, the pump is extremely difficult to control. In fact, you can only dispense a full pump's worth of foundation at a time. It also squirts the product out with quite a bit of force, so be careful or it might get everywhere. Second, the foundation does have a strong floral scent to it. Personally, the fragrance smells quite pleasant and it hasn't broken me out. However, fragrance in foundation usually means more chemicals on your face; so that seems like an unnecessary addition and a major turn off for many people.
Overall, I'm in love with this foundation and have added it to my list of HG foundations (though I try and enjoy many, there isn't a lot that I consider HG). It is on the pricier side, but I can justify spending more $$$ on good foundations just because it's applied on my entire face. So, if you're shopping for a new foundation, do give the  
Givenchy Eclat Matissime Fluid Foundation Airy-light Mat Radiance
a try and let me know how you liked it (or disliked it).