* This review was posted on my food blog and reposted here for your reading pleasure😀 *
Did you know that earlier this year, Jiang Nan Chun had a renovation? They unveiled their new look sometime in February, just in time for the Lunar New Year. We must have been too busy with our CNY visiting and festivities then, but hey, it's still not too late to check out the newly revamped Jiang Nan Chun and their new food selections. After all, a simple google search reveals that Jiang-Nan Chun is one of the better Chinese restaurants around.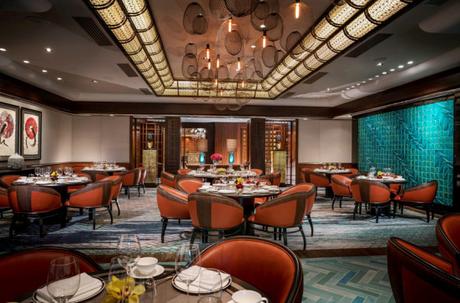 At first glance, we're liking the new look of Jiang Nan Chun. It has an inviting facade and neutral colors that aren't OTT ching-chong (you get what we mean – I'm Asian, and some restaurants can just bring on too much cultural elements for our liking). It is posh without being overly intimidating, and one can enjoy the company of friends or family with its great ambiance.
Signature Jian-Nan Chun Peking Duck (S$98)

We have to 'fess up that this is one of the better Peking Duck dishes we've tasted. In fact, it's so good that I brought my parents back. Even my Dad, who is usually very picky when it comes to food, gave his two thumbs up for this signature dish.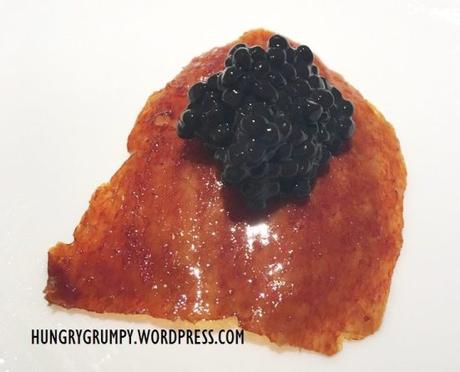 The skin is so crispy and juicy that it's almost impossible to stop after the first bite. It takes the chef 14 hours to prepare the Peking Duck (instead of the usual 8 hours) and these ducks were carefully roasted using a Mesquite Wood-Fired Oven.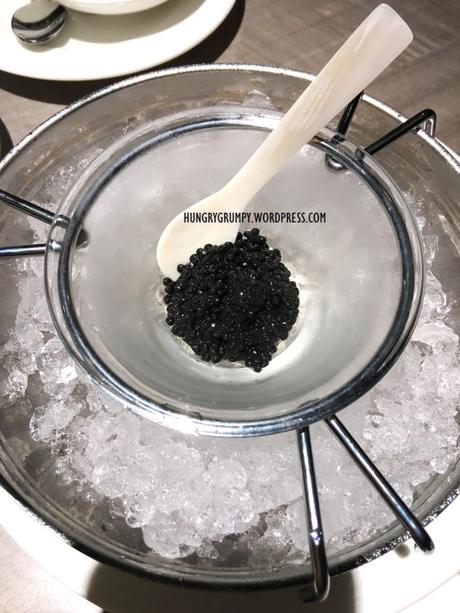 Besides the longer preparation hours, what makes Jiang-Nan Chun's Peking Duck stand out from the rest is its pairing with caviar.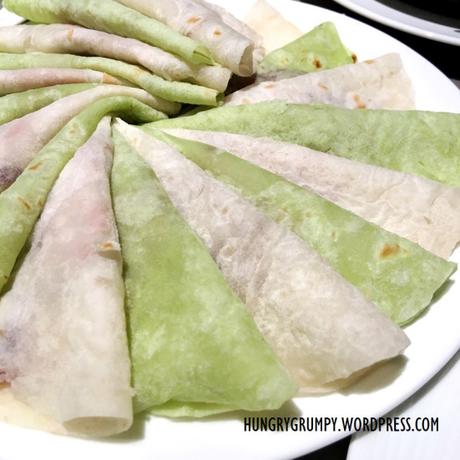 In addition, the dish is served with a  pancake that's specially made from scallion. I'm not a scallion lover so I was a bit apprehensive about the taste. Surprisingly, the taste of the scallion is really mild, and it goes really well with the crispy skin of the duck and the sauce.
—
Soft Shell Prawns with Sliced Almond and Crispy Rice (S$15)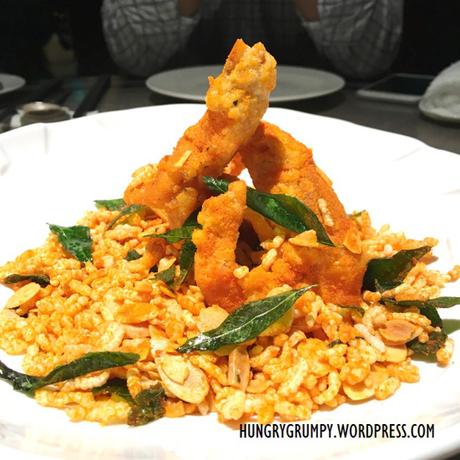 Most of us have heard of soft shell crabs, but soft shell prawns? That's a first, and we're liking the fact that we can wipe out this plate of crispiness without having to dirty our hands. In fact, we daresay that it actually makes a very good snack.
—
Jiang-Nan Chun Platter 
What's a Chinese restaurant if Dim Sum isn't on the menu? At Jiang-Nan Chun, the dim sum dishes are served individually instead of the usual 3-4 pieces in the basket. If you feel like having just one steamed shrimp dumpling, you can simply just order one. That way, you won't over order and you really just order what you want to eat!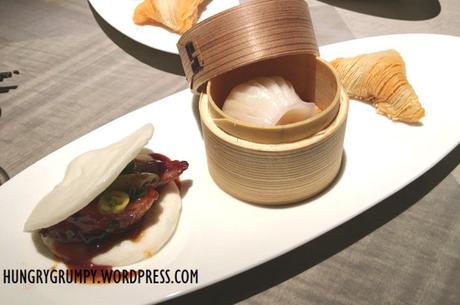 The platter that was served to us included (From L to R):
Char Siew Sliders with Pickled Green Chilli (S$15 for 3)
Steamed Shrimp Dumpling with Eryngii Mushroom (S$2)
Crispy Puff Pastry with Black Pepper Beef (S$3)
—
Double Boiled Soup – Sea Whelk, Maka, Dried Scallops and Pork Ribs Soup (S$38)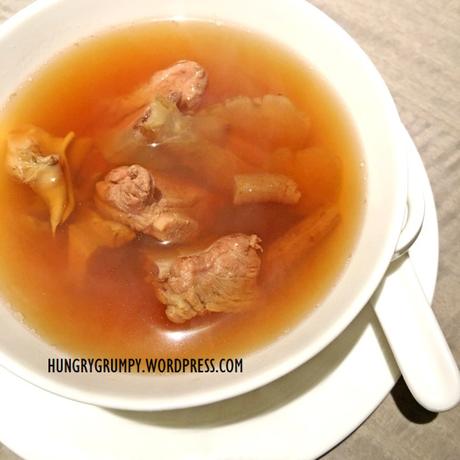 This is another personal favorite. Sipping down this bowl of double boiled soup warms the heart and stomach. Look at the generous ingredients that goes into this bowl of goodness. Do not be deceived by the clear colors of the soup as it was really flavourful.
—
Steamed Cod Wrapped in Rice Paper Roll with Mushrooms and Water Chestnuts (S$38)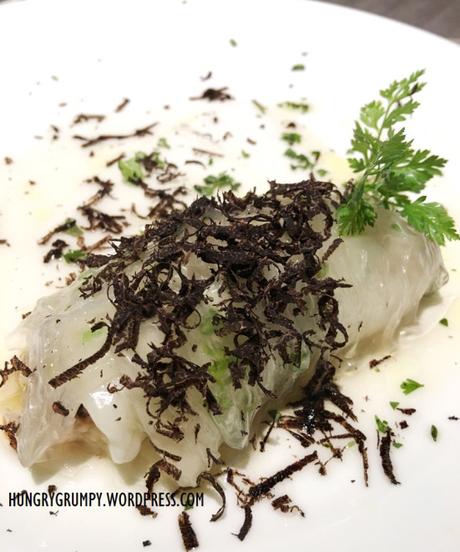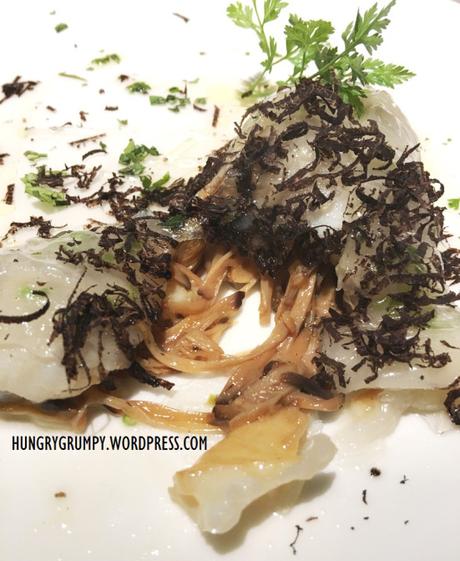 By now, we're noticing that every dish at Jiang-Nan Chun is like a piece of art with a story to tell. The steamed cod wrapped in rice paper roll is served with truffle that's freshly shaved by the Chef when he brings it to the table. This dish is an awesome combination – it's tasty, healthy and nutritious. I could have this everyday (now if only I were that rich).
—
Wagyu-Beef Oxtail with Lemongrass-Infused Oil (S$32)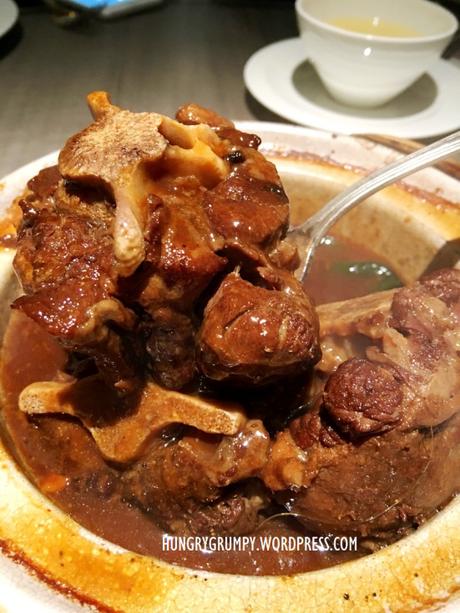 This is extremely tender beef that melts in your mouth, and we're not kidding – it barely requires any effort to chew.  We also like how this dish is served to us straight off the stove that its piping hot. The gravy itself can make us down a bowl of rice.
—
Now that we're done with the savories, its time for the sweets. To be honest, our bellies were bulging like an unker's beer belly by the time we got to the desserts, but c'mon – there's no way you can say no to desserts, especially those that look this good. Just take a look at how colorful and instagram worthy these desserts are.
花样年华 with Avocado Cream, Coconut Sorbet, Osmanthus Jelly, Cocoa Nibs (S$14)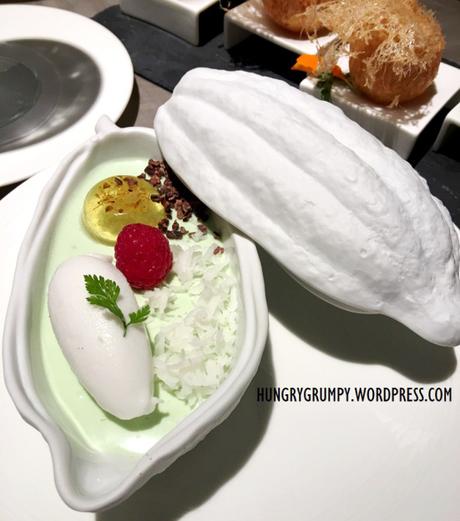 似水流连 with Yoghurt Cream, Mung Beans, Longan, Chia Seed, Sour Plum Granite (S$14)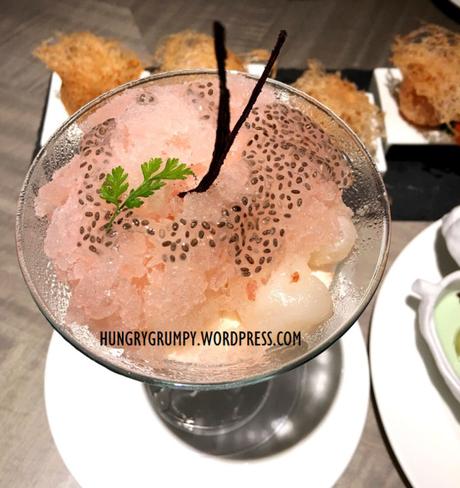 杏仁蛋黄酥 Crispy Salted Egg Yolk Puff Pastry with Almond (S$12)
Right, we know that this doesn't exactly qualify as a sweet item, but we like this the most amongst the desserts that were served. Admittedly, there's too much craze in the market about salted egg yolk dishes, but we're happy to see something different at Jiang-Nan Chun. The chef has taken quite a bold move of putting salted egg yolk and almond together. Now almond is an acquired taste that may not go down well with all. However, we think that the chef did a brilliant move as the taste of almond has given this salted egg yolk dish a refreshing take.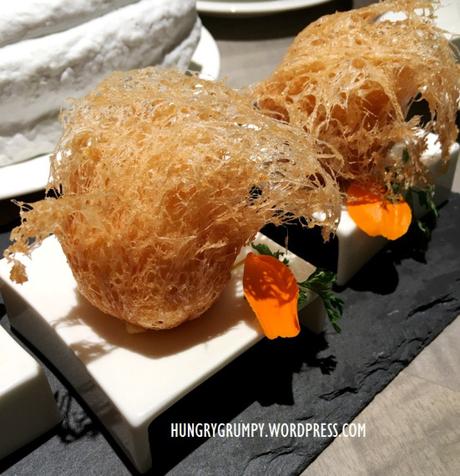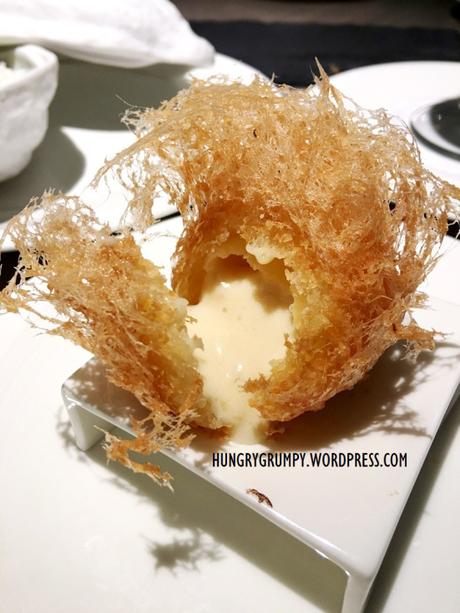 Overall, it was really an enjoyable experience dining at this award-winning fine-dining restaurant. Here, you'll find quality Chinese cuisine at wallet-friendly prices and we highly recommend that you come try it yourself (and with friends and family too!).
Note: This review was written by a guest reviewer who attended on behalf of HungryGrumpy's author, and was further edited for clarity and brevity.