And it's Friday! Now I'm usually all jolly (kinda like the Santa man with the big belly and all), but today, I'm red for all the wrong reasons. Damn you cheating lying scumbag of a barefaced lying -bleep- selling from Taobao. Humph. Will blog about it in full detail soon so that you guys will know NEVER to buy from him (ID: 时尚衣都坊o  & page link here). Anyways, to cheer myself up, I'm gonna blog about something really pretty and cute and from my favorite Kimchiland.
Etude House Cushion Blusher in Coral and Pink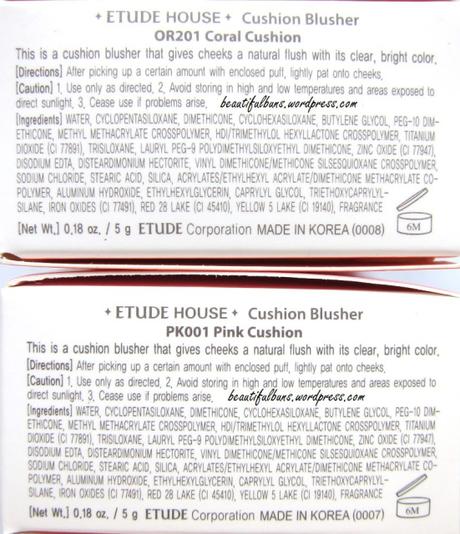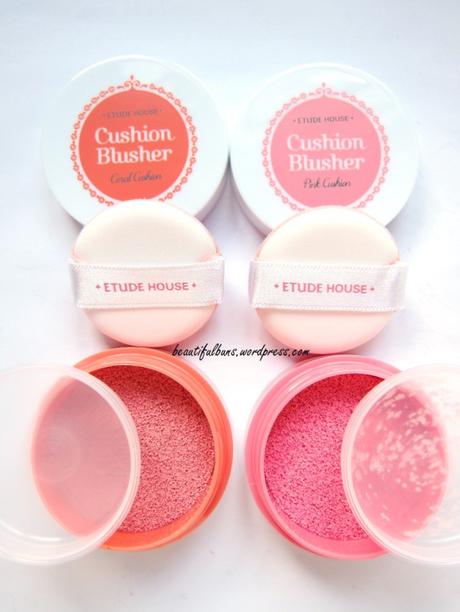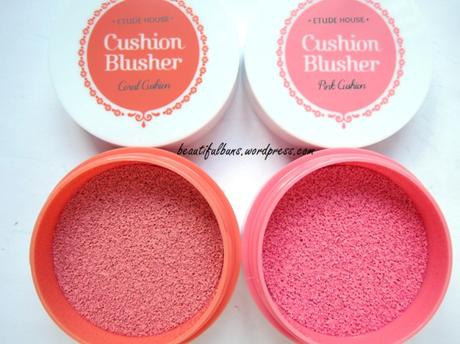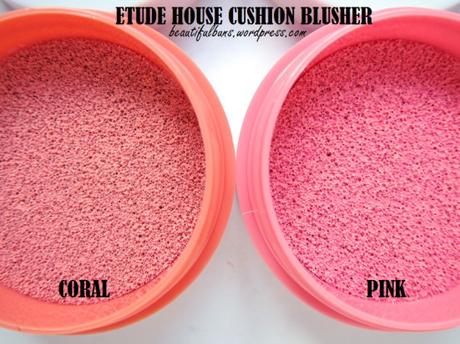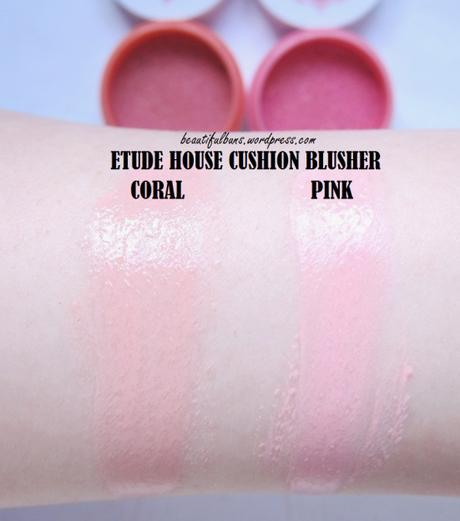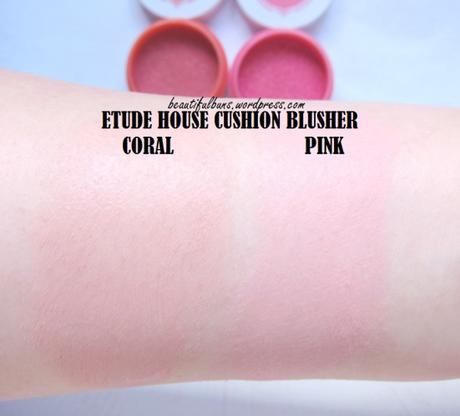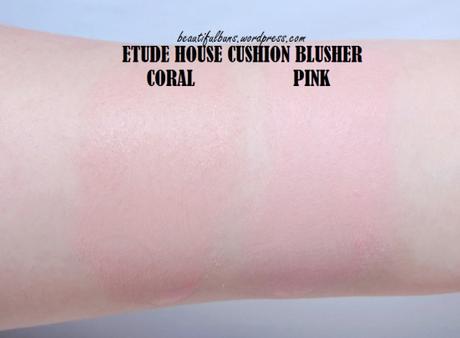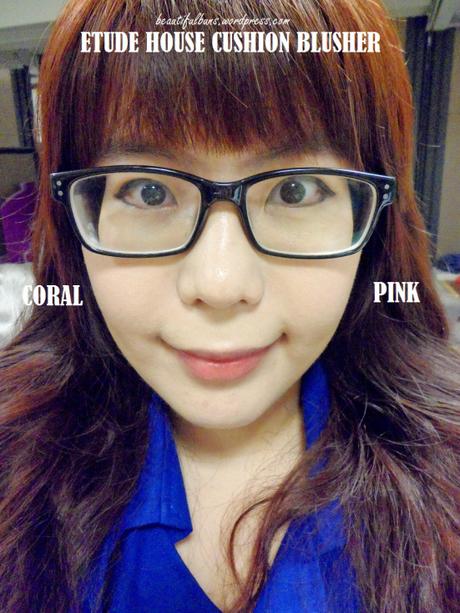 Not much of a huge visible difference between the two shades methinks.
I say…
The Packaging: These are really adorably tiny little pots – measuring around 4.5cm in diameter only! They're really handy to carry around for touchups, and come with a little removable tray that serves as moisture lock and sponge puff applicator holder. The cap is a twist-open one (as opposed to its BB cushion cousins that have a click-open compact case and a non-removable tray). I'm also pretty impressed that it comes with a little puff sponge (just like the IOPE Air Cushion Blusher as well as the Aritaum Sugarball Cushion Blusher (even though the latter is theoretically not a cushion-type product)).  This is the true-blue cushion-type product, with the sponge holding the blusher intact.
The Scent: It has a lovely fruity scent that's not overpowering.
The Application: Well, you can dab the puff into the little tub (by sliding a finger or two into the ribbon of the puff), but I find it to be too delicate a movement/too tight a fit for my large clumsy hands. My alternative is to sometimes use a (cleansed) finger to pick up the color from the tub and then apply it to the cheeks. The color is actually not as intense as I'd expected it to be, which is a plus point in my book – there's no worry about having Pikachu cheeks in the case where I get too heavy-handed, and I can slowly build this up to a color intensity that's too my liking. The finish is mostly matte, so you can still apply on some highlighter over it if you're looking to have some dewy finish.
Coral Cushion: This isn't as orangey as I'd expected it to be – it's actually a very mild peach coloud that is suitable for all skin tones, and gives a nice almost pinky-peachy finish.
Pink Cushion: The finish is a bright, somewhat powder pink that brightens up the overall look.
Between the two, I'd go for Pink Cushion only because I like my cheeks pinky rather than peachy. That said, I wouldn't be fussed if I dipped my hand into my makeup drawer and took out the Coral one instead of the Pink one – they're both very pretty colours!
The Verdict: I believe these were earlier released under the name "Etude House Lock'N Summer Cushion blusher", cos they seem to be available in the same shades/packaging save for the cap design. It's a pretty fun and cute item to play with and to jazz up your morning makeup routine – trust me, there's just something very mood-lifting about Etude House products. It is a little small though, and I'm not particularly sure how long it'll last, but if you're looking for something that will last a little longer or something that has more glow, try IOPE's Air Cushion Blusher (based solely on the fact that it's larger and therefore holds more product). I'm also not too sure if they're available in all markets (I did a quick check on Etude House's Korea site and I couldn't find it), so you'll have to check with your local Etude House to find out :D