Although the job of a journalist/editor seems really glamourous from far, there are really a lot of uncool things that we do – such as eating at our tables whilst trying to avoid being buried alive by an avalanche of press kits, staying late in the office till 3am for final checks of the ozalids, and banging out a story in 30 minutes. Why?
Cos we procrastinate. Yes, we may wear Prada (well, the higher-ups anyway), but we are still human. It's because we work under such tight deadlines that's we've evolved and learned how to produce articles really quickly (or as we used to say "Did you pull that outta your panties?! How'd you do that so fast?!").
This is the exact reason why I took quite some time to do up my review of this product, despite me raving on and on about it.
Was it the photo-taking of its reflective packaging that put me off? Perhaps.
Was it my reluctance to sully the pretty product with my gross flakey lips? Possibly.
Could it be because I've got too many products to review? Well.. you could say that too.
Anyhoos, the point is that I've finally gotten down to doing a review, so read onnnnnn.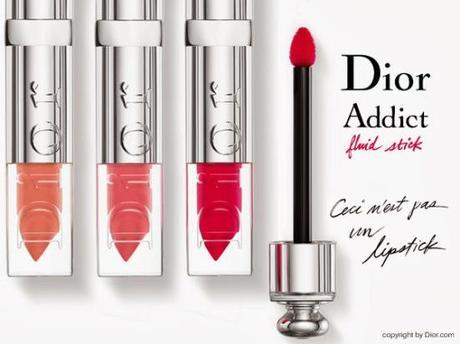 In french, it says "I am not a lipstick"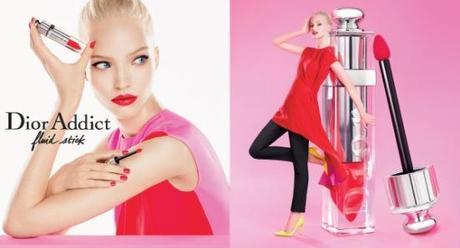 Dior Addict Fluid Stick – SGD$47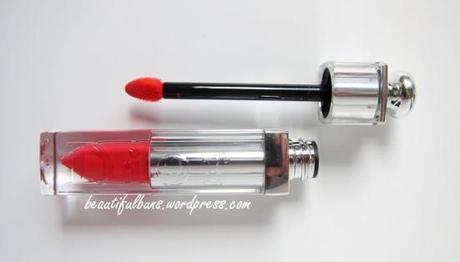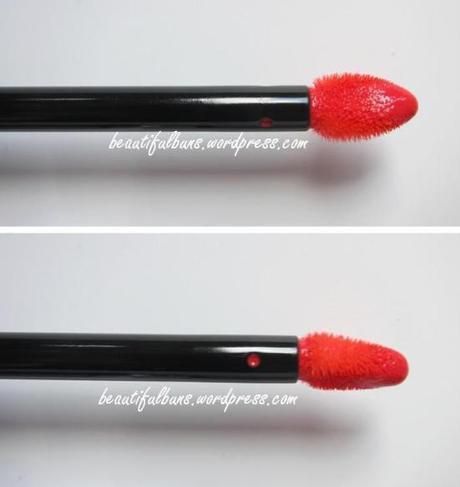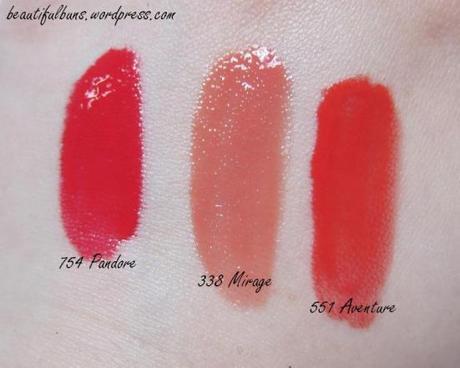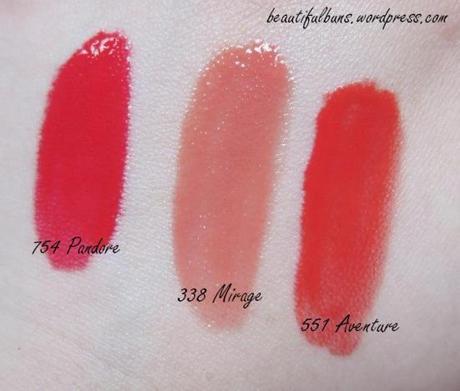 551 Aventure – a warm red tone with a touch of orange/coral

338 Mirage – a peach color with a touch of nude beige

754 Pandore – my personal favorite of the bunch I have – red with a touch of cherry pink
I say…
I think this was actually the product that set me off on a lip-lovin' craze when I attended the launch sometime back.
The packaging is definitely a draw – look at how luxe and chic it is.
It's a screw-open cap that's attached to the sponge applicator.
The sponge tip is tapered towards the top (for precise application) and broad in the main body (that's really soft and covers sufficient surface area without having to use multiple strokes).
Now you must be wondering – what exactly is this? Well, in my own words, I'd call it a hybrid. It's a lip gloss with the color intensity and vibrancy of a lipstick.
The consistency is slightly thicker than that of a lighweight gloss, so after going around the bush, I'd conclude it's a mediumweight. Heh.
The wear time is pretty decent (about 4 hours).
It's moisturising enough to cover my flakey lips, and gives it very high shine and gloss. In my photos above, I only applied 1 coat

:D

I love that the color is crazy, crazy intense and so bright and vibrant.
My personal favorite (of the bunch generously gifted by Dior) is Pandore, cos it has a tinge of pink.
Mirage is great for days when you want a nude or toned down lip color (kinda like VDL Expert Color Lip Cube in 201 Caramel Sand), but this is the high-gloss version.
Once it wears off, my lips are still tinted with a rosy color (depending on the shade you use). My lips also still feel sufficiently hydrated enough.
There is a hugeeee range of colours to suit any skin color. 
Tip: Those with sallow skintones should go for cooler reds (deeper, richer reds) instead of warm reds (with a hint of orange, coral etc)
Three words: You need it. It's great for moisturising, intense color and high shine. Oh, did I mention that it comes with the added perk of looking luxe-gorgeous when you take it out for application in a public toilet. Hohoho.
P.S. If you guys really really want it, I've got a special 20% discount that I could share with you guys. Just lemme know :D