Everyone, myself included, always gets excited when Wet n Wild releases one of their limited edition collections. But for this year's fall collection, I think the level of excitement was exponentially higher due to the release of four liquid lipsticks at only $2.99 a pop.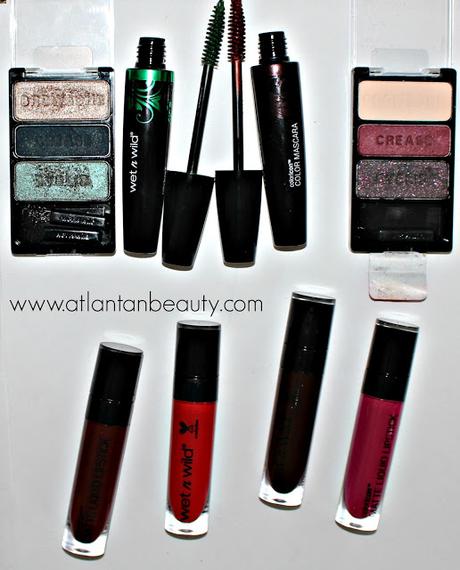 I have been testing everything out for the last week and I have developed some pretty strong opinions on all of the products. I am going to start with the four lipsticks.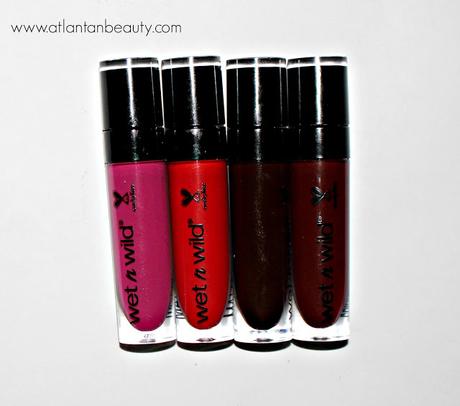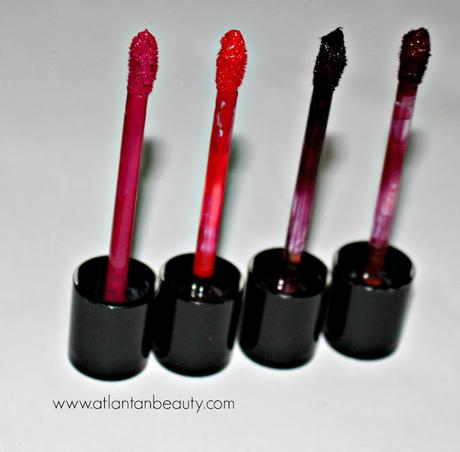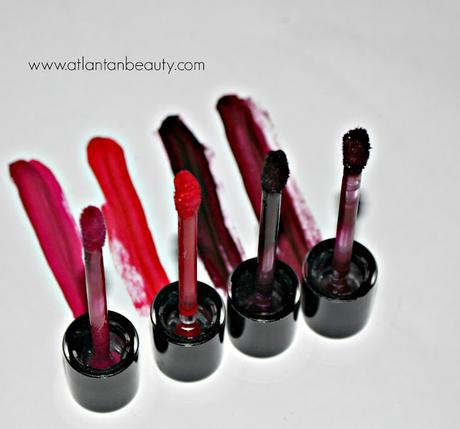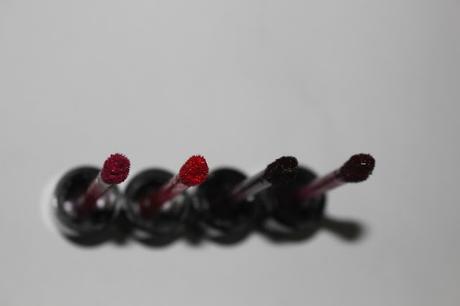 Wet n Wild launched four shades of the Color Icon Matte Liquid Lipstick: Too Tulip To Quit, How Fleek is Your Love, Take It Like a Vamp, and Don't Be a Plum-Plum. Across the board, the pigment and staying power is great. In fact, they are insanely difficult to remove. Too Tulip To Quit and How Fleek Is Your Love are opaque, non-drying, and apply evenly. Sadly, I can't say the same for the darker shades. Both of them are very patchy and uneven. To get the best color payoff and even application, I have to apply two or three layers, with ample time to dry in between each application. They also have a tendency to flake off and bleed. I have also noticed that Take It Like a Vamp and Don't be a Plum-Plum also wear away at the center of my lips after  after a few hours. And they also feel a lot drier than Too Tulip to Quit and How Fleek is Your Love. I'm not a big fan of the applicator's. They have a lot of "fuzz" and they are larger than most doe-foot applicators, which makes it more difficult for me to use. The texture of the lipsticks is pretty thin and liquid-y versus the mousse like texture some liquid lipsticks have. As a result, they are prone to a little bleeding and feathering. It isn't too bad, but I would recommend a lip liner. The quality isn't the best, especially for Take It Like a Vamp and Don't Be a Plum-Pium. I will still wear these because the colors are gorgeous and they are long-wearing. Considering they are only $2.99, they could be a lot worse.
There has been some buzz that How Fleek Is Your Love is a dupe for Jefree Star's Red Rum. I have  no idea since I don't own any of his products. I have also heard that the packaging is pretty much the same. I honestly don't get why people make a big deal about that. It is just plastic tube. Anyway, I just wanted to make you aware of that.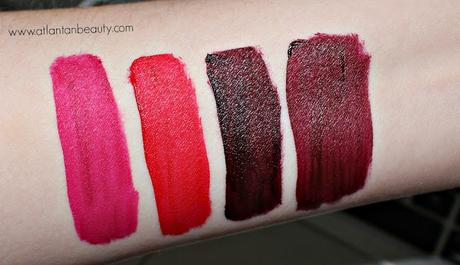 Too Tulip to Quit, How Fleek Is Your Love, Take It Like a Vamp, Don't Be a Plum-Plum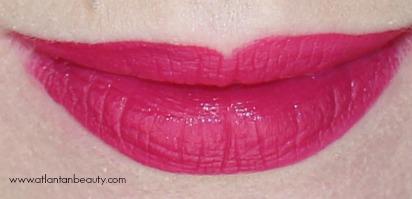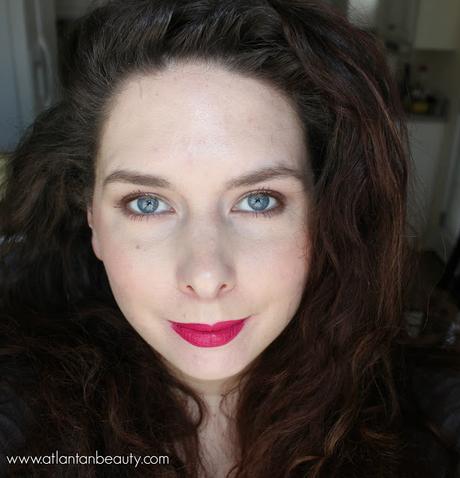 Too Tulip to Quit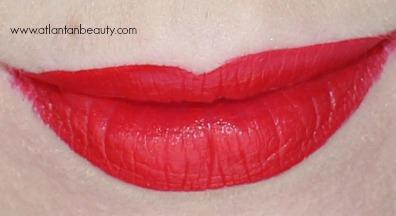 How Fleek is Your Love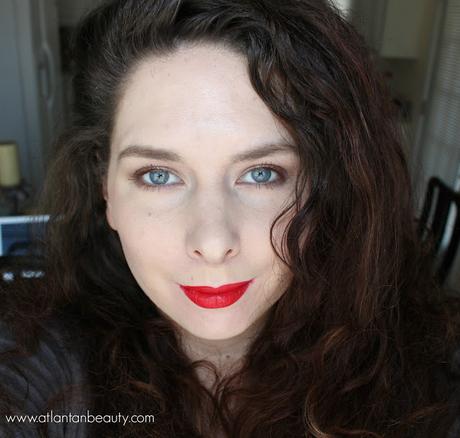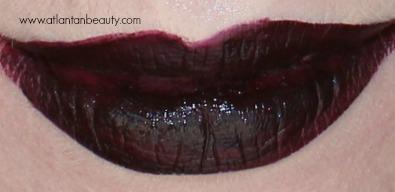 Take It Like a Vamp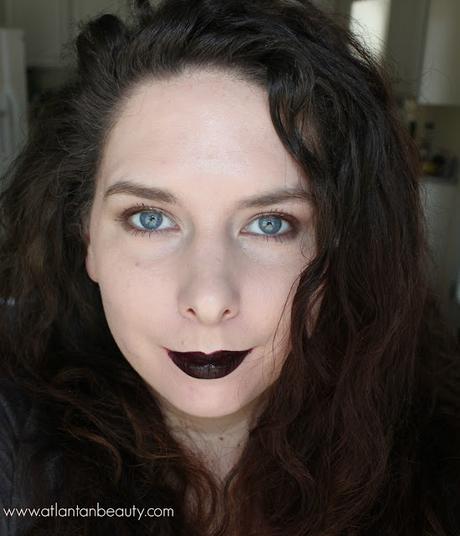 Take It Like a Vamp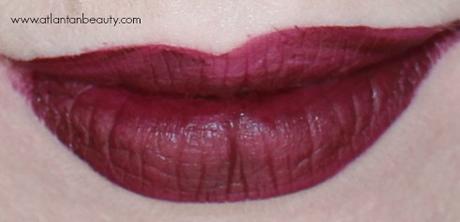 Don't Be a Plum-Plum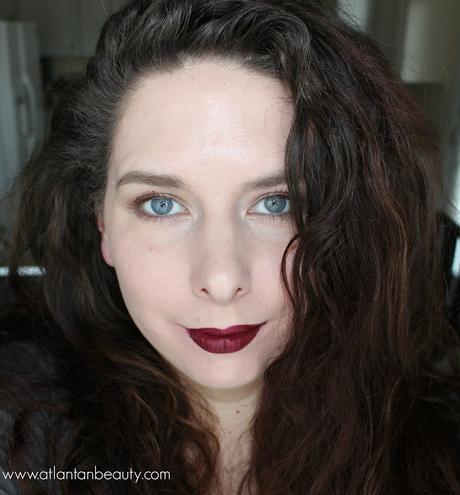 Don't Be a Plum-Plum
Now onto the eyeshadow trios. There are two available: Velour Vixen (matte cream, satin cranberry, and a plum with microglitter) and Plaid to the Bone (shimmery taupe, matte teal, satin warm brown with a teal shift). These don't swatch as well as they look on the eye. I was overall impressed with all of the looks I created with them. The matte teal in Plaid to the Bone doesn't have the best pigment and it is a bit patchy, but you can work with it and make it look nice. The same goes for the satin cranberry. The darker plum in Velour Vixen I can't do much with besides using it along the lower lash line. The color payoff just isn't there. Texture wise, they are great. They are very smooth and buttery, but they do kick up a lot of powder. I have also had some fallout from the teal shades. I like both of them, though. I think they are some of the better eyeshadows Wet n Wild has released in a long time.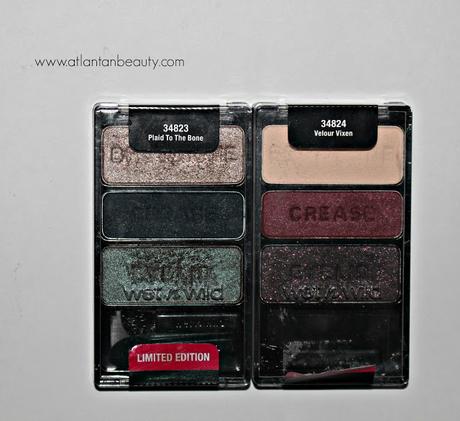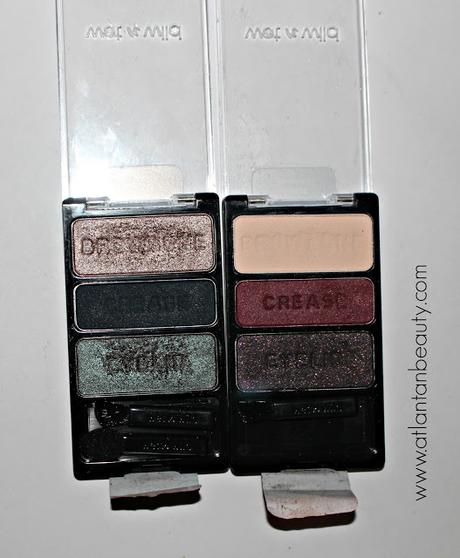 For the swatches, I did brush only. The first set for each palette is done without a primer and the second picture is swatched over Laura Mercier's Eye Basics in Linen.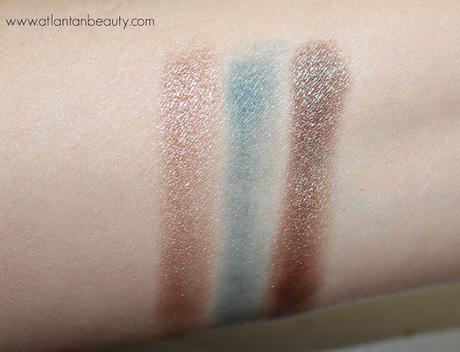 Plaid to the Bone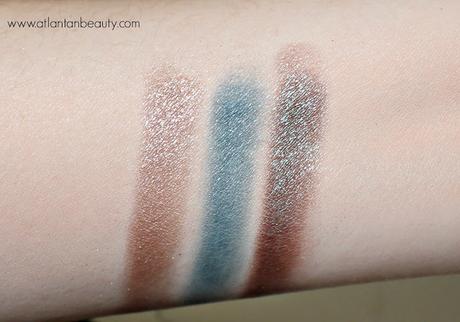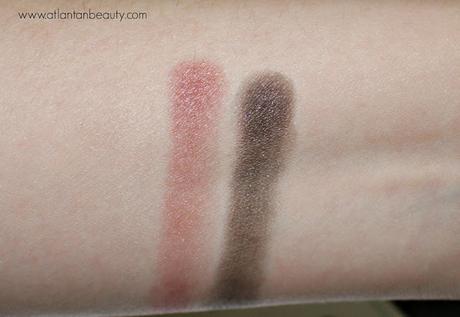 Velour Vixen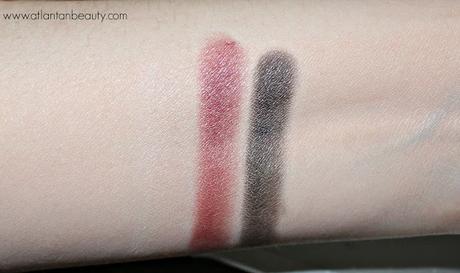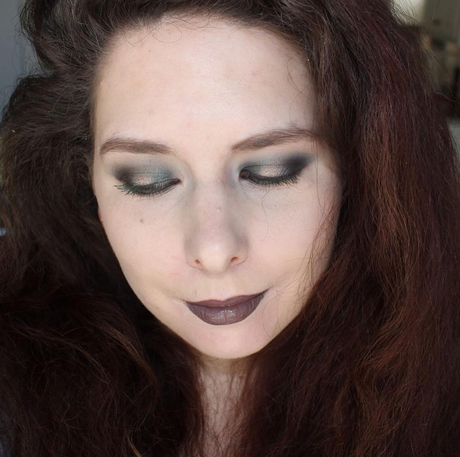 I used Plaid to The Bone shadow trio and Green As a Thistle mascara.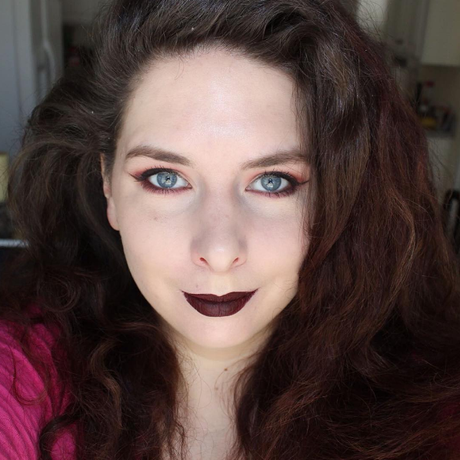 I used the shadow trio in Velour Vixen, mascara in Unbreakable Bronze, and liquid lipstick in Don't Be a Plum-Plum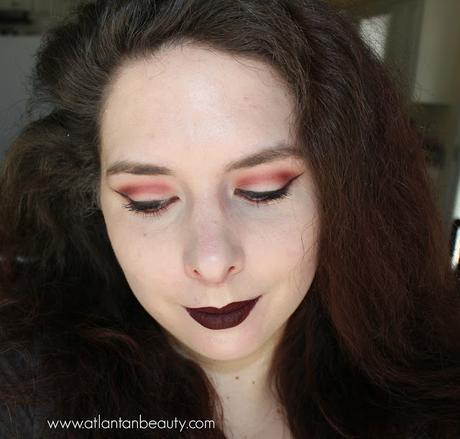 Now for the mascaras. They released four colored mascaras to go along with this collection: Green As a Thistle, Unbreakable Bronze, Sapphire Night Live (haha), and Glamethyst Rock. I have Green As a Thistle and Unbreakable Bronze. I never like colored mascaras because the color never shows up or the formula is absolute crap. These are somewhere in the middle. The color does show up a little bit and the formula isn't that bad. Are they going to make your lashes look full and lush? No. But they do give a little bit of length and definition without clumping up. Plus I like that they are not as harsh as traditional mascaras. I do really like Unbreakable Bronze because it makes my eyes pop and it is great for those "no makeup" makeup days. Green As a Thistle is great for those kind of days as well because it adds an unexpected pop of color. They aren't bad, but they aren't great. Since they are so inexpensive, I still think it is worth picking up a shade or two.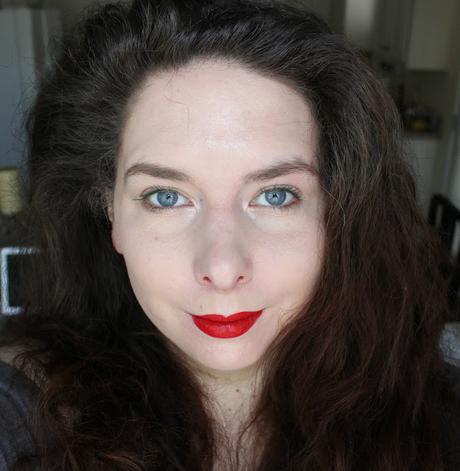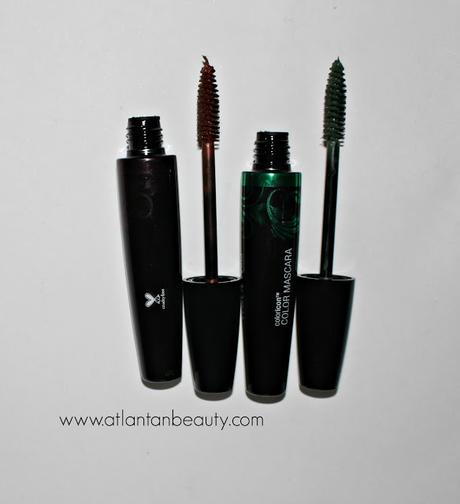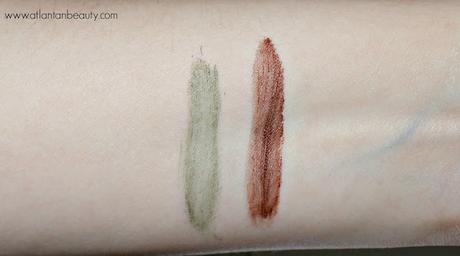 Overall, this is a pretty solid collection. Especially considering that each piece is only $2.99. The liquid lipsticks leave some things to be desired, but I will use them. The eyeshadows are decent and I have gotten some great looks out of them. I would probably pick out one of each item since they are limited edition and this is one of the better collections Wet n Wild has done in awhile.
I hope you guys found this review helpful. If you see anything you like, don't hesitate. This collection is flying off the shelves. It is available at Walgreens, CVS, and Rite Aid.