This is hands down the absolute best palette that Too Faced has ever released, and it is one of my all time favorites. It has the same formula as the chocolate bar palettes, but somehow these seem better. This palette was inspired by the color Peanut Butter, which is in the Semi Sweet Chocolate Bar Palette.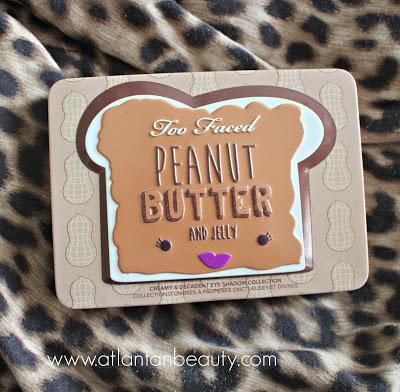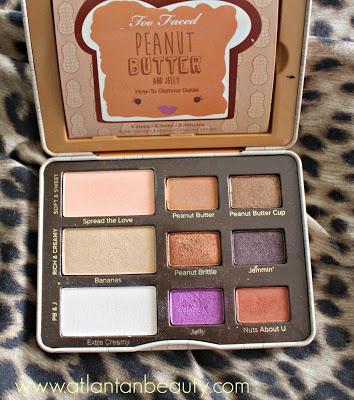 Shades:
Spread the Love: matte peach base with gold sparkle
Peanut Butter: matte orange brown
Nuts About You: matte warm brown. It is darker and more red than Peanut Butter.
Jelly: shimmery orchid
Jammin': plum brown with gold sparkle
Bananas: shimmery soft gold
Extra Creamy: matte beige
Peanut Butter Cup: metallic bronze with gold sparkle
Peanut Brittle: metallic burnt orange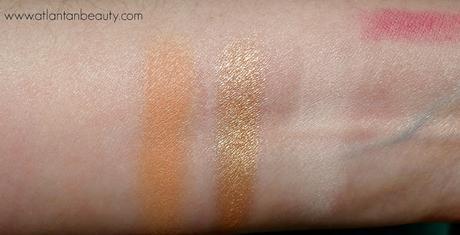 Spead The Love, Bananas, and Extra Creamy.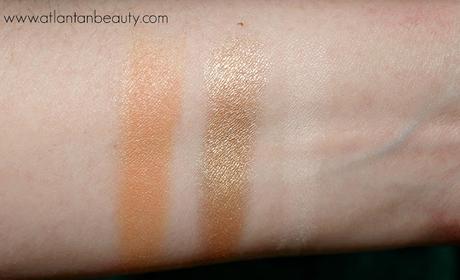 Spread the Love, Bananas, and Extra Creamy swatched over primer.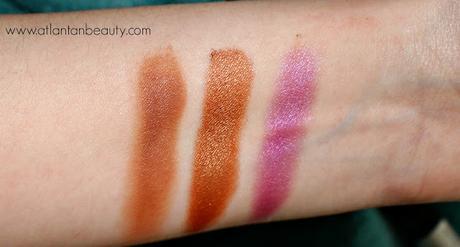 Peanut Butter, Peanut Brittle, and Jelly.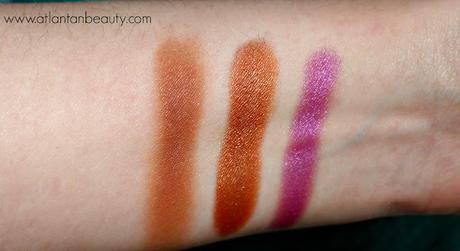 Peanut Butter, Peanut Brittle, and Jelly swatched over Primer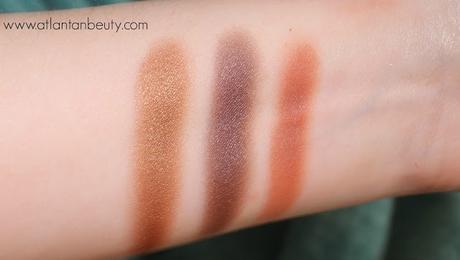 Peanut Butter Cup, Jammin', and Nuts About You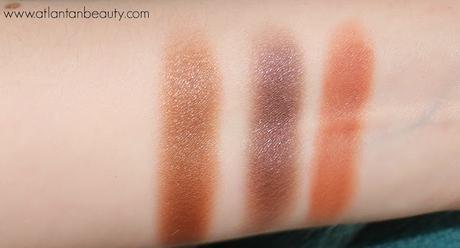 Peanut Butter Cup, Jammin', and Nuts About You swatched over primer.
Overall, this is a very warm toned palette.  Jelly and Jammin' are the only exceptions. They add a nice pop of color, which also makes the palette more versatile. The pigment of every shade in the palette is great, with or without primer. They are soft and buttery, but not so much so that they blend into nothingness. As a result, it is easy to apply them and get a variety of looks ranging from the most natural all the way to fun and bold. Of course the shimmery shades are amazing, but the mattes are also some of the best that I have ever tried not only from Too Faced, but from any brand. They are not patchy or powdery, but very smooth and pigmented. They last all day with no creasing and minimal fading. If you have drier lids or live in a colder climate, fading probably won't be an issue for you. I have put these shadows through the ringer because it has been 80 degrees here and I have worn them while running errands and doing chores. And they passed with flying colors. I did wear them over the Wet n Wild Photo Focus Eyeshadow Primer, which I am sure helped a lot.
Like the chocolate bar palettes and bronzers, Too Faced infused these shadows with cocoa powder. Not only does this make the shadows smell heavenly, it gives them a boost of skin friendly antioxidants. Now back to that smell. I have heard some people say this palette smells like peanut butter. I think it smells just like the other chocolate bar palettes, but more on par with the Bon Bons palette because it isn't too intense.
In typical Too Faced fashion, the packaging is adorable. The packaging looks like a peanut butter and jelly sandwich with purple lipstick. Cute, right? It is also in a magnetized tin, which is fantastic. It is sturdy and good for travel. It also comes with a little booklet that has mini pictorials for three different looks: Soft and Sweet, Rich and Creamy, and PB&J. The eyeshadows are organized into trios. So the first three shadows (Spread the Love, Peanut Butter, Peanut Butter Cup) make up Soft and Sweet. Rich & Creamy is comprised of Bananas, Peanut Brittle, and Jammin'. The finally three shades, Extra Creamy, Jelly, and Nuts About You are used in the PB&J look.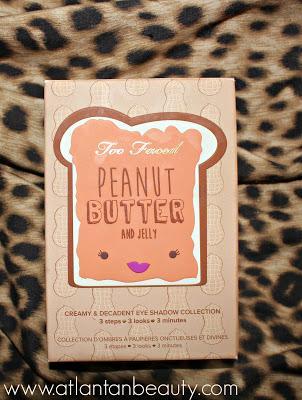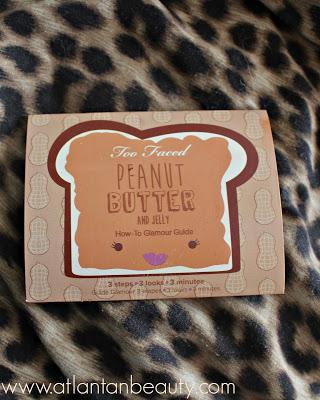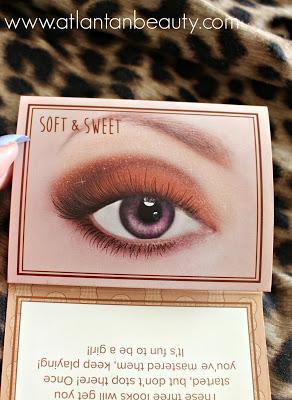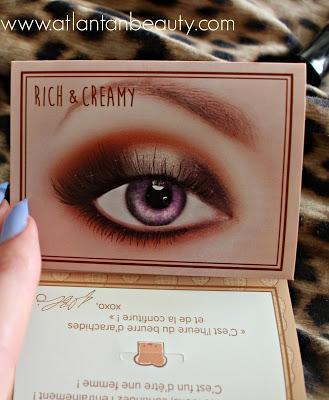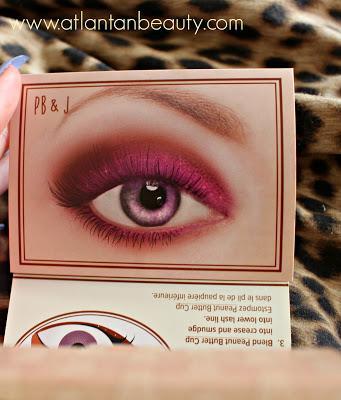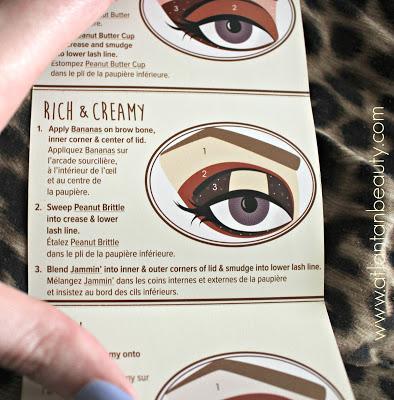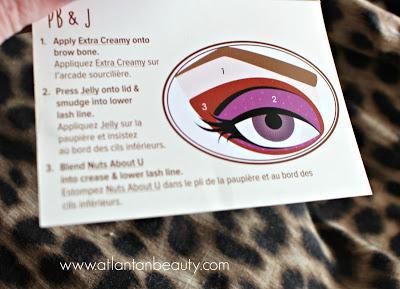 This has become my favorite palette. I reach for warm toned browns a lot because they make my eyes pop. The quality of these shadows is fantastic and that makes the $36 price point well worth it. It is only available at Ulta and the 
Too Faced site.
If you have been on the fence about it, just get it. You will not regret it. There is a good reason everyone is talking about it.