Reuben Sandwich
This recipe is a good start to the day or especially good for lunch since this recipe is on healthy lunch ideas. Since this recipe contain beef and the finest Swiss cheese is a good combination to enjoy the best possible lunch ever. The most essential thing about this recipe is that is has all the nourishment that is required to give you a perfect day, and possibly enjoy the day. Reuben sandwich is the only top ten sandwich which is simply the best. All the ingredient put its best team effort together to make your day.
Ingredients:
8 slices rye bread with caraway seeds
1/4 cup butter, room temp
1 cup 1000 Island dressing
1/4 pound corned beef, thinly sliced
1 cup sauerkraut, well drained
1/2 pound Swiss cheese, shredded
Directions:
Lay out the bread slices, Spread one side of each slice with the butter, then turn them and spread the other side evenly with the dressing.
Lay the sliced corned beef on the dressing side of the bread, making sure there's no overhang.
Spread the sauerkraut evenly on the corned beef, then sprinkle the cheese evenly on top of that.
Top with the remaining bread slice, buttered side out and press to compact the sandwich.
Heat a large non-stick fry pan or griddle until hot.
Place the sandwich on the griddle and cook, pressing down on the sandwiches 3 or 4 times to keep compact.
Cook for 3-4 minutes until golden on the one side, then flip carefully and press down again and cook until the cheese has melted and the sandwich is golden on the other side.
Enjoy!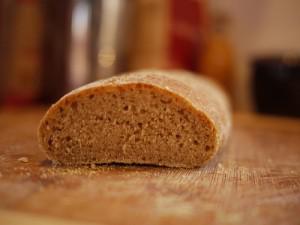 Photo by: grongar