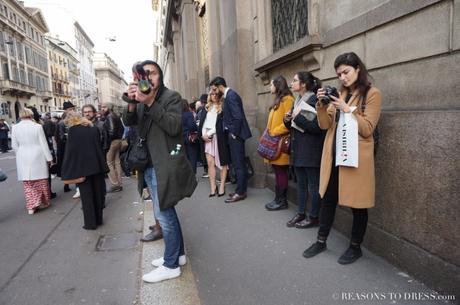 OK, so let us just assume that you are not following me on either Instagram or Facebook for a moment and you have not become sick of my photos yet....this post is to let you know that yesterday was the last day of the Milan Fashion Week and also the last day of the most important fashion tradeshow in Italy - WHITE.
By the time you read this I will be away for a week of training for a new collaboration I am working on in ASTI in the North of Italy near Torino. The only issue is that I have a new, small, light convertible / tablet computer that I seriously do not know how to use. Hence the fact that this article has NO apostrophes for contractions or exclamation marks *If I knew how to make an exclamation mark there would be one here, and if I new how to make a bracket there would be one here*
So I thought I would just take a moment to fill you in on life lately and for those of you who do not have Instagram or Facebook, this post includes some coverage of fashion week. I am also working on two comprehensive articles that will be published in LAVISH MODE MAGAZINE *more on that soon* in collaboration with fashion photographer Theo LaMotta.
IN DIRECT FROM WHITE
The WHITE Fashion Tradeshow is the top destination in Italy for multi brand department stores and boutiques because it is the absolute most important in the country for apparel not to mention brand scouting and research.
It was the dream of Massimiliano Bizzi and Brenda Bellei and soon I will share an interview I did with Mrs. Bellei about what direction they are taking the show. I hope you will enjoy some of this coverage from a off the beaten path aspect of fashion week that is just as important as the mega brands with their mega fashion shows.
Deep in the layers of fashion there are regular people, rushing to meetings, eating lunch while they stand, signing deals that will launch new fashion stars and wearing sneakers every day of fashion week. Actually there is a saying in the industry, that the more comfortable someone is dressed, the more important they are because they really need to run all week *exclamation mark*
As a side note, I am trying to make an effort in my own small way to try and give as much exposure as I can to brands that mean a lot to me in the future. And I am working on another article for the IFB The Independent Fashion Bloggers community with over 60,000 members, to encourage other bloggers to do the same....stay tuned and here goes....