Good morning friends and Happy Monday to you!  How was your Easter?  Was it peaceful?  We talked about peace at church this weekend and it was a beautiful thing to think about.  Knowing God and knowing that he can provide the peace we need in the midst of constant storms and battles in our life!  So thankful for that reminder.  I hope everyone had a great weekend with family & friends!
Nick came to town this weekend, but didn't get in until late Friday night.  I got off a little early for Good Friday and headed out to the new Starbucks in our area.  I wanted to get some blog work done for this week since I'm heading out to Orlando late tonight.  After Starbucks and 2 pretty solid posts scheduled, I went home to go for a run.  After my Friday run, I was excited to realize that I knocked out four runs this week!  I haven't run four times in one week since December because of my knee.  Each run felt good, and each run felt stronger as the week progressed.  This was also the first week that I actually felt sore from a run since December.  Sore in the good sense – where I actually worked muscles and didn't kill joints and tendons.  I had a great week in running.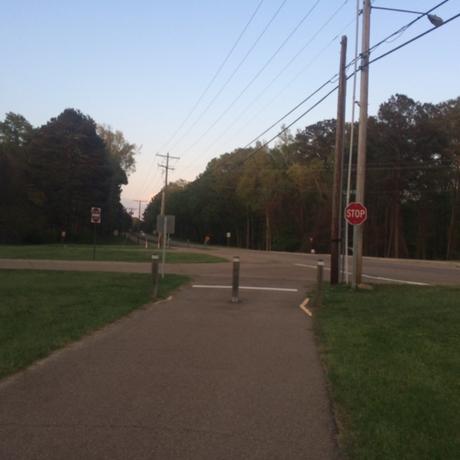 On Saturday morning, I slept in and then took it easy.  I took sweet Cappie on a walk that he thoroughly enjoyed and I read a portion of the book we're reading for office book club.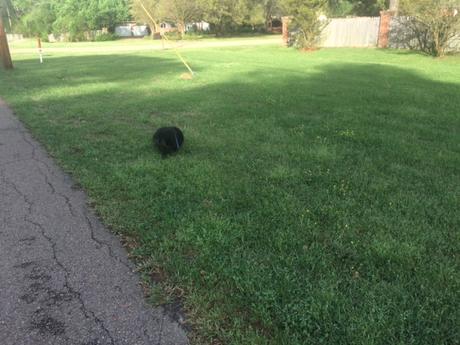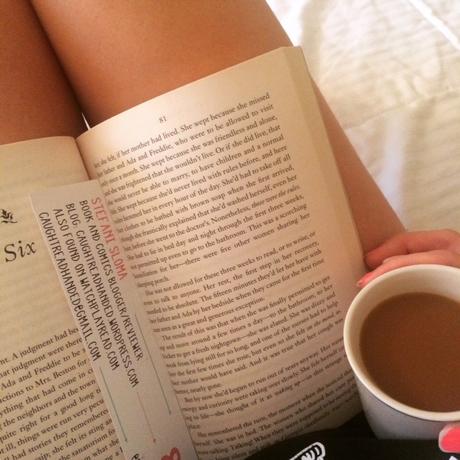 I had a cup of coffee at home for the first time in a long time!  Lately I've been drinking hot tea, but it was nice to go back to an old favorite.  I begrudgingly went to the gym for a workout.  I don't know what it is about the gym, but I am not very motivated to go.  I enjoy the outdoors.  I went anyways because I knew I needed some strength training.  I plan on cancelling my membership to the gym soon because I am certainly not getting my money's worth.  The amount that they charge for a single person seems absolutely outrageous to me, but I will admit, the Y has a lot of great things to offer, but for one person, who works 40 hours a week and goes out of town frequently – it's not worth it!  The family membership is a steal though, in my opinion!
After the gym, I had to get ready for a wedding that night.  An old high school friend of Nick's was getting married and we were looking forward to seeing some friends that we hadn't seen in a very long time.  Of course, some of our favorites – Joel & Charlotte – were there!  We decided to detour to Atlanta on Tuesday so we can have breakfast with them on our way to Gainesville.  It doesn't add much time to the trip and it'll be nice to try one of their favorite local places.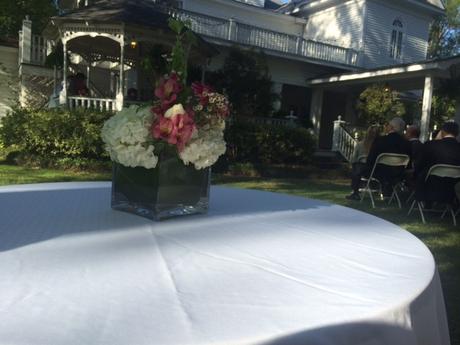 The venue was really beautiful.  It was an outside wedding and although there were thunderstorms the night before, the day of the wedding turned out lovely in terms of weather!  The grass was a little moist, so my heels kept digging in, but other than that – perfect!  Once the sun set, they had strings of lights around the back yard.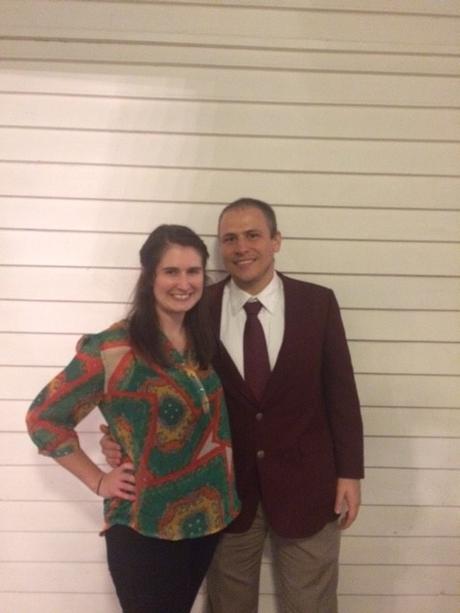 Of course, I didn't snag a picture until later in the night.  I'm so terrible at getting pictures of us right away when we're fresh and the sun is still out so we get that natural light.  Oh well, I'll keep trying!  Every time Nick where's this maroon blazer, he gets a lot of comments.  Our college colors are maroon and white, so people love it!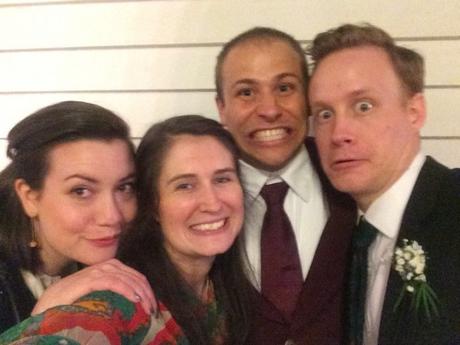 You may remember our friends Joel & Charlotte from the trip we took to Atlanta last year and then also the night we stopped by on our way to Charleston to make sushi.  We look forward to another great adventure with them in the morning.  Of course, adventure means devouring a plate full of breakfast and sipping some warm coffee – it's about to crazy!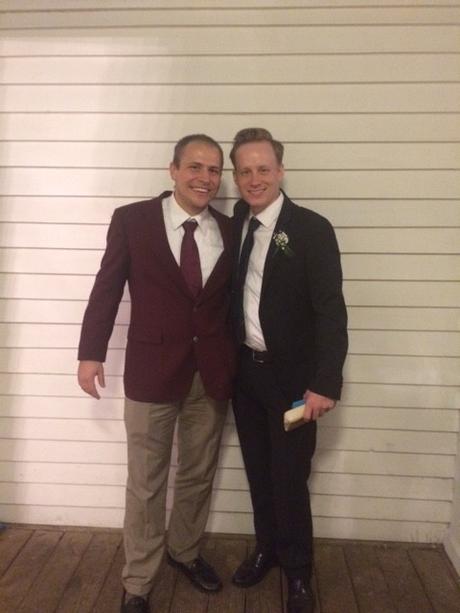 I love this long lasting friendship!
We had a very late night and I was dead beat tired when I finally  made it home.  An early wake up call wasn't exactly what I envisioned the next morning, but when I finally made it to church, I was glad to be there.  My sisters were in town, so it was nice to spend quality time with them.  Nick headed over right after church and we spent the morning preparing some black bean burgers that I'm excited to share the recipe for later this week!
I'm off to work, but I'll be back tomorrow!
What did you do for Easter?
Did you have a relaxing weekend or a more fast-paced weekend with it being a holiday?