I mentioned on Tuesday that I get e-mailed pretty often asking what Italians typically wear.  This got me thinking … there really are certain clothing "trends" that I have only ever seen in Italy, and they differ according to region.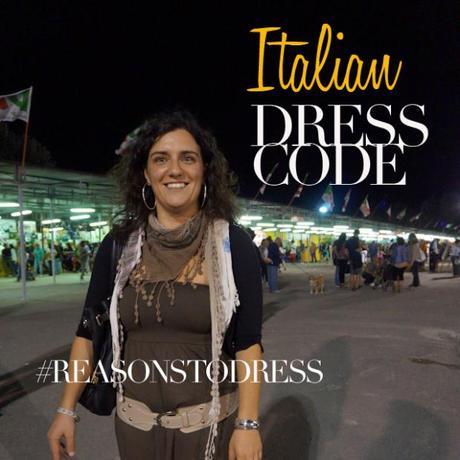 Just as you would expect to see more people wearing cowboy boots if you were visiting Texas, Italians also have "regional dress codes" that change depending on where you are in the Boot.
Typical Italian Mom Street Style
This past weekend we went to the Festa d'Unità and I happened to notice this mom.  Our kids were running around and playing together at 11pm so we started chatting.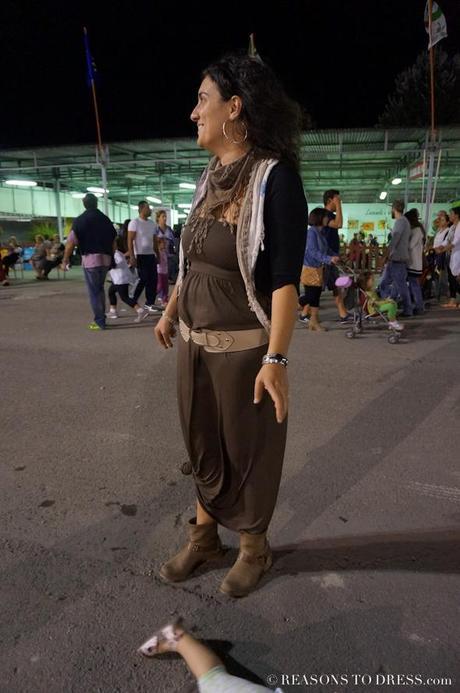 I started taking Real Mom Street Style pictures to show how even after you have kids in Italy you still go to great lengths to dress up for any occassion.  These moms inspired me to keep putting effort into how I dressed even if I no longer had anywhere "special" to go.
To be fair, not every mom that I photograph has a personal style that I would buy into, but more importantly there is something about them that fascinates me.  Do you remmeber this mom, who wore super high heels for a daytime stroll with her family?  Or this mom who had a great individual "Uk" vibe to her look?
Today I wanted to share with you an Archetype of Italian Fashion that I call Market Chic.  You'll see young girls (ragazze), grown ladies (Signore), moms and non-moms dawning this look that is primarily found in the South of Italy, but also in the mid-North and North to a lesser degree.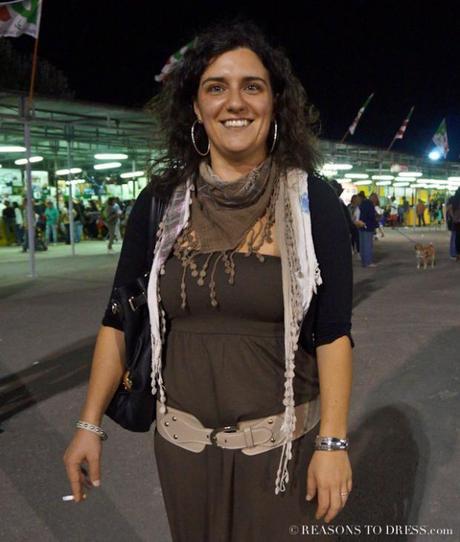 Market Chic:
I don't know if you remember reading this post, I wrote about the Italian Clothing Markets, where you can find tops for 2 euro next to 50 cent housewares!   MANY Italians shop for clothes in these markets, and you will usually find a very similar assortment of stuff at them no matter where you are in the country.
A lot of the stuff is Made in China, pleather as opposed to leather and easily mixable (think beige, black, browns, creams and taupes galore!).  Specifically, a lot of moms shop at the market because the stuff is cute and cheap.  Easy on the budget means having something new for yourself, while making your 1,000 euro (net) a month last for things like rent, car payments, groceries, day care and everything else.  **Side note, average wages for full-time work is around 1,000 euro a month, I'm not kidding!
What is interesting to me, is that, depending on where you are living in Italy, you will see more or less of the Market Chic girls.  South of Rome there are more,  in Milan there are less, and in Bologna they have dreads!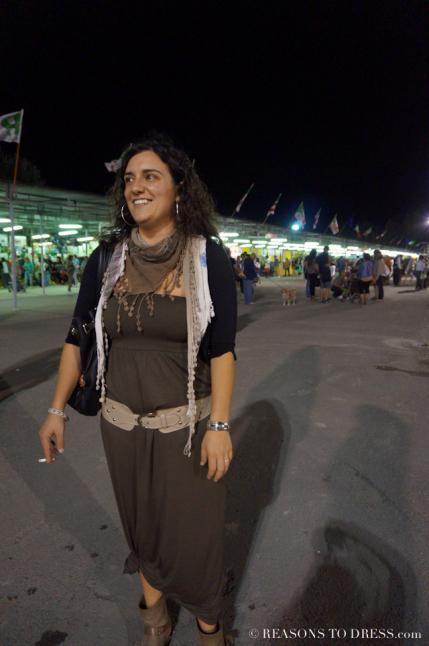 Regional Dress Codes
As I come across these "types" (I'd prefer to stay away from stereotypes) I'll share them so that you can get an idea of the very real Regional Dress Codes that exist.  For example, in Modena, where I live, you'll noticed a huge amount of Hogan shoes (I can't stand them)

Borbonese patterned bags (again, not my favs but VERY popular for both ragazze and Signore) and

Moncler puffer coats for the FAll and Winter (even my husband has one, I can't afford one!)

The Reason She Dressed
I'll have to save this bit of info for the weekend because this post is turning out to be longer than expected!!  I'll just give you a hint….it involves politics, roller coasters, cigarettes and lots of food!!
What She Wore
I mentioned on Monday that one of the staple pieces to any Italian girl's wardrobe is a pair of military Ankle Boots.  This is ESPECIALLY the case of the  Market Chic style.  Market Chic does NOT EXIST without Military inspired ankle boots or at least "indianinis".  I've profiled Indianini boots here on this mom!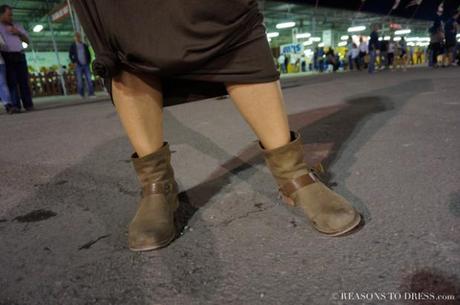 REAL MOM STREET STYLE – A linkup & Tag Party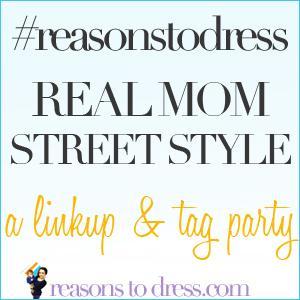 Please do not forget to join me next Tuesday and linkup your style posts.  Originally, I wanted to make this linkup for parents only, however, it is not necessary to be a parent to join.  Although the linkup is called Real Mom Street Style, and is intended to celebrate and inspire people who raise people, if you have a look you think a mom would appreciate I would love to have you link up!
I expanded the linkup because one of my favorite 40+ style bloggers Elegantly Dressed and Stylish is not a mom, but her looks are so versatile that anyone can take inspiration from them.
I will also be hosting another giveaway for a $600 hand braided and colored leather belt and you can earn extra entries by playing along with the linkup via Facebook, Twitter,and Instagram!  Read all about the linkup in detail here!

Follow Reasons to Dress through Bloglovin' & get 1 email a day with all the most recent posts from the blogs you love.
 You can find Reasons to Dress on  Facebook, Google +, Twitter, Instagram, Pinterest and Bloglovin'! I love hearing your comments and suggestions, please feel free to share any of my posts with your friends and don't be a stranger!
I'm a Top Mommy Blogger! Reasons to Dress is ranked as a top Fashion and Style Blog for moms, if you'd like to leave a comment about this blog or vote please visit TopMommyBlogs.com …THANK YOU!
Every week I try to link-up my with these fantastic ladies. Visit their sites for some inspiration & to discover new bloggers!
Momma in Flip Flop's Real Mom Style, Mama and More and Mother.Wife.Me's #AllAboutYou, Style Elixir's Style Sessions, and her Fab Favorites, The Pleated Poppy's What I Wore Wednesday, My Girlish Whims' Your Whims Wednesday, Because Shana Said So's Random Wednesday, Get Your Pretty On's I Feel Pretty, Perfectly Coutured's Three-fer Thursday, Her & Nicole's Lovely Thursdays, The Life of The Party's Fashion Informant, The Penniless Socialite's Look What I Got, Rachel The Hat's Passion 4 Fashion, Mummy's Got Style's Fashion Friday, Musings of a Housewife's Fashion Friday, Vodka Infused Lemonade's Tres Chic Thursday, Fry Sauce and Grits' Be You Tiful, Glossy Blonde's Tuesday Pretties, I Do deClaire's Confident Tuesdays