Lobster Ravioli in Pink Sauce
This recipe is a combination of pasta and lobster so it is awesome news for seafood / lobster fans.  This intriguing lobster ravioli in pink sauce recipe is just the perfect dish and color for you to impress your loved ones on valentines day. Not only is it simple and easy to make for both newbies and pro on the kitchen floor, it tastes divine. This regalo's lobster ravioli in pink sauce is perfect for seafood / lobster lovers of all ages. This lovely dish can be enjoyed on its own as well as with any meal (e.g. your healthy lunch meal), goes best with any type of salad as side dish, I personally love it with red wine.
Ingredients:
Lobster Filling:
8 ounces cooked fresh lobster meat, chopped
2 teaspoons chopped fresh mango
1 1/2 teaspoon heavy cream
1 1/2 tablespoon ricotta cheese
1 large egg yolk
Salt and fresh-ground black pepper, to taste
Pink Sauce:
1/4 cup olive oil
9 medium cloves garlic, finely chopped
6 ripe tomatoes , chopped
10 fresh basil leaves, julienned
1/4 cup heavy cream
1/2 cup fresh-grated parmesan cheese
Salt and fresh-ground black pepper, to taste
Stuffed Ravioli:
24 (3 -by-3-inch ) won-ton wrappers
1 large egg
1 tablespoon water, plus more for cooking ravioli
Directions:
To make filling: In a food processor fitted w ith the metal blade, combine all ingredients and process until smooth.
Refrigerate at least 1 hour before using. (Can be made a day ahead.)
To make sauce: In a nonreactive heavy skillet, heat oil over medium heat.
Saute garlic about 3 minutes, or just until it begins to color a bit; don't let it burn.
Add tomatoes, basil and cream, bring to a simmer, reduce heat to medium-low and let sauce reduce about 2 minutes.
Stir in parmesan cheese until it melts and season with salt and pepper.
Don't let sauce boil after adding cheese or it will get stringy.
(You can make this a day ahead and reheat over low heat or in a double boiler.)
To fill ravioli: Spoon a heaping tablespoon of filling in center of each of 12 won-ton wrappers.
Lightly beat egg with 1 tablespoon water.
Using a small paintbrush, moisten edges of wrappers well with beaten egg wash.
Top each wrapper with another wrapper and sealed edges together by pressing with tines of a fork; press out any air.
(You can make these several hours ahead, cover well and refrigerate.)
Bring a large pot of water to a boil and drop in filled won tons.
You may want to do these in batches so you don't overcrowd pot.
Cook 5 to 7 minutes or until tender.
Drain well and divide among 6 warm serving bowls.
Divide sauce over each and serve warm.
Makes 6 entree servings or 12 appetizer servings.
Enjoy!
Liked this recipe than you`ll enjoy making these recipes as well.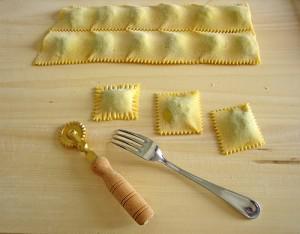 Photo by fugzu

Rating: 0.0/
5
(0 votes cast)