Red Rose Potato Salad Recipe
If you still haven`t made up your mind for a side dish, why not try this red rose potato salad recipe and impress your loved ones this valentine's day. Not only is this red rose potato salad recipe simple and easy to make for both newbies and pro on the kitchen floor, it is also mind blowingly delicious. This recipe is also perfect for vegetarians and people of all ages. This side dish can be enjoyed on its own as well as with any meal (e.g. your healthy lunch meal).
Ingredients:
5 red rose potatoes boiled and cubed — with skins
5 eggs — hard boiled and sliced
1 apple — diced
1 cup mayonnaise — (add as desired)
1/4 cup onion — chopped
1/4 cup sweet relish — with juice
1/4 cup mustard — spicy
1 tablespoon dill
salt & pepper to taste
Directions:
Combine all ingredients, folding together gently.
Serve chilled.
Enjoy!
Liked this recipe than you`ll enjoy making these recipes as well.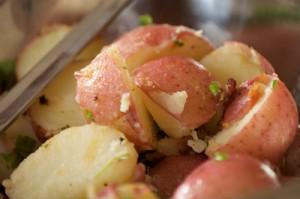 Photo by futurestreet

Rating: 0.0/
5
(0 votes cast)