Red Lobsters Shrimp Diablo
One of the best, easiest and tastiest dish you will ever try is this red lobsters shrimp diablo. I am not kidding this is one of the best seafood dishes I have ever had. Not only is is good for health your palates will love it to bits. This red lobsters shrimp diablo recipe is best enjoyed with a loved ones and can be incorporated into your otherwise healthy lunch ideas. Give this daring recipe a try and check it out, and you`ll see what I have been telling you what you actually are missing. This red lobsters shrimp diablo recipe can not only be enjoyed as one of your healthy lunch ideas but also as your entree recipes or quick dinner recipes.
Ingredients:
3 lb. Large Uncooked Shrimp In the Shells (no heads)
Milk
1/2 lb. Unsalted Butter
1 Jar Kraft BBQ Sauce
1/2 Cup Ketchup
1 Tablespoon Fresh Ground Pepper
1/4 Cup Frank's Red Hot Sauce
Directions:
Wash shrimp in cool water and remove heads if needed.
Soak shrimp in milk overnight.
Mix all sauce ingredients in a sauce pan and stir until boiling.
Remove from heat and refrigerate for at least four hours.
Drain milk from shrimp, place them in a baking pan, and cover evenly with the sauce.
Let stand 1 hour.
Bake uncovered in preheated oven (450F) for 15 minutes (less time for smaller shrimp).
Enjoy!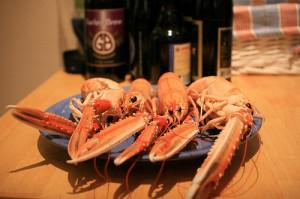 Photo by: Bernt Rostad