This is another lovely recipe for you otherwise boring healthy lunch ideas. This Red Lobster Fried Catfish & Hushpuppies to me sounds really like some french or italian dish but I could be wrong as well. But who cares if a recipe like this Red Lobster Fried Catfish & Hushpuppies is so good why care where it is form. We should just enjoy the most out of this lovely dish. Anyways if you have tried out this dish than please write a few words for others who are reading this, which might encourage them to give it a try and for those people who hasn`t tried this recipe. I suggest you give this Red Lobster Fried Catfish & Hushpuppies from healthy lunch ideas a try asap. You just don`t know what you are missing.
Ingredients:
4 catfish fillets, 8 oz. each
1 cup milk
1/8 teaspoon salt
1/8 teaspoon black pepper
1/8 teaspoon paprika
1 cup cornmeal
vegetable oil
HUSH PUPPIES:
1 cup cornmeal
2 tablespoons baking powder
1/2 teaspoon salt
1/4 teaspoon pepper
1/8 teaspoon white pepper
1/3 cup minced onion
1 egg, beaten
1/4 cup milk
Directions:
Rinse and pat catfish dry.
In a shallow dish, mix together milk, salt, pepper, and paprika.
Dip pieces of fish in milk mixture.
Roll fish in cornmeal and set pieces on waxed paper to dry.
Heat 1 1/2 inches of vegetable oil to 350F.
Deep fry fish, turning once, until golden brown.
Drain on paper towels and keep warm.
Use the same oil for:
Hushpuppies:
Mix cornmeal with baking powder, salt, pepper, and onion.
Mix egg with milk and whisk into cornmeal.
Spoon hush puppies into hot oil and fry until golden brown
Enjoy!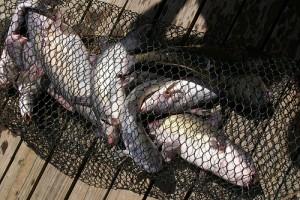 Photo by: jetheriot