Some good news for seafood lovers, especially clam lovers. This lovely Clam Chowder recipe is a perfect on any great summer day, one dish that is just perfect to impress your loved ones (IMHO: I guess only for clam lovers). It is both simple and easy to make and most importantly it is mind blowingly delicious. Whether you are a newbie or a pro on the kitchen floor you won`t have a problem making thisClam Chowder recipe. This dish is perfect for seafood lovers of all ages. This Clam Chowder recipe can be enjoyed on its own as well as with any meal (e.g. your healthy lunch meal), goes best with any type of salad as side dish.
Ingredients:
2 tablespoons butter
1 cup diced onion
1/2 cup diced celery
1/2 cup diced leeks
1/4 teaspoon chopped garlic
2 tablespoons flour
1 quart milk
1 cup clams in juice
1 cup diced potatoes
1 tablespoon salt
1/4 teaspoon white pepper
1 teaspoon dry thyme
1/2 cup heavy cream
Directions:
In a soup pot, melt butter over medium heat. Add onion, celery, leeks and garlic.
Saute for 3 minutes mixing often.
Remove from heat and add flour, mixing well.
Add milk and whisk vigorously.
Drain clams and add juice to soup.
Slowly bring to a boil, mixing often. Reduce heat to a simmer.
Add potatoes and seasonings, simmer 10 minutes.
Add clams and simmer 5 ? 8 minutes.
Finish with heavy cream. Serve.
Enjoy!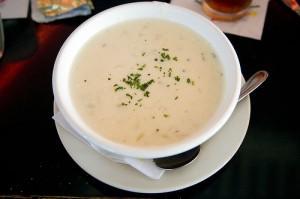 Photo by: pointnshoot