Our main method of cooking during the summer is the grill. Why heat up the oven when you can quickly get dinner on the table. Scott is the grillmaster in our house and I am the sous chef when it comes to grilling. I make a salad, prep the veggies, and get the meat marinating or made into burgers. The table gets set, usually with plastic plates or even paper plates if we are entertaining. That amazing smell starts wafting into the house and I know I am ready for dinner.
Sunday night Ben, Bridget, Alex and Grace were over and the kids (and Tanner) had been swimming all afternoon and had worked up quite the appetite. On deck for the evening was spicy burgers on pretzel rolls, incredibly delicious but very messy.
Red Gold sent me a whole kit of diced tomatoes to help spread the word about their Summer Grillin Party. The start of those diced tomatoes was the tomatoes with green chilies to give the burgers a good kick. Add a little spicy cheese on top and you've got a delicious burger! As good as these burgers were they did fall apart really easily. I even added bread crumbs, next time I would probably only use half the tomatoes and add even more bread crumbs. A little tip to help burgers stay together, put the formed patties into the freezer for a few minutes. It helps bind them a bit. I didn't do this Sunday night and the burgers were really crumbly. Still very tasty but a bit messy. Check out their Summer Grillin' Party contest on Facebook, you could win a super cute tomato apron or even a Big Green Egg grill (I have major grill envy!).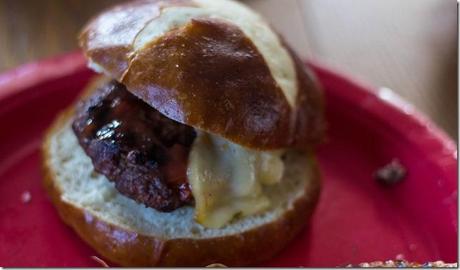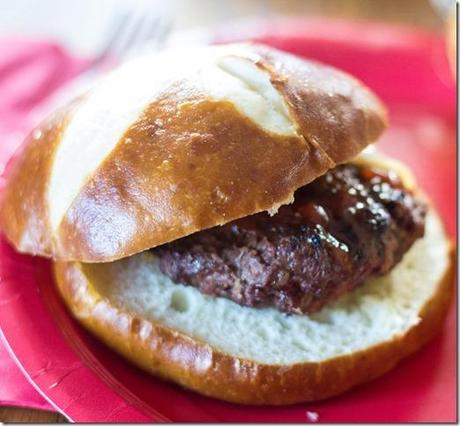 Spicy Tomato Burgers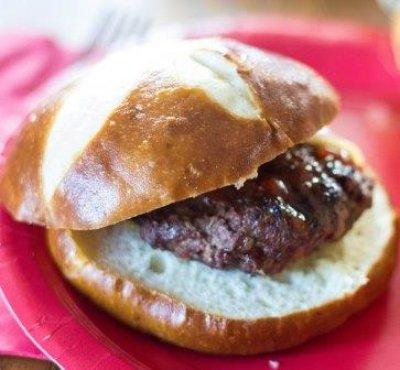 Prep Time: 10 minutes
Cook Time: 10 minutes
Keywords: grill entree
6064258
Ingredients (Serves 6-8)
2 lbs ground beef or venison (we used venison)
2 cans Red Gold Petite Diced Tomatoes with Green Chilies (I would only use one), drained
1 cup bread crumbs
Salt/Pepper
Pepper Jack Cheese
Buns and other burger toppings
Instructions
In a large bowl combine ground meat, drained tomatoes, bread crumbs, and salt/pepper.
Form into patties and freeze for 5-10 minutes.
Grill until desired temperature is reached.
Top with pepper jack cheese.
Powered by
Recipage