Last day of recipe re-post and this was one that I have made so many times and it somehow got lost in the blog, I even had to re enter it into Recipage.  And this recipe is so good and perfectly fall. Warm, slightly spicy pumpkin soup. And since it is basically fall this is one I suggest you make immediately!
Day 5: Pumpkin Soup
Looking back on old recipes has been a blast, photography wasn't very good but the recipes all had a lot of effort put into them. I tend to show appreciation and love through food, which is probably evident through almost 300 recipes. Even reading old posts was bittersweet. I never deleted anything off my blog after all my life changing events and it's almost nice to go back and ready them. It reminds me of how far I've come in building the best life for me!
Pumpkin Soup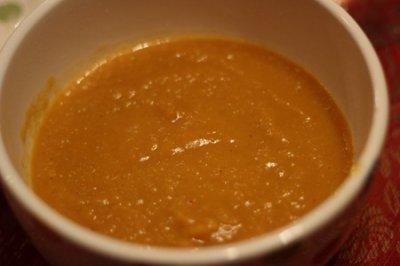 Prep Time: 20 minutes
Cook Time: 25 minutes
Keywords: soup/stew
6052936
Ingredients (Serves 4)
1 tbsp. olive oil
1 onion, finely chopped
1 clove garlic, finely chopped
2 tsp curry powder (hot or sweet)
1 tsp cumin
1/2 tsp cayenne
Pinch red pepper flakes
3 apples, cored and chopped
1 can pumpkin (not pumpkin pie filling!)
2 2/3 cup low sodium chicken broth (vegetable broth works well too)
2/3 cup water
1 tsp agave nectar
Instructions
Pour oil into a dutch oven and heat over medium heat
Add onion, garlic, curry powder, cumin and cayenne. Sauté until onion is soft (2-3 minutes)
Stir in apples, pumpkin, broth, water and agave.
Bring to a boil, cover and reduce heat to low. Simmer for 25 minutes over low heat.
Using a hand blender, puree until smooth.
Serve immediately or freeze up to 3 months.
Powered by
Recipage