Day 3: Quinoa Party Salad
This is my all time favorite recipe. The thing I bring to most potlucks and the most viewed post on my blog. It was even in Clean Eating Magazine!!
I can not say enough how good this is. Fresh flavors, perfect for anytime of year (but really darn good on a hot summer day with light beer) and if you've never made it please do.
Quinoa Party Salad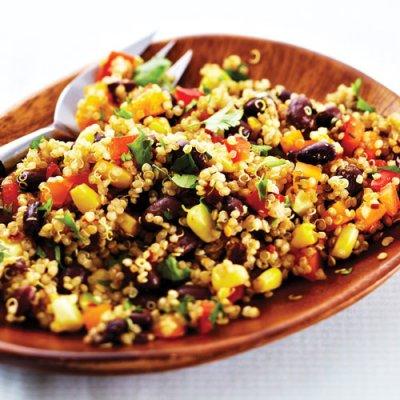 Prep Time: 20 minutes
Cook Time: 10 minutes
Keywords: salad vegan
6010544
Ingredients (Serves 6-8)
2 cups cooked quinoa, cooled
2 peppers, 1 red and 1 orange
2 cans black beans
2 cans corn (or fresh)
1 cup of cilantro
1/4 cup olive oil
Juice of 1 Lime
1 tbsp cumin
Pinch of Red Pepper Flakes
Salt/Pepper
Instructions
Cook quinoa in 4 cups of boiling water, covered, for about 20 minutes. Let cool.
Chop pepper, cilantro, jalapeño and add to corn and beans
Whisk olive oil, lime juice, salt/pepper. cumin and red pepper flakes.
Add quinoa to bean and veggie mixture and top with dressing and salt/pepper. Serve at room temperature or cold.
Powered by
Recipage