I am new to the world of smoothies, but there is one that I keep going back to.  It is wonderfully tasty.    Naturally, I found the recipe off of Pinterest, but I modified it a bit to make it my own.  I use frozen berries versus fresh just because they last longer and you can use exactly what you want.  The 7 Up adds a nice texture and taste to the smoothie.  Plus I hate yogurt and chunky smoothies, so it helps liquify it. Oh, and I almost never measure ingredients,so it is hard to say exactly how much of each ingredient I use.  I just like to have fun with it =)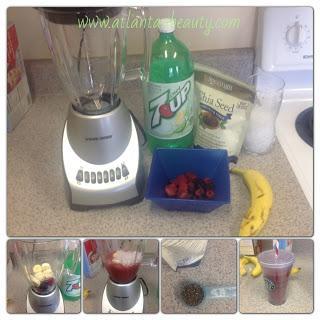 Click Image to Enlarge
Ingredients
Frozen strawberries.  I also like using mixed berries.
One banana
Diet 7 Up
2 Tbsp of Chia Seeds
Glass of crushed ice
I usually start by setting out the berries when I first wake up so they can defrost.  By the time I finish getting ready, they are ready to use.  I add about half of the berries (I generally use around a cup for the whole thing), some of the crushed ice, 7 Up and a few pieces of the banana.  I turn the blender on and make sure it mixes well.  Then I add the chia seeds, the remaining fruit, ice and more 7 Up.  I finish blending and pour in a tumbler.
Since I am staring to eat healthier, I am going to add a section on my blog called "Internal Beauty" so I can share some easy, healthy recipes and overall health related posts.  Let me know what you think of this idea in the comments section.