We were out to dinner a few weekends ago and there was a little garnish salad with an appetizer we ordered, that few bites inspired me to make this salad! I guessed on a lot of the ingredients but did ask the waiter about the dressing. The secret? Apricot nectar. Seems very strange but it adds just a hint of sweetness. It was really hard to find but worth the 3 stores I stopped at. And Scott loved the juice so much he had it gone in 2 days. I think that says something.
This salad was great for a summer get together that we had to send our friend Kelly off, who is moving to LA. Not goodbye but see you soon. That is definitely our hope, not to go long without seeing Kelly again.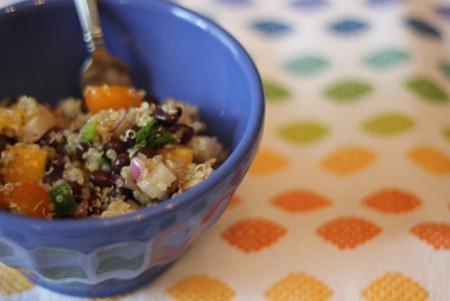 Quinoa and Black Bean Salad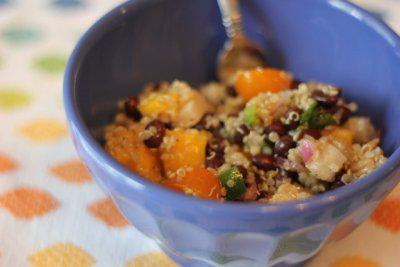 Prep Time: 20 Minutes
Cook Time: 15 Minutes
Keywords: entree salad vegan
6029278
Ingredients (Serves 6-8)
For the Salad
1 cup quinoa
2 can black beans, rinsed and drained
1/4 red onion, finely diced
1 mango, diced
1/2 jicama, diced
1 pint cherry or grape tomatoes
1/4 cup sunflower seeds
Salt/Pepper
For the Dressing
1/4 cup olive oil
Juice of 1 lime
1/4 cup apricot nectar or mango juice
1 jalapeno, seeded and diced
1 large handful mint leaves, roughly chopped
Instructions
Cook quinoa 10-15 minutes and allow to cool.
In a large bowl combine quinoa, black beans, onion, mango, jicama, tomatoes and sunflower seeds. Stir together. Top with salt/pepper.
In a small bowl, whisk together olive oil, lime juice, apricot nectar, jalapeno, and mint.
Pour over salad and serve immediately or chill for a few hours.
Powered by
Recipage