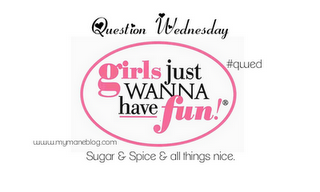 Happy Tuesday everyone! It is time for the 11th (already!) Question Wednesday! This is a really fun blog hop, so if you are interested, check out Nykki's Mane Blog.
1) What is your favorite girly hobby/interest?
 Applying my makeup, of course :)
2) Who is, in your opinion, a great example of a 21st century female role model?
 Hmm..probably Elizaveta, who is an amazing singer/songwriter. She is very talented, intelligent, incredibly hardworking and passionate. 
3) What are your top 3 fave chick flicks?
I hate chick flicks, actually.  I'm not even a big movie person.  I'm a bookworm.
4) We're having a sleepover! What snacks will you bring and what music will you play?
I would make my aunt's amazing buffalo chicken cheese dip, guacamole and salsa on hand. Anyone else hungry?  For music, I would bring out some 90's music as it can't be beat.  I will say this, anyone who plays Adele or that stupid "Call Me, Maybe" song will be kicked out, or just kicked.
5) What is the girliest item that you own? 
My ever expanding makeup collection :)