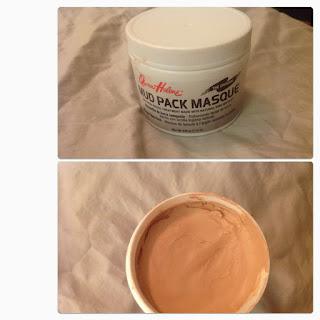 I love a good face masque and always want to try new ones.   However, I am also scared of them because of my eczema.  This Queen Helene masque covers everything.  It is good for acne prone skin, sensitive skin and probably even dry skin.
Price and Packaging
The first thing that drew me to this was the price.  It is only $6 for 12 oz.  You may never be able to get rid of this stuff.  You can find this at Sally's and drugstores.  The masque comes in a large, plastic white tub.
Ingredients and What It Does
The active ingredient is kaolin clay, which sucks out all of the nastiness out of your pores.  Unfortunatley, this is not paraben free, which I just have found out.  This masque also claims to soften any fine lines and reduce the appearance of sagging skin.
What I Say
I really like this masque, especially for the price.  It does leave my face feeling very clean and soft.  My blemishes are diminished and my pores look smaller.  I can't say anything for the softening fine lines claim as I do not have any.  But my skin does look brighter and healthier when I wash the masque off.  The best thing is that it does not irritate my skin one bit, either.  I am disappointed that this is not paraben free, and I wish it had less of a fragrance.  It smells like a rose.  My mom loves the scent, and I am not a fan.  So this aspect is more of a personal issue.  I love the results, so I will keep using it until it runs out.
I did do some research on the paraben used, which is methylparaben and is a natural paraben.  It appears to be safe and does not build up in the body.  It is primarily used as an antifungal.  It seldom causes a reaction but it has been shown to disrupt endocrine functioning.  I found this info on Wikipedia and the Cosmetics Database.
Using a masque once or twice a week is an important part of my skincare routine and I love trying new ones.  What are some of your favorites?