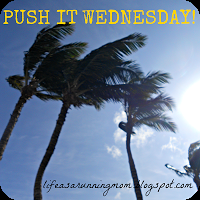 Being fit isn't just how you move your body but includes how you fuel your body. I am participating in the Spring Bootie Buster Challenge at Run to the Finish and this always makes me more aware of what I am fueling my body with. You see, participants can earn points for eating enough freggies and drinking enough water each day. I am earning my points for each everyday. And that got me thinking....do people trust that I am and see it is as doable? Perhaps yes, perhaps no. Therefore, freggies are coming to the forefront this Push It Wednesday!
Let's talk freggies!
Eating right doesn't just happen. It takes planning. It takes commitment. And it needs to allow for those occasional indulges in chocolate macadamia nut fudge when you feel like the universe is crushing down on you. Yep, I ate fudge Monday and don't regret it. It was a bit of an emotional indulgence. I knew it was. I accepted the treat and moved forward with more healthy eating. Come on, if you can't indulge every now and then what's the point?
I eat well 99% of the time. Truly I do. And that starts with the foods I buy. My family may not always agree with my "No, I won't buy that." but I accept my responsibility to care for myself and my family by stocking the home with good food choices. And yes, there are some treats here and there. I am not completely crazy and restrictive beyond belief. And when my daughter chooses her snack of carrots or yogurt it makes me smile....inside and out!
So now I have healthy foods in the house. What about getting enough servings of freggies? How do I do it? I start out early in the day. I make sure my first meals contain some. Here's how.
This morning I grabbed a small homemade muffin to eat before going to the gym. It was made with peanut butter, carrot puree, banana puree, flour and some sugar

(cut back)

. I may have left an ingredient or two out. So there you go, a teeny bit of freggies in me already! Perhaps not a whole serving but every little bit counts.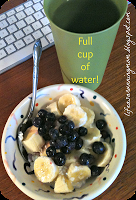 Let's move on to breakfast. Here is what I had yesterday: cottage cheese topped with a large banana and blueberries. There is over 2 servings of fruit right there by 8:00 am.

P.S. I had a muffin on my way into work too, the same one I had today. 


Yesterday's lunch was spinach quinoa casserole that was loaded with spinach and I "stole" my co-workers carrots as she despises them. Please don't tell her I put them in the muffins she eats and loves. And on the side of most of my lunches, cut up mini sweet peppers and grape tomatoes. Absolute love!
And there is no dinner at my house that does not include veggies. Even a meal that looks like it could be veggie-free isn't. Check out this tuna salad I made for today. In addition to the tuna, it includes 1/2 cup broccoli puree, 1/2 cup zucchini puree, chili powder, paprika, and pepper. Completely nutritious and the purees give it some moisture so no need for yucky things like mayonnaise. If you like mayonnaise, I apologize but do consider replacing it with plain yogurt or going without to make foods more nutritious!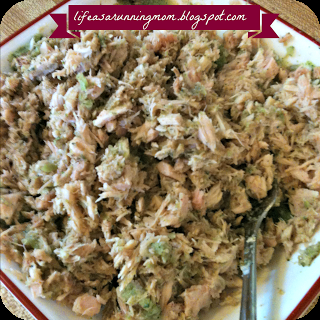 Finally, for those afternoon pick-me-up's when I feel like a lump on a log, I make a green smoothie. My favorite go-to is spinach and banana blended with water and ice. Sometimes I add in peanut butter or protein powder if I need a protein boost. You can also add in blueberries for fun!
Let's talk water!
I really don't buy drinks. Okay, I buy milk, coffee, tea bags, and Gatorade concentrate for my longer runs and dear hubby. But you get what I mean. I don't buy soda or juices. If you are thirsty, drink water. We have mint in our garden and darling daughter loves making minty water as much as I do. I drink water all day. I start the day with coffee and then it is water, water, water. I drink a good 8 oz each night before bed. I have water by my bed that I sip on during the night. I have water at work that I drink all day. The only problem right now is that the water dispenser in the work fridge is broken. I sure hope they fix that soon! But no fears, I will still find a way to get plenty of water throughout my work day. Now if only I could get dear hubby to love water so much.....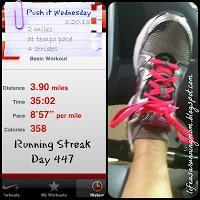 Let's get moving! 
Yes, I did move today in honor of Push It Wednesday. Since I am racing on Saturday I tried to keep things tame. After warming up I ran 2 miles at tempo pace. I followed that up with a 0.5 miles at a decline since the race Saturday is downhill at the start. I tossed in four strides at the end and called it a wrap. I ended up running 3.9 miles, did some lovely stretching, and it was time to start the rest of my day!
Daily Gratitude: I am thankful for bird song.
Daily Affirmation: I will face my fears courageously today and on race day.