First, I got to say a
HUGE MAHALO
for all the comments on
My 10 Rules for Running Couples
post yesterday. I read each comment and love hearing from you. I am happy that the post I had fun writing touched some hearts out there.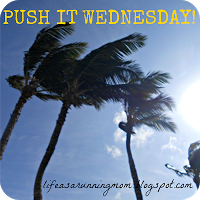 Now onto Push It Wednesday! 
Wow, another week has come and gone. I am another week closer to race day. Yep, I am scheduled to race on March 23. It the
4th annual Valley to Sea half marathon
and I haven't been talking about it much but it is always there in the back of my mind. Tempting me. Worrying me. Pushing me.
It is so easy to push myself one more step on some days but others days, it is hard. And in all reality, that is because my mind can get in the way so many times. Of course, injury can step in the way but fortunately, through running daily, I am staying pretty injury free.
Go figure!
But other chronic ailments are taking their toll on me and by that I mean, I am opting to catch a few more z's and dealing with minor discomforts. I say minor because I know in the grand scheme of life, it is minor but that doesn't minimize the discomfort or make the dealing with it more pleasant. But we may delve more into that in a another post on another day. But for now let's just say, I am moving away from a traditional treatment and trying a nutritional defense strategy. Give me a month to see if it helps. If is does, a blog post will definitely be coming!
What does all of this have to do with Push It Wednesday?
Quite a bit. How I feel impacts how I perform and push myself. And I am happy to say, I think I am doing pretty good but still have doubts on how well I will perform at the Valley to Sea Half Marathon on March 23rd. And this week I am pushing myself in a different way. In previous weeks Wednesdays have represented a day for a tempo run, speed work, or hill repeats. I love all those things...in an odd way....but this week, I really don't think that is the right route for me.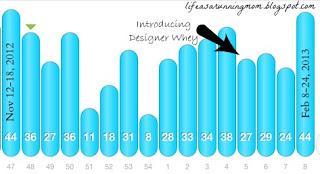 Read about Designer Whey HERE
I have increased my mileage significantly last week in comparison to weeks leading up to it. Some might argue, I jumped too high but my running legs felt good at the end of the week. Surprisingly good. And with that said, my goal is to keep my mileage up above 40 miles per week for the next couple of weeks. So pushing it this week simply means, getting the time on my feet and running....and pace doesn't matter.
I honestly believe sometimes it is smart to not push your body in 10 directions at once. I am doing a big base building mission right now and my gut instinct is that if I pile on too many other push it elements I may risk injury. And that is not going to happen.
You read so much about runners aiming for a new PR, a target pace, placing in a race, etc. It is hard to not get caught up in it and have the same goals. And yes, I do want a new PR....don't get me wrong. But I have to refuse to get caught up in the pace or miles/week comparison and compare myself to myself. I am where I am today by pushing my own limits and by running smart.
So join me, push yourself but push yourself according to your own goals. Resist the temptation to compare yourself to other runners. Be motivated by them.
YES!
But don't try to be them. You are the best you that you can be. Have faith in yourself. I have faith in you! Now let's all go out there and push ourselves a bit more today and feel free to tell me what you do! You can also post images of your Push It Wednesday on Life as a Running Mom on facebook.
Happy Wednesday!
Daily Gratitude: I am thankful for the wealth of knowledge available to people.
Daily Affirmation: I have the ability to digest information to get to the core of the real truth.