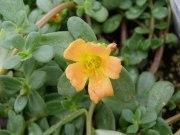 Purslane, in Cyprus known as Glystirida (Γλυστιρίδα) is a wild weed belonging to the Portulacaceae family and scientifically known as Portulaca oleracea. Purslane may be a 'noxious weed' found in sidewalk cracks but its nutritious profile put it among the 'superfoods'.
It has been recently discovered that it contains the highest source of α-linoleic acid (ALA) in the vegetable kingdom, which is converted by the body to Omega-3 fatty acids such as eicosapentaenoic acid (EPA) or docosahexaenoic acid (DHA). Vegans and Vegetarians may benefit from purslane because they don't eat fish, but also those looking for a cheaper source of these healthy fatty acids than salmon. ALA protects the heart, lowers triglyceride levels, has anti-inflammatory and anti-thrombotic action and it is needed for proper brain function.
This low-calorie content vegetable is also packed with plenty of vitamins and minerals. 100 grams of raw purslane contains:
Vitamin A – 1320 IU
Vitamin C – 21 mg
Calcium – 65 mg
Iron – 2 mg of Iron
Magnesium – 68 mg

Omega 3 – 400 mg

amino acids and other.
Other Constituents
Acids: Cinnamic acids, Caffeic acid, Malic acids, Citric acids.

Minerals: Calcium 

oxalate, Potassium nitrate, Iron, Phosphorous, Manganese, Copper, Silicone.
Phytosterols: α-

sitosterol, α-

sitosterol-glucoside

Allantoin

Alkaloids: noradrenaline, dopamine

Coumarins

Flavonoids

Cardiac 

glycosides

Anthraquinone glycosides

Catechol

Saponins

Tannins

Glutathione

Coenzyme 

Q10
Historical Uses
Historically, in ancient Greece, Hippocrates used purslane for metrorrhagia (excessive uterine bleeding), Galenus for the healing of wounds and toothache, and Dioscurides for eye disorders. It was regarded as a 'cold' herb by monk Agapius Landus in the 17th century and it was used to treat fevers.
Therapeutic Uses
Diabetes, Insulin resistance and Hyperglycemia

assists with blood sugar control
Reduces HbA1c
Improves blood glucose metabolism
Assists in the transport of blood glucose into the cells
Reduces glucose absorption from intestine into the blood stream
Assists in the modulation of cell receptor sensitivity

Metabolic syndrome and Obesity
Hypercholesterolemia
Gastrointestinal problems such as diarrhea  worms, dyspepsia, dysentery and colitis
Genitourinary tract bleeding and infections
Hemorrhoids
Cold and Flu, fever
In Cyprus, we usually eat purslane leaves in a salad with tomatoes, onion, cucumber and pickled olives and feta cheese with extra virgin olive oil and vinegar and a pinch of salt.
35.164442
33.369722