There are times when you really can't be bothered cooking right? Same here. Well, I promise you that this delicious Nori wrap wont take you more than 10 minutes of your precious time, it's absolutely delicious and can be eaten as a snack or meal at home or take with you at the office.
As far as the ingredients are concerned, basically just use whatever leftovers or other stuff you keep in the fridge. Play with different ingredients every time and discover new tastes. Personally, I prefer high protein, high fat and low carbohydrate ingredients, additive free, gluten free, GAPS and SCD friendly with plenty of cultured foods.
Here's what I did:
1 Nori sheet
1 tbs of homemade strained yoghurt
1 egg

1 tbs of Sauerkraut

Grated Kohlrabi

Cilantro

Lettuce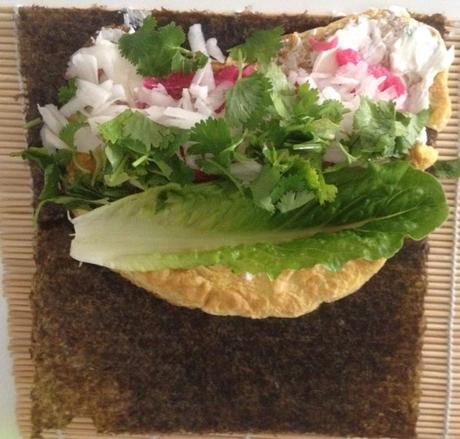 Procedure:
Beat the egg and fry in a pan with some ghee. Place it on the Nori sheet along with all other ingredients. Wrap and enjoy!