Avid reader is definitely a term I would use to describe myself, I tend to read a  book or two a week and page through at least a few magazines. I somehow ended up with a Better Homes and Gardens subscription and I at least flip through it every month, I love the decorating ideas and that have great recipes.
I came across a recipe for Prosciutto Wrapped Chicken with Glazed Date Sauce and knew I needed to make this. Chicken, prosciutto, balsamic, dates, cheese. What is not to love. All ready in 30 minutes and it was a perfect weeknight dinner.
If I could have bottled this sauce I would have, it would be so good on pork, swordfish, steak… I could go on and on about it.
Prosciutto Wrapped Chicken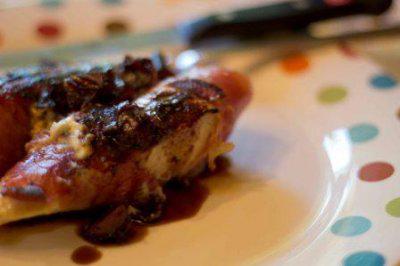 Prep Time: 15 Minutes
Cook Time: 15 Minutes
Keywords: chicken
6024972
Ingredients (Serves 2)
2 chicken breasts
1/2 package of Boursin cheese
1 oz package of prosciutto
1 tbsp olive oil
1/2 cup medjol dates, chopped
1/2 cup balsamic vinegar
1/3 cup water
Instructions
Cut chicken in half, they will become chicken strips.
Place a piece of cheese on each piece of chicken and wrap the prosciutto around the chicken so the chicken is fully covered on both sides.
Heat oil in a large skillet. Cook chicken cheese side up and cook 4-5 minutes, flip and cook for an additional 4-5 minutes or until cooked through. Remove from skillet and place on a plate.
Add dates, vinegar, water to the skillet. Cook 5-7 minutes until the sauce reduces and becomes thick and syrupy.
Spoon over the chicken.
Powered by
Recipage