This is a sponsored post as I received product free of charge to review. The opinions expressed are solely my own and I did not promise a positive review.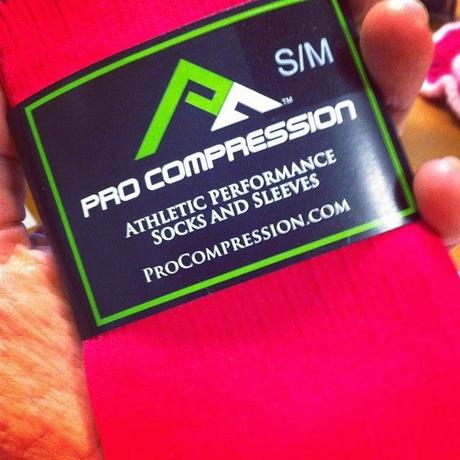 It has been awhile since I have worn compression socks. In fact, it may have been as long ago as this past summer but it wasn't for running or recovery. I wore them when traveling on the plane to keep my legs fresh. However, the thought crossed my mind....should I be wearing them more???
Ironically, at about the same point staff from PRO Compression contacted me with an offer I could not refuse. Not only did I get to try out a pair of their compression socks, I got to offer a giveaway to y'all AND offer you a discount of 40% off of any Marathon Socks or Sleeves. Seriously ladies and gentlemen, this is a good deal! Hop on over after you finish reading this post and enter the giveaway and use the discount code BLG14. You won't regret it!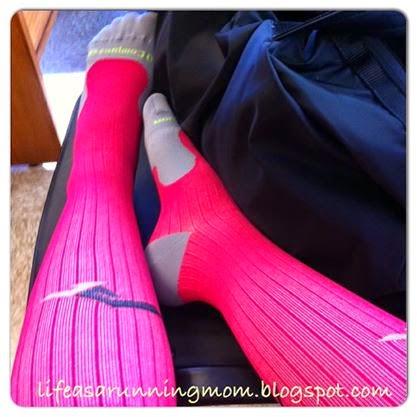 I chose the pink Marathon Compression Socks to try although the pink heart ones are pretty darn cute too. But this isn't about how cute the socks are but how functional they are. The first thing I noticed was they didn't have right and left socks and in all reality, this is one less thing to think of dark and early when pulling on the socks. I can see how a sock could be designed to provide nice compression without being leg/foot specific. Can't you?
Second, the socks felt slim and sleek. It was snug pulling them on but once on, perfection! No where did it feel too tight not even at the top of the sock where sometimes I feel things pinch me a bit too much under my knees. I liked the feel.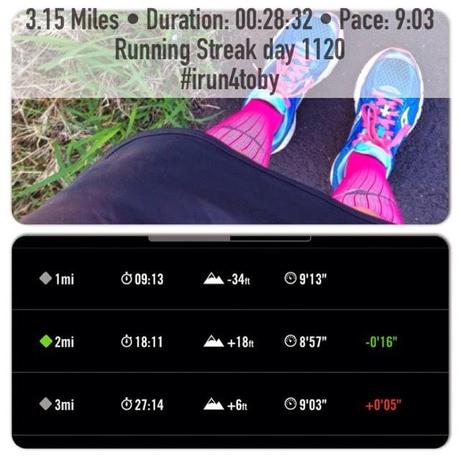 Finally, it was time to test them out by running in them. I slipped on my running shoes and laced up. After a few steps I realized the socks are thinner than my normal running socks. I paused, adjusted my laces, and kept running. It felt wonderful! Not once did the socks bug me and I would love to say my steps were lighter and fresher; however, the scientist in me would be saying I had no control. I didn't have another me running on the same day without wearing compression socks.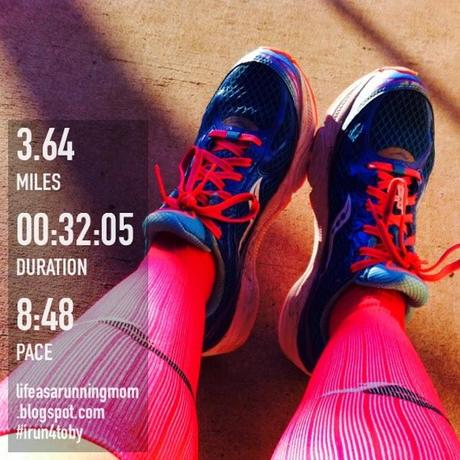 But I can tell you this. I have been running outside more and wearing compression socks more. My lower legs are feeling fresh and happy and my pace has been beyond awesome! I truly feel the socks do make a difference. Now I am dreaming up a nice pair of compression shorts that will feel as sleek and comfy as these socks to wear for recovery as my left hip is my pesky area. Although, I do see PRO Compression does have some leggings. Do you think I could sport these under a dress/skirt at work?
Are you ready to give some PRO Compression Marathon Socks a try today? Enter to win but hurry, this giveaway closes on February 22nd.  Don't forget, you can receive 40% off by using the discount code BLG14. This is valid on Marathon Socks and Sleeves.
a Rafflecopter giveaway
 
Daily Gratitude: I am thankful for the opportunity to try these socks.
Daily Bible Verse: One gives freely, yet grows all the richer; another withholds what he should give, and only suffers want. Whoever brings blessing will be enriched, and one who waters will himself be watered. ~ Proverbs 11:24-25