I didn't go crazy with holiday palettes this year - in fact I didn't plan on getting any of them.  But I've fallen in love with Lorac since trying out their Unzipped palette, and this box was so cute I just couldn't resist! It's packaged to look like a box of chocolates, only even more delicious! Inside are 5 mini palettes, each with four colours and a handy mirror - pefect for popping in your purse for touch ups. I particularly like this considering that one of the palettes is a lip and cheek palette. While I rarely touch up my face or eyes during the day, lips do take a bit more work. I never use lip products that come as part of palettes because I have no way of carrying it with me to add more colour!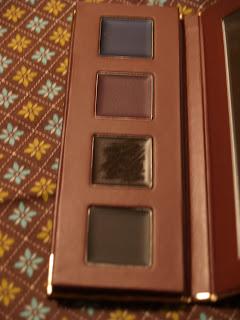 Mesmerizing Dark Chocolate Cream Eye Liner Pal
The first palette is four beautiful cream eyeliners (and as you can see, I couldn't resist diving straight in and giving it a go!). There's a navy blue, plum purple, dark brown and black. They apply smoothly, are easy to blend in and last pretty well - though not as well as gel liners. They're a bit more like a kohl than a liquid liner.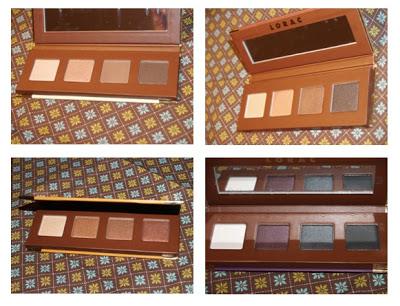 Clockwise from top left: Ooh La La Vanilla Nude Eye Shadow Palette, 

Tantalizing Cocoa Bronze Eye Shadow Palette, Caramel Love Affair Golden Eye Shadow Palette, 

and Blackberry Truffle Seduction Smokey Eye Shadow Palette


The four shadow palettes are the main reason I caved and got this little beauty in the first place. So many beautiful - and wearable - colours! Because of my horrible lighting situation, it's hard to tell the subtle differences, and at first glance I'm sure you're thinking, "Silly girl. Probably doesn't even realize she put in two pictures of the same palette." Well, as a matter of fact, I didn't. Ooh La La Vanilla and Tantalizing Cocoa do look quite similar, but there are subtle differences. The palest shade is a bit more frosty in Vanilla, while the Cocoa shade is a bit more warm and peachy. The neutral shade second from left is more pink in the Vanilla and more orangey in Cocoa. Second from left is actually matte in Vanilla, in addition to being less purple, and the darkest shade is very dark brown in Cocoa while the Vanilla version is more of a plummy brown. I love all of them, but I have to admit, I'm not sure why they decided to go with such similar shades! If I can ever figure out lighting in my new place, I'll try some swatches, but the photos I took were abysmal.
And finally, the Cheek & Lip palette: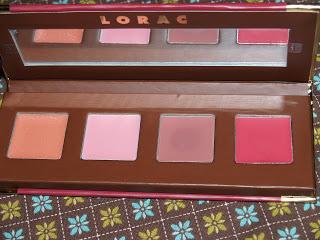 Indulge in Berry Kisses Cheek & Lip Tint Palette


This palette is a surprising success in my book. The colours are a great range (there's only one I'll never be able to get away with - the coral on the left) and though they're in pans, they're not glossy or stickly. They are a beautiful creamy texture that blends in evenly leaving a wonderful blush of color. I haven't used them on the cheeks yet, but on the lips they're gorgeous. Predictably, my favorite is the bright pink on the far right!
Overall this palette is a wonderful one, and I have absolutely no regrets in getting it! The shadows have Lorac's usual amazing pigmentation and payoff, not to mention the smooth, blendable texture one hopes for in a shadow. The liners are wearable and last well, and the lip/cheek colours are a beautiful range. If you only get yourself one palette this season, this should be it!


Ratings:




Packaging:

5/5

Product quality:

5/5 for the shadows, 4/5 for the liners (do move around a little bit) and 5/5 for the lip colours

Worth the price?

Yes!


Would I purchase again?

Probably would, but it's limited edition!


Cruelty-Free?

Not sure.

Where to find it: Sephora in store and online.